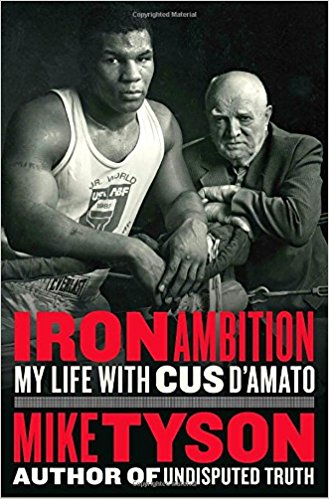 | | |
| --- | --- |
| Book Title | Iron Ambition: My Life With Cus D'Amato |
| Book Author | Mike Tyson, Larry Sloman |
| Publisher | Blue Rider Press |
| ISBN | 0399177035 |
| Language | English |
| Pages | 480 |
| Year Published | 2017 |
Book Review : Iron Ambition by Mike Tyson
Iron Ambition is Mike Tyson's new book about the most important person in the life of the heavyweight champion. Through his second book, Mike Tyson shares how Cus D'Amato changed his life as his trainer and surrogate father. Iron Ambition by Mike Tyson was released on 30 May 2017. Mike Tyson has co-authored this book with Larry Sloman.
The Story: Iron Ambition by Mike Tyson
When Mike was just 13-year-old, Cus D'Amato saw him fighting in the ring and that he knew that Tyson is going to be the next heavyweight champion. Not only D'Amato trained young Mike but he also adopted him as a son after the death Mike's mother when he was just 16.
This book, Iron Ambition, gives a powerful look at the life and leadership lessons that D'Amato has taught to Mike Tyson who eventually the world's youngest heavyweight champion. Unfortunately, D'Amato died just a year before Mike won the world championship. The book also reflects on how the trainer's words of wisdom continue to resonate with Mike outside the ring.
Mike Tyson's Iron Ambition also opens up Cus's courageous fight against the mobsters who controlled boxing. The book is an emotional and heartfelt tribute to an unforgettable boxing figure …Read More
Inspiration

Writing Style
Vowelor Review
An inspiring account of the life of the man behind the champion Mike Tyson.
About the Author: Mike Tyson
Mike Tyson is former World Heavyweight Boxing Champion as well as #1 New York Times bestselling author of 'The Undisputed Truth', his autobiography. Born in 1966, Mike led his childhood in poverty and fear before D'Amato adopted him and trained him into a champion boxer. Mike fought 58 fights of which he came out as a winner in 50.
Mike got married three times and has seven children. He currently lives in Seven Hills, Nevada.