If you are someone who finds true crime and historical scams an interesting topic to dive into, Bhaswar Mukherjee's The Counterfeiter is just the right pick for you. It follows the conman Abdul Karim Telgi and the stamp scam worth Rs. 25000 crores he was able to pull off. Crazy, isn't it?
This book will take you on a roller coaster ride of crime, money, corruption, counterfeiting, and yes, murder. So hold onto your seatbelts and get ready for a ride through the pages of history.
Book Review: The Counterfeiter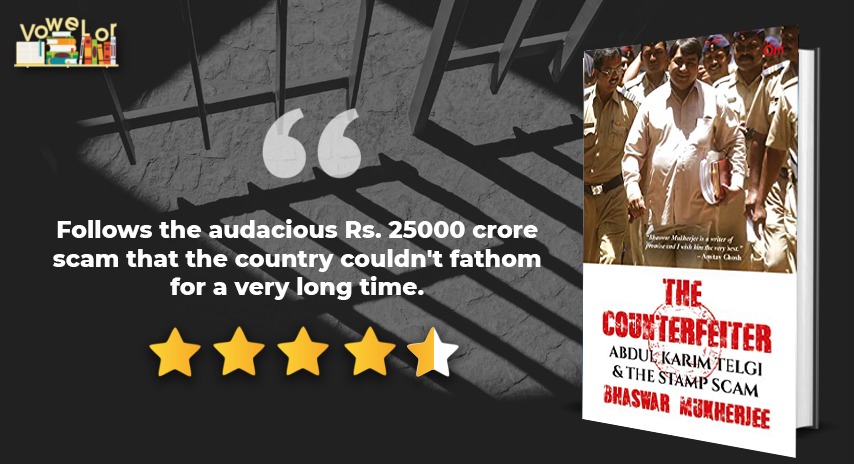 Setting
The Counterfeiter: Abdul Karim Telgi & The Stamp Scam follows the notorious and one of the most well-known counterfeiters in the history of India, Abdul Karim Telgi. Coming from a background where there weren't many opportunities for one to grow, Abdul Karim successfully pulled a scam that was worth more than INR 25000 Crores, back in the day.
Before and long after independence, India was a strong user of revenue stamps, and the Department of Posts was improperly regulated. This gave Telgi a window to pull off something that the whole nation couldn't fathom for a very long time.
He started counterfeiting stamp paper and appointed an extensive 'army' of agents to sell them out to the buyers who would take them in bulk. The unfathomable aspect of the scam is the involvement of many government officials and people from law enforcement.
Writing
The book is written not like a book, but more like a research paper. It follows the rise and fall of Abdul Karim Telgi in extraordinary detail. The writing clearly shows the author's disappointment with the system that allowed a scam of such gravity to take place. It can make a reader question the realities of our system and where we stand in it. One thing that stands out is the references and citation that automatically increases the credibility of the book.
Themes
The book deals with the flaws in our judicial system and how it is to be strengthened in order to put a stop to incidents such as this one. It follows the birth of a scam, its plotting, perfecting its execution, and its eventual fall, which makes us question our faith in the system we live in.
| | |
| --- | --- |
| Setting | ⭐⭐⭐⭐⭐ |
| Writing | ⭐⭐⭐⭐ |
| Themes | ⭐⭐⭐⭐⭐ |
| Vowelor Review: Follows the audacious Rs. 25000 crore scam that the country couldn't fathom for a very long time. | 4.5 |
✅ Grab your copy of The Counterfeiter by Bhaswar Mukherjee on
Amazon now
!
Reasons To Push This One Up Your TBR
If you are someone who's into non-fiction and stories related to crime and scams intrigue you, then pick up The Counterfeiter asap. Ukiyoto Publishing selected Bhaswar Mukherjee as an awardee in 2022 for "Non-Fiction-Emerging Author of the Year" for this book.
Trust us when we say it's not going to disappoint at any given moment and will keep you on the edge of your seat till the very end. This scam is nothing less than a thriller movie where a person just needed the mind and vision to pull off a scam, the rest was automatically got taken care of by the loopholes in law enforcement and corrupt politicians.
If you need a head-scratching story of crime and thrill and a reality check on our law enforcement and judiciary, this one is just the right pick for you.
About the Author: Bhaswar Mukherjee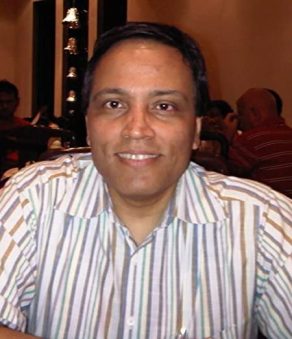 Bhaswar Mukherjee is the author of the book, The Counterfeiter: Abdul Karim Telgi & the stamp scam. He has a degree in Mechanical Engineering and an MBA from IIM Bangalore. He worked with several international banks for seventeen years. After that, Bhaswar started his own firm that provides consulting and training solutions in the banking domain.
Bhaswar calls himself an accidental writer. Authors like Sudha Murty, and Ravinder Singh have picked up his short stories for their curated anthologies and many authors such as Amitav Ghosh, Ashwin Sanghi, and Upamanyu Chatterjee have also shortlisted his submissions for the TOI Write India contest.
Bhaswar has contributed to 12 anthologies and his solo anthology, It Happens: Stories of Human Relationships was published in May 2020. The Navi Mumbai Chambers of Business and Industries recognized him as the 'Best Storyteller 2021' at the Indian Authors Conference and Awards (Nov '21) for this book.