A Time of Reckoning is a fiction novel by Michelle Simpson, published in the year 2022. This book will take us to the kingdom's era where kings fight to sustain their lands from their enemies.
The story opens with the daughter of the king named Devin, a beautiful intelligent girl with a fresh scent of freedom. She, unlike other females in her family, chose to stay away from the politics of her father's kingdom Ulaid, and live a life with utmost freedom and adventures. Unknown to the fact that her destiny had chosen something completely different from her life.
This book is a suspenseful imagination of the author and it won't be wrong to say that you will be on the edge of your seat for the whole time and couldn't wait to read its second part. It finely portrayed the transfer of power from the elders to their children. The story may relate to older times but the emotions will connect in today's world.
Book Review: A Time of Reckoning (Book One – Betrayal)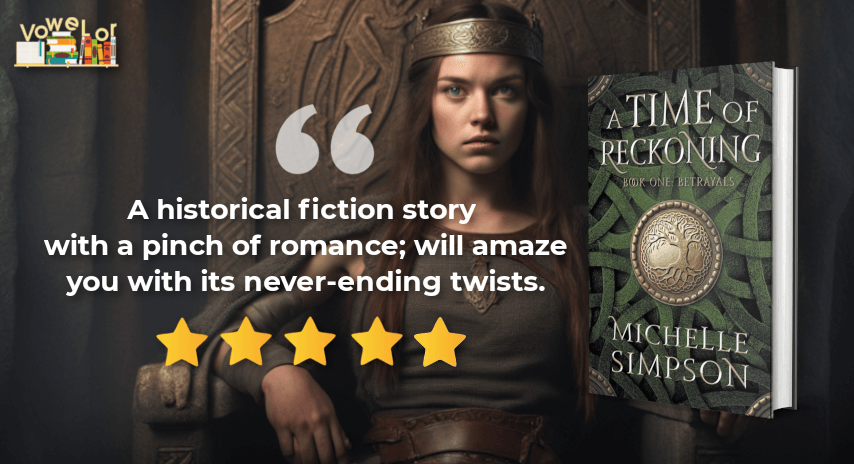 One moment we feel free like a bird and the next life burdens us with so many responsibilities. Well, this is life. Devin pampered by her father Attus always lived a life miles away from the politics but the sudden act of vengeance by their enemy Bram changed her life forever.
Setting ⭐⭐⭐⭐⭐
The story is about a family of five people named Attus, Maeve, Egan, Una, and Devin. Attus, the father of three children, dominated the vast north called Ulaid. Bram, the enemy of Attus took advantage of the Spring festival and attacked them leading to the casualty of Attus, Maeve, and Egan. Devin along with her younger sister Una left alone to battle the world, especially their Family murderer Bram.
Plot ⭐⭐⭐⭐
The story starts with the spring festival which was one of the auspicious festivals of the people of Ulaid and it is the same period when Oran, one of the loyal men of the Attus started having weird dreams and instincts of something not being right.
As Oran's instincts proved right, Devin was their last hope. Devin, an ambitious daughter of Ulaid, fought many known and unknown enemies and also fell in love with her companion Tristan. Their love story was really gasping full of romance, passion, and sacrifice. Will they end up together? For this, you have to grab the book and find it yourself.
Theme ⭐⭐⭐⭐⭐
The author beautifully presented a platter full of adventure, love, surprises, betrayal, and most importantly sacrifices.
The characters were so appealing that I could hardly feel a disconnect throughout the story. The nurturing parents' love, youngster blooming romance, and the unending battles filled this book with so much suspense that you feel a magnetic force to it.
Writing ⭐⭐⭐⭐⭐
The writing style of the author was very versatile, it talked about many things while maintaining a perfect balance with them. It discovers the hidden passion between two lovers which runs along the strong patriotic feeling towards the kingdom.
The smooth shifts given by the writer excite the reader to know more about this. The author opened a world of adventures and suspense for you to enjoy every bit of it.
Setting
⭐⭐⭐⭐⭐
Plot
⭐⭐⭐⭐
Writing Style
⭐⭐⭐⭐⭐
Vowelor Review:

A historical fiction story with a pinch of romance; will amaze you with its never-ending twists.

5.0
✅ Grab your copy of A Time of Reckoning by Michelle Simpson on
Amazon now
!
Reasons to add this book to your TBR
If you always like to try so many things on your plate or in your life in general then this book is the one for you because it offers you a variety of emotions that every shift in the story hits differently.
I am usually a non-fiction book lover but for me, this book passed the test of connecting to the readers as well as maintaining that fictional touch. If you are a fiction lover then you can't afford to miss this one but if you are not then trust me you won't regret trying this.
About the Author: Michelle Simpson
Michelle Simpson lives near Boston, MA. Her favorite hobbies are reading books, especially genres like history, fiction, etc. She is a fitness-loving person and loves to do hiking, yoga, and her favorite biking. She loves good food and always welcomes any good restaurant to spend time with her friends and loved ones.
Living near fantastic Boston, MA, Michelle aims to keep traveling the world, too! London remains one of her favorite cities and she's heading to Ireland next to do some research for her 3rd book in the Time of Reckoning series.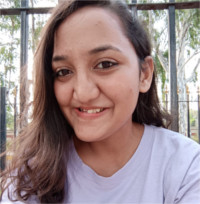 This review was written by one of the Vowelor's book review team members – Shruti Kapoor. She is a content writer and an aspiring journalist.
Shruti is a generous person who always has a special space for plants and animals in her life. In her free time, she loves to read philosophy and stuff that stimulates her intellectually.