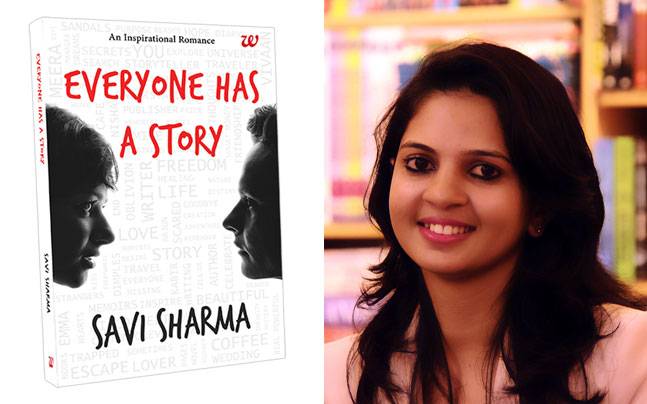 If you are a reader of Romance Fiction, then you cannot miss the Savi Sharma books list, the bestselling Author of Everyone has a story. The books written by Savi Sharma are based on the subject of Motivation, Inspiration and meditation which made her known to the readers of Fiction Category. From her debut self-published novel, 'Everyone has a Story' to her latest release 'This is not your Story' in 2016, she continues to influence the readers around the world with her positive thoughts and inspirational views.
Savi Sharma Books List
Here is the complete list of all books written by Savi Sharma Including her latest novel published in 2017.
1. Everyone has a Story (2016)
This is the first book of Savi Sharma Books List. 'Everyone Has A Story' is also the first self-published book by Savi Sharma in 2016. The story of the books is about a girl named, Meera who is looking for a good story to pen down into a book, meanwhile she meets a guy named Vivaan at one of the cafés where her friend Kabir works. Vivaan is a banker who has a different ideology towards life which made Meera realize what would be the story of her book. If you are a fan of thoughtful writing, then you should definitely pick this Savi Sharma books from the bookstore.
2. This is not Your Story (2017)
It is the latest novel by Savi Sharma released in 2017. The Story of the book is about three main leads, Shaurya, Miraya and Anubhav. Shaurya is a CA Student who is following his dreams to become big, Miryan, an interior designer looking for the existence of love and Anubhav who is an aspiring entrepreneur has already given up on his previous life for the new change of present. 'This is not Your Story' written by Savi Sharma tells a transforming tale of courage, hope and self-discovery. If you are looking for a book full of emotions, drama and hope, then you should add this book from the Savi Sharma Books list to your personal books list.
Final thoughts
Well, that was the closing of the list of books written by Savi Sharma. But I believe, Savi Sharma will continue to give us the dose of Positive thoughts, Inspiration and Hope.
So, towards the end, I can promise one thing, this Savi Sharma books list will definitely add up to your reading list. If you have anything to share about Savi Sharma Books, please feel free to drop your valuable words in comments.