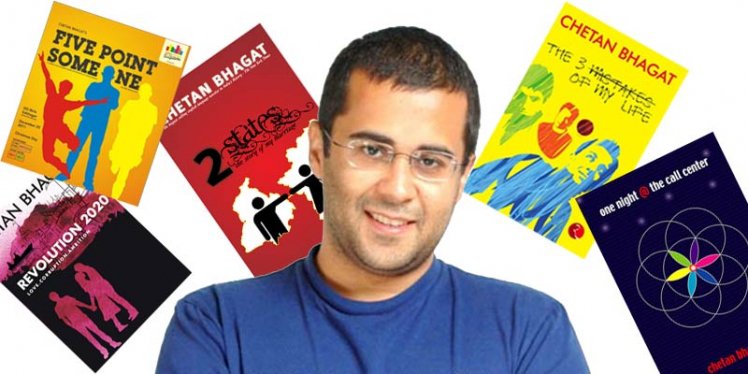 There is no doubt that Chetan Bhagat is the most-read English writer in India. Although Chetan Bhagat books list is not very long, his fans are innumerable  (and his haters too). All of his books have received a great response including Chetan Bhagat's latest novel – The Girl in Room 105.
And a majority of the books from the bestselling Chetan Bhagat books list have been made into Bollywood movies. Due to such acceptance in Bollywood, many critics have started calling him a film-centric author.
In this article, I have compiled the complete list of books written by Chetan Bhagat, both fiction as well as non-fiction. You will get the details of all the books including the latest novels by Chetan Bhagat. Not only that, this list of Chetan Bhagat books also features the synopsis and reviews of each book and where to buy them.
But before that here is a brief introduction of the bestselling author, Chetan Bhagat. Just for those who don't know him as a person and the man behind all the novels and eventually the hit Hindi movies.
Also Read: Complete list of Ruskin Bond Books
About Chetan Bhagat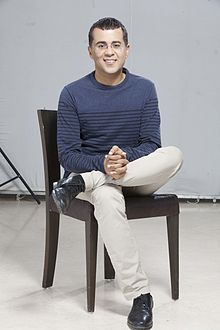 Chetan Bhagat is the most selling English-language novelist in India's history. Time magazine named him amongst the '100 most influential people in the world'. The Fast Company, USA, also listed him as one of the world's '100 most creative people in business.
Chetan Bhagat married Anusha his classmate from IIM-A. Now, he lives in Mumbai with his wife and his twin boys, Shyam and Ishaan. He also writes columns on Youth, Career, and Social issues in major English & Hindi newspapers.
Now, that's the man – Chetan Bhagat – for you.
Moving on to the Chetan Bhagat books list and latest novels here is anything and everything published by Chetan Bhagat (except his tweets 😛 )
Chetan Bhagat Books List and Latest Novels
This list of books written by Chetan Bhagat comprises all the 10 novels (fiction and non-fiction). All the novels by Chetan have stupendously remained in the bestselling list since their release.
Last update on 2023-12-08 / Affiliate links / Images from Amazon Product Advertising API
#1. Five Point Someone
Chetan Bhagat started his writing career more than a decade ago in 2004 with the release of Five Point Someone, the first book written by Chetan. Five Point Someone is about three friends – Hari, Ryan & Alok-  and their life at the top engineering college – IIT. The story has fun and memorable moments with a closely intact underlying theme of satire on the education system and how students survive in the competitive environment.
The thing that made Five Point Someone more special is that the much-loved Hindi film 3 Idiots starring Amir Khan was based on this novel by Chetan Bhagat. The release of the movie made Chetan Bhagat a star author overnight.
#2. One Night @ The Call Center

After the huge success of Five Point Someone, Chetan Bhagat published his second novel – One Night @ The Call Center. It was released in 2005. The story was spun around the sheer thought of a call from God himself to reinstate the self-belief and determination. One Night @ The Call Center, the second one in the Chetan Bhagat book list, is about six people. The two boys, three girls, and a middle-aged man – working in a call center in Gurgaon and struggling with their own problems in life.
After a car crash involving all six characters, they receive this call from God who guides and motivates them not only to get out the car safe but face life problems with determination and ultimately win at life.
#3. The Three Mistakes of My Life
The third book in the Chetan Bhagat books list is The Three Mistakes of My Life which was released in 2008. This book by Chetan Bhagat also became a bestseller and got translated into French and other Indian languages. Later, The Three Mistakes of My Life was also made into another Hindi movie – Kai Po Che!
Chetan Bhagat wrote this third book again about youngsters and how an individual's dream can overcome the nightmare thrown up by life. The story is about Govind and two friends – Omi & Ali. This book by Chetan Bhagat shows how Govind makes a few mistakes that overturn his life into something he hasn't dreamt of.
#4. 2 States
Constantly being a bestseller, Chetan Bhagat got national and international fame. His fourth book, 2 States,  which is partly autobiographical was released in 2009. The fourth book on the Chetan Bhagat books list tells the tale of a couple from two different states who had a hard time convincing their parent and getting married. This book makes an irony on the Indian marriage and caste culture.
2 States by Chetan Bhagat can also be counted as the first romance-themed novel in the Chetan Bhagat books list. Chetan creates unforgettable romantic moments and some witty situations among parents. 2 States was later made into a Bollywood film that grossed more than 100 crores on box office.
#5. Revolution 2020
After four bestselling novels in Chetan Bhagat books list, he wrote his fifth book, Revolution 2020, and again took on the serious issue of rampant corruption in the Indian education system. The story of Revolution 2020 is about three childhood buddies – Gopal, Raghav & Aarti –  living in Varanasi, India. Gopal is not so well-off and aims to earn money while Raghav is rich and aims to revolutionize India.
There is another parallel story is that both the guys love the same girl Aarti. Towards the end, Raghav becomes MLA and marries Aarti while Gopal sets up his business, still heartbroken for the sacrifice of Love.
#6. What Young India Wants
After having five bestselling fiction novels, Chetan Bhagat became a renowned author and a motivational speaker delivering lectures at various events. His fifth book, What Young India Wants, is all about his thoughts on the desires of Young India and the issues faced by youngsters in the country.
Chetan explains, in simple prose, how our parenting, education system, and society have an impact on the upbringing of a child and his future. He also talks about our political responsibilities and can we make a difference. He also offers solutions to such problems and urges readers to make the country better.
#7. Half Girlfriend
Half Girlfriend by Chetan Bhagat which came in 2014 is one of the latest addition to the Chetan Bhagat books list. After the huge success of the 2 States, Chetan wrote this young adult romance novel about a boy, Madhav, who couldn't speak English and enrolled in St. Stephens College. He wants to be friends with Riya, a modern Delhi girl, and doesn't want to be in relation with Madhav.
Chetan termed this confusing relationship status of being with each other but not being able to decide whether they are in a relationship or not. After all, that's what most men in India get.
#8. Making India Awesome
Post the phenomenal success of his first non-fiction book, What Young India Wants, Chetan Bhagat wrote another non-fiction book. This book contains essays and columns in which Chetan Bhagat focuses on the solutions to many intractable problems like unemployment, corruption, poverty, communal violence, illiteracy, and more. Making India Awesome by Chetan Bhagat was released in 2015.
With easily understandable language, the second non-fiction book on Chetan Bhagat books list gives valuable insights and practical solutions on how every individual can play their part in solving the national problems.
#9. One Indian Girl
Coming to the next novel by Chetan Bhagat – One Indian Girl was released in October 2017. In his latest book, Chetan Bhagat has tried to highlight the issue of Feminism and inequality for women in Urban India. It is about the difference in how a male with the same lifestyle and choices is accepted by society while a female doesn't. One India Girl is the 9th novel by Chetan Bhagat which has dared to write in the first person with a female perspective. And it's worth reading Chetan writing in a female's voice.
One Indian Girl by Chetan Bhagat is a story of Radhika Mehta, an intelligent and successful lady who works at a top Investment Bank. The novel takes a deep look at the problems faced by any employed Indian women in all walks of life, be it work, society or love. Not only she earns a lot of money but also has an opinion on everything happening around her.
#10. The Girl in Room 105 – Chetan Bhagat's Latest Novel
Finally, talking about the latest book by Chetan Bhagat – The Girl in Room 105 – which releases in October 2018. The bestselling author brings yet another love story which he rather refers to as 'An Unlove Story'. This time the lead characters are from different religions; Keshav is a Hindu boy while Zara is a Muslim girl from Kashmir. And due to that, they have to break up after a happy relationship.
Zara moves on while Keshav is stuck hating everything including his job. After years, one night, Zara asks Keshav to come to her hostel room 105 where they used to meet usually. And the story takes a whole different turn towards thrilling events.
Chetan has wisely weaved the current scenarios of the Indian political take on the Kashmir valley as the background which brings a freshness to the story. Just like his previous books, The Girl in Room 105 by Chetan Bhagat again succeeds in outlining a social issue of our country with the help of an interesting storyline.
#11. India Positive
This book is a compilation of new essays and selected columns and hit tweets of the author talking about the burning issues of the nation.
Chetan Bhagat has claimed that this book will help readers in forming a positive opinion about India. Issues like unemployment, higher education, inflation, and other recent burning issues which the country has faced like the Pulwama attack are included in the book.
#12. One Arranged Murder
After a long long time, Chetan Bhagat is back with another romance thriller, One Arranged Murder Arranged. So without further ado, let's read the crisp of the novel.
Marriages aren't something new to our ears but what do you think about an arranged murder? Sounds intriguing, right? The story follows Saurabh and Prerna who are about to get married and Saurabh's best friend, Keshav. Though the union is arranged, the couple has more love and cheesiness than any love marriage couple. Before the wedding, Prerna fasts for him on Karva Chauth (a festival where women fast from sunrise to moonrise for the safety and longevity of their spouses). Saurabh too was excited about the festivities and came to her place as soon as possible. However, what happened after that overturned the lives of Saurabh as well as his loved ones.
Overall, this Chetan Bhagat's book is a compelling thriller, the novel has inculcated aspects like love, family, feelings, friendship, support, and yes, crime and investigations in itself. So get hold of this book if you still haven't, because trust us when we say that it can keep you on the edge of your seats and biting your nails till the very end.
#13. 400 Days – Chetan Bhagat's Latest Non-fiction book
400 Days is the latest book by Chetan Bhagat set after the events of One Arranged Murder, follows the same protagonists Keshav and Saurabh, and offers another compelling criminal investigation. Keshav and Saurabh are still living together in a new apartment in a gated community called Icon.
The duo meets Alia Arora, a neighbor in the Icon and a mother of two. Alia's daughter Siya went missing nine months ago and the police called it a cold case and closed the investigation. However, Alia doesn't seem to lose hope and came looking for Keshav's help in finding her daughter.
What seemed to be a regular kidnapping/murder case became far more complex than that when Saurabh and Keshav started their own investigation. Many truths will come to the surface and will leave us pondering on what kind of insane world we are actually living in right now and how people are not what they portray themselves to be.
Chetan Bhagat FAQ
Which is the best selling book of Chetan Bhagat?
Following are the best selling books by Chetan Bhagat - Five Point Someone, The Three Mistakes Of My Life, Half Girlfriend and 2 States.
Which is the first novel of Chetan Bhagat?
Five Point Someone is the first written by Chetan Bhagat in 2004.
Which is Chetan Bhagat's next book?
Chetan Bhagat's next book is yet be announced, but he has already completed the manuscript and shared about the same on his Instagram handle.
Final Thoughts
Well, that was the closing of the list of books written by Chetan Bhagat. But I believe, Chetan is not going to stop anytime soon and will continue entertaining his readers in India and abroad. No matter what critics and his haters say about him, Chetan Bhagat has made a mark in the Indian Publishing Industry.
So, towards the end, I can promise one thing, this Chetan Bhagat books list is going to be updated regularly with the latest novels by Chetan Bhagat.
In the meanwhile, I would like to know your thoughts on Chetan Bhagat's books and his writing. How had been your reading experience with Chetan Bhagat overall?