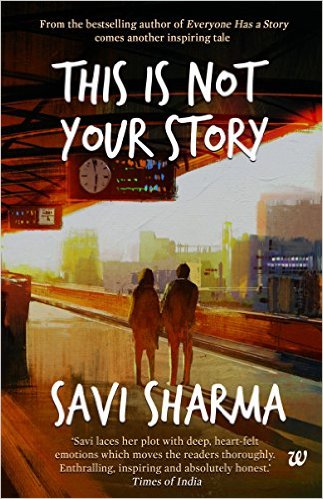 | | |
| --- | --- |
| Book Title | This is Not Your Story |
| Book Author | Savi Sharma |
| Publisher | Westland |
| ISBN | 9386224399 |
| Language | English |
| Year Published | 2017 |
Book Review : This is Not Your Story by Savi Sharma
With her new novel, This Is Not Your Story, Savi Sharma is going to give a good start to 2017. This is Not Your Story by Savi Sharma is her second novel after the record-breaking success of her debut novel, Everyone has a Story. This new book of Savi Sharma is released on 14 Feb 2017 in which she tells a transforming tale of self-discovery, hope and courage.
Summary : This is Not Your Story by Savi Sharma
There are three main character of This is Not Your Story by Savi Sharma – Shaurya, Miraya & Anubhav – around whom the whole novel revolves.  The theme of the novel, This is Not Your Story, is how actually a person can write or moreover rewrite the story of their lives. Savi Sharma has tried to tell the readers how sheer courage and ceaseless hope can turn your life to the road of your dreams.
Shaurya is a CA student who is chasing his dreams of becoming a filmmaker and wants to enroll in a film making course in Mumbai. While Miraya, an interior designer, follows her dream but does not give up on love. And Anubhav, an ambitious boy who becomes an entrepreneur at an early age but life plays a brutal joke on him. No matter what he decides to give life a second chance.
This is Not Your Story by Savi Sharma is actually a story that anyone could relate to and learn to get things to work against all odds. This is Not Your Story is equally inspirational as Savi Sharma's debut book. With a brilliant storytelling, a strange sense of freedom is what This Not Your Story is all about.
Exclusive Preview of This Is Not Your Story – Read Online
Storyline

Characters

Writing Style
Vowelor Review
A gripping read that gives the mind a strange sense of freedom
About the Author : Savi Sharma
Savi Sharma was born in Surat, Gujarat in 1993.  She was studying to be a Chartered Accountant but left studies to become a Storyteller. In 2016, She self-published her inspirational novel, Everyone has a Story which made her India's first successful female self-published author. Later, she signed with Westland Ltd to write more stories.
She is also co-founder of motivational media blog 'Life & People' where she writes about positivity, meditation, law of attraction, spirituality and other such topics. She loves observing people and often finds her stories while observing people at cafes. Savi also has a secret list of 100 wishes which she wants to fulfill in this one lifetime.