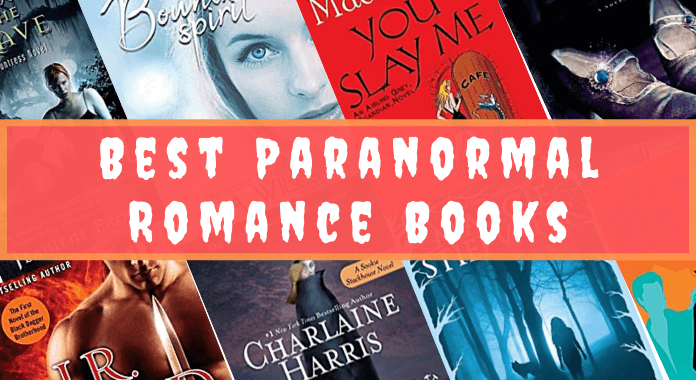 There is a unique charm in the paranormal romance genre because of the unnatural creatures it features. Yes, the spooky romance novels are much better than just romance books or just the paranormal ones.
The blend of supernatural creatures and love stories spice up the concept and keep the readers hooked till the very end. Well, you must have read the passionate love story of vampires and wolves in the Twilight series by Stephanie Meyer.
If you loved that, it means you can try more paranormal romance books for sure. So, today, I'm here with a list of best paranormal romance books that you will surely love.
The blood-chilling spookiness and the heart-stealing romance is what you need to escape from the mundane daily life! So, let's cut the crap and move to the list of these paranormal romance books now.
List of Best Paranormal Romance Books
Here is the list of good paranormal romance books written by the popular paranormal romance authors.
1. Shiver by Maggie Stiefvater
Read Review on Amazon    Buy This on Amazon
Shiver is a paranormal romance story of a girl who lives in front of woods. The protagonist – Grace, has grown up watching wolves in the woods surrounding her house.
She isn't afraid of these night creatures because they never harmed her in all these years. However, Grace thinks she can't live in the absence of a specific yellow-eyed wolf that she always sees in the woods.
Sam is that very wolf who lives a double life. In winters, he turns to a wolf and lives in the woods in the presence of Grace. In a few summer months, he lives a human life.
Grace eventually puts two and two together when she encounters the yellow-eyed boy Sam, who looks very similar to her wolf. But, how will he hide his real identity from Grace, especially when winters are near?
2. Dark Lover by J.R. Ward
Read Review on Amazon    Buy This on Amazon
Vampire stories have an irresistible appeal on me, maybe on you too! If that's the case, then you must read Dark Lover written by J.R. Ward. It is a part of the New York Times bestselling Black Dagger Brotherhood series.
Being the leader of the Black Dagger Brotherhood, Wrath is a powerful vampire who is trying to revenge the slayers for killing his parents.
In this fight for revenge, his brother dies, leaving a beautiful half-vampire daughter who knows nothing about her identity. Wrath finds the girl and the steaming romance between them unfolds.
The girl, Beth Randall, finds Wrath dangerously sexy and can't resist him. The love story of a vampire and his brother's beautiful daughter will surely take away your heart.
Browse more Books on Similar Genre:
3. Dead Until Dark by Charlaine Harris
Read Review on Amazon    Buy This on Amazon
Dead Until Dark is the first book in the New York Times bestselling Sookie Stackhouse series. This paranormal romance series has been also adapted later in an HBO T.V. series, namely True Blood.
Sookie Stackhouse is a simple girl who lives in Louisiana. She has a unique disability which makes her life not-so-simple. She can read the minds of others which makes it difficult for her to form any relationships.
But, she can't read the mind of young and handsome Bill Compton. Yes, because he is a vampire. Sookie starts to think that Bill is the man of his dream.
However, Bill has a bad reputation due to which many bloodsuckers come looking for him. All this violence and drama shakes the life of Sookie, and she realizes that having a vampire boyfriend is not that easy.
4. Shadowland by Meg Cabot
Read Review on Amazon    Buy This on Amazon
Published in 2004, Shadowland is the first book in the Mediator series written by New York Times bestseller author Meg Cabot. This is the story of a teenage girl, Suze, and her struggle to get rid of a spirit.
Suze is a mediator; so she sees ghosts and helps them in reaching their afterlife. It all starts when she feels the presence of a 150-year-old spirit named Jesse in her room. But, this ghost doesn't need her help.
Suze feels delighted because she wants to start a new life in her new residential city- California. But, things are not that simple for Suze as there is another ghost in her high school who wants revenge.
Stuck between both these spirits, what Suze will do to make her life normal and adventurous. The book is not that spooky, so anyone can read it!
5. The Midnight Witch by Paula Brackston
Read Review on Amazon    Buy This on Amazon
A list of supernatural creatures can't be completed without witches. So, I have added The Midnight Witch in this list. Set in Edwardian England, this story revolves around a witch who has to make some tough decisions.
Lady Lilith Montgomery is a young witch who lives a good life in London and engaged to a handsome bachelor. After the death of her father, she instructs her brother; who is the new witch head of their coven.
Being a powerful witch, she remains on the target of the Sentinels – a dark group of people who want to misuse their magic. Lilith knows that she can save her coven as long as she can maintain secrecy and silence.
Following this simple rule becomes so difficult for Lilith when she falls in love with a normal human Bram. She doesn't want to keep any secrets from Bram, but she can't risk the safety of Lazarus coven by disclosing her secrets to an ordinary human.
You should read it to know what choice she finally makes.
6. Halfway to the Grave by Jeaniene Frost
Read Review on Amazon    Buy This on Amazon
Halfway to the Grave is yet another tale of night creatures – vampires, revenge and love. Cat, the protagonist, is a half-vampire with a tragic past. Cat's mortal mother was raped by her vampire father; which resulted in the birth of Cat.
Now, Cat wants to kill every vampire she finds thinking that one of them could be her irresponsible cruel father. Then, enters a vampire, Bones, who hunts other vampires and he captures Cat.
Bones promises to help Cat in finding her vampire father and in exchange, he needs Cat's help in killing some bad vampires. But, in this journey, she realizes that being half-vampire is not that bad.
However, as soon as Cat starts enjoying her new mission, they both are pursued by a group of deadly vampires. How she will fight the demons while controlling her newfound feelings for Bones is a worth-reading thing.
7. You Slay Me by Katie MacAlister
Read Review on Amazon    Buy This on Amazon
If you are in no mood to read about vampires anymore, then I got something different for you! You Slay Me is a quite unique kind of paranormal romance book. Yes, because this story is much sexier, funnier and it features dragons!
Written by the USA Today bestselling author Katie MacAlister, this is a story of a young girl, namely Aisling Grey. Aisling has a task to deliver an antique dragon statue in Paris.
But, when she reaches the house of the receiver, she finds him dead. The statue gets stolen by a real hunky dragon according to whom Aisling is his true mate.
Now, Aisling has to solve the mystery of the murder and find the thief. But, she also discovers the dragon and his intentions. What she does next is surely interesting.
8. Bound Spirit by H.A. Wills
Read Review on Amazon    Buy This on Amazon
Bound Spirit is a story of a young teen girl, Callie, who has recently been freed from her abusive household. She thinks that it's the end of struggles for her, but she is highly mistaken as it's the beginning.
She moves to Oregon to start a new life. She meets five new guys here that seem quite unworldly to her. They become her friends, and that's when she starts to connect the dots to see the bigger picture.
Callie finds out that these boys have superpowers and she also has something unnatural about which she was ignorant till now.
Callie's attempt to escape her past somehow lands her to even bigger confusions. Her world turns upside down when she realized that everything is much more different than she thought.
9. Darkfever by Karen Marie Moning
Read Review on Amazon    Buy This on Amazon
Darkfever is a paranormal romance novel based on the Fae – fairy creatures. But, they don't possess any good qualities as shown in fairy tale movies. The story begins with the death of MacKayla's sister in Ireland.
Police try to help MacKayla, but can't find the killer. Ultimately, MacKayla decides to do some research on her own. The more MacKayla tries to find the truth, the deeper she starts to entwine in a horrific world.
She meets Jericho Barrons, an important leader in her sister's case, and then, she realizes that she can see the Fae. She knows that her own life is in great danger due to this power.
Now, her mission completely changes as she has to find a dark magical book, namely Sinsar Dubh, to have the control of both the worlds. She can only end the danger by accomplishing this equal danger mission.
10. Unearthly by Cynthia Hand
Read Review on Amazon    Buy This on Amazon
Unearthly is the first book in this list that talks about a very different kind of supernatural creature. Guess what; it's about an angel! The protagonist of the story, Clara Gardner, realizes that she is an angel.
She tries to find the purpose of her superpowers rather than just enjoying these powers. She meets a stranger who takes her to a new town and a new school. Here, she meets her prince charming; Christian.
Just when she starts thinking everything is perfect, a new twist comes. A new guy, namely Tucker, starts to appeal to the less angelic side of Clara, but she can't resist him.
Clara faces some tough choices. She has to choose between good and evil, honesty and deceit and between following the rules and following her desires. What she will do and what will be the consequences of her choices?
Summing Up
So, select any of these bestselling paranormal romance books to fuel up your life. Step into an unnatural world of vampires, witches, fairies, angels, and devils leaving the harsh realities of life behind.
Read any of the spooky romance novels, and I bet you won't be able to stop reading a few more of this genre. So, have a happy reading time!