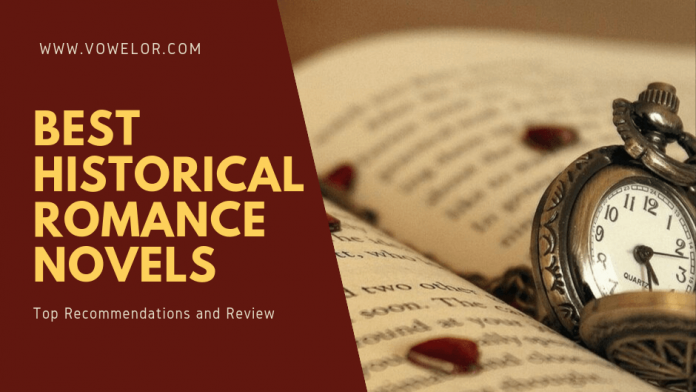 In the world of heartbreaks and temporary feelings, historical romance novels come as an escape for the modern generation. Historical romance novels present the best and purest forms of love of earlier times.
Yes, the times when left and right swipe wasn't the way of expressing love, the times when lovers used to write sonnets in the admiration of their beloved and when love letters were common.
All that old-world romance and wooing attract today's reader even more. After all, people like us can only witness that type of love in books. So, I'm here with the books that present historical romance in the best way!
List of Best Historical Romance Novels
These top historical romance novels are the best of all the time. So, get ready to witness the historical regency romance by reading the given books.
1. Jubilee Trail by Gwen Bristow
Published in 1950, Jubilee trail is New York Times Bestseller. This classic novel is set in the wilderness of West America. The protagonist Garnet is a school graduated girl who belongs to an upper-class New York society.
She meets Oliver Hale, who is a frontier trader. They both fall in love, and their real journey starts after they get married. Oliver takes Garnet to a new adventure which was beyond her imagination.
Garnet is exposed to the harsh realities of life on the landscape of the Jubilee Trail and find how incompetent she is to deal with all this. The rebelliousness of heroine, the intimacy and the adventures make it a worth-read historic romance of all time.
Read Review on Amazon    Buy This on Amazon
2. Knight Secrets by C.C. Wiley
Knight Secrets is published in recent years, but it will surely transport you into the world of Knights and Kingdoms. Set in 1415 England, the story is based on a Knight and a girl – Lady Clarice who wants to know the truth behind her father's treason.
In this quest, she becomes the prisoner of Sir Ranulf, the Knight, whose heart is stirred by this beautiful prisoner. The struggle of a knight to perform his duty by keeping aside his feelings is shown here.
Everything changes when he discovers what Clarice has in her heart. The followed incidents are what make this book exceptional.
Read Review on Amazon    Buy This on Amazon
3. The End of the Affair by Graham Greene
Written by the British author Graham Greene, The End of the Affair is a great historical romance novel that presents the love and betrayal in World War II London. The story is so effective that it has been adapted in many films.
The story revolves around three characters – a writer Maurice Bendrix, a civil servant Henry Miles and his beautiful wife Sarah Miles.
Sarah and Maurice fall in love with each other, and their adulterous love affair keeps flourishing until one horrific accident. Maurice survives a bombing attack, and Sarah leaves her without giving any reason.
The real mystery starts to unfold when Maurice crosses path with Henry one day. What happens next makes this novel truly gripping.
Read Review on Amazon    Buy This on Amazon
4. The American Heiress by Dorothy Eden
The American Heiress is a New York Times Bestseller which is published in 1980. The story is set in World War I era England. The story begins with the marriage preparations of the twenty-one-year-old Clemency Jervis.
Clemency is a rich spoilt girl who is going to marry a handsome Lord Hugo Hazzard in England. Their merriment and joy are short-lived as the ship carrying Clemency and her family is torpedoed by the Germans.
Only some people survive this attack; one of which is Clemency's maid – Hetty Brown. Due to her stark resemblance to her mistress, Hetty plans a deception that provides her power and authority.
The tale becomes more surprising from here as you will encounter various emotions such as love, hate, war and severe consequences of people's actions.
Read Review on Amazon    Buy This on Amazon
5. A Passion Most Pure by Julie Lessman
Published in 2008, A Passion Most Pure is one book among the series of The Daughters of Boston. Set during the time of horrific World War I, the book talks about an altogether different war brewing in Boston.
Faith O'Connor is a young girl who feels deeply attracted to an Irish rogue Collin McGuire. She feels that Collin is the one true love of her life, but Collin's feels something very different from that.
Collin is a cocky and brash boy who secretly admires the younger sister of Faith. This one thing ruins the whole Boston family.
The captivating story depicts love, compassion, war, betrayal and the longing of women in a chaotic war-driven world.
Read Review on Amazon    Buy This on Amazon
6. The Bargain by Mary Jo Putney
The Bargain is a regency romance novel that was originally published in 1988. This New York Times Bestseller historical romance novel is about two mismatched lovers who became husband and wife due to a deal.
Lady Jocelyn Kendal has to marry before she turns twenty-five if she wishes to receive her inheritance. To gain her fortune, she decides to marry a badly wounded soldier, Major David Lancaster, who seems to die soon due to his waterloo wounds.
The Major agreed on this marriage in return for Jocelyn's promise of providing for his Governess sister. But, destiny has something else in store for Jocelyn. The soldier starts to show miraculous recovery after the marriage.
Now, the soldier David wants to re-negotiate the terms with his wife because he feels deeply attracted to her. Jocelyn refuses this due to her haunting past relationships. But, the Major is too keen to make Jocelyn his true wife.
Read out to know who wins in the last – the desires of Major or the resistance of Jocelyn.
Read Review on Amazon    Buy This on Amazon
7. Highland Promise by Hannah Howell
Written by the New York Times Bestseller author Hannah Howell, this book takes you to the fifteenth century Scotland. This is a story of a knight, Eric Murray, who is fighting his family for his rightful inheritance.
In this struggle of power, he meets a beautiful girl, Bethia Drumond, who is also fleeing for her life. Bethia's relatives want to kill her and her nephew in order to inherit their land. She asks the knight for help, and he promised to deliver her safely to her family.
They both start to fall for each other, but everything changes when Bethia came to know that Eric is also fighting for his right.
Not only this, but Eric's opponents are her family's ally. But, will they ever be able to cut their ties due to their families' feud? You can read the book to find this out.
Read Review on Amazon    Buy This on Amazon
8. The Drop of the Dice by Philippa Carr
If you love to read about love triangles, then you should read The Drop of the Dice. This historical romance novel is set in 1715 England when the Jacobite Rebellion was prevalent.
This twisted love triangle starts when Clarissa Field, daughter of an infamous lady, falls in love with a Jacobite rebel, namely Dickon Frenshaw. But, loving someone wasn't appreciated during those times in England.
So, society ended their romance by sending Dickon for an exile in Virginia. On the other hand, Clarissa was married to a profligate soldier – Lance Clavering.
The story takes you through a long span of Clarissa's life and her struggle between two men, between her desires and her duties. Now, she also has to transform her daughter to follow her legacy. A lot more twists are waiting for you in it!
Read Review on Amazon    Buy This on Amazon
9. Marrying Winterborne by Lisa Kleypas
Published in 2016, Marrying Winterborne is a Victorian romance novel set in Victorian-era London. Rhys Winterborne is a successful and rich man who always completes his every wish and desire.
Rhys starts liking the coy aristocratic lady, Helen Ravenel from the moment he meets her. His liking transforms into the urge to possess Helen soon. From the moment he realized it, he tries everything to woo Helen.
On the other hand, Helen is a down to earth lady having very little contact with the glittering London society. Yet, she starts to feel an intense passion for Rhys due to his constant efforts to gain her.
They get married, but their struggle doesn't end there. Helen believes that her gentle upbringing can change Rhys. But, Rhys's enemies try to make it worse for them by conspiring against them.
Read Review on Amazon    Buy This on Amazon
10. A Midnight Dance by Lila DiPasqua
A Midnight Dance is a must-read for you if you love the Cinderella fairy tale. Well, it also has a princess, a glass slipper and a prince. But, it also has deception as the princess wants to find his prince charming not for love, but revenge.
Sabrina Laurent is a well to do girl who lives a good life with his family and admires a handsome boy, namely Jules De Moutier. But, the loss of her sister and her family's sudden bad conditions make her a changed girl.
Now, Sabrina blames the family of Jules for all this. Her father's death makes her devastated as now she has to live with her father's mistress and her daughters.
To escape this situation, she plans to seduce her old crush, Jules, and take away his fortune. But, can she control her long-ignored desires for Jules while executing the plan? This is an interesting thing to read.
Read Review on Amazon    Buy This on Amazon
Final Words – Which Ones are my favorite among all the above Listed Historical Romance Novels
Now, get ready to dive into the world of historical romance by purchasing all these books. If not all, then you can start your journey with one or two of these historical romance novels.
The American Heiress
Jubilee Trail – My Personal Favorite
Highland Promise
The short plot description will help you in sorting out the ones in which you are most interested. Give them a try, and you will surely start desiring to transport back in the regency world for creating your own fairy tale romance!