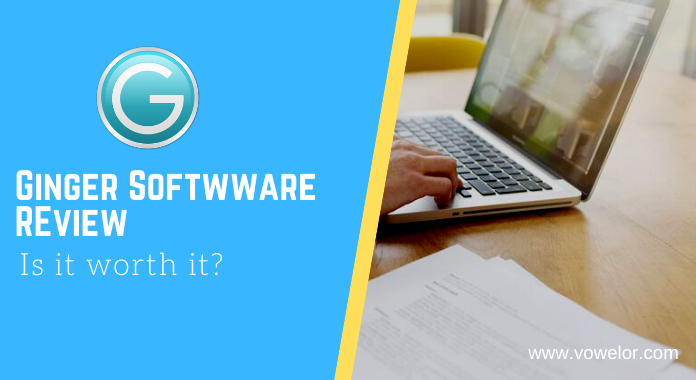 Putting your thoughts and ideas on paper is only the first step of writing. The process of writing completes after proper spell check, grammar check and proofreading. All of this makes your thoughts more refined and presentable.
For this refinement, writers take the help of various spell check software, writing tools, and grammar checking apps. Ginger Software is one such tool that helps in polishing your English writing in every possible way.
Ginger Software is counted among the best writing software programs available for writers. That's why; I'm writing this article so that the writers can understand everything about Ginger Software.
Let's start this in-depth tour of Ginger Software now.
What is Ginger Software?
Ginger Software is a comprehensive writing tool that provides all-round writing assistance.
This one tool performs the tasks of eliminating spelling errors in writing, checks the grammar, suggest better words, give sentence rephrasing suggestions for removing redundancy and proofread the work.
Plus, Ginger software can easily translate your text into 40 different languages. This writing tool can be used on desktop and mobile as well.
Salient Features of Ginger Software
Now, you must be wondering what makes Ginger one of the best grammar checker software or an ideal writing tool. After reading the unique features of Ginger Software, you will surely find the answer to this question.
So, here, I'm mentioning all the key features of Ginger Software:
1. Check your Spellings and Grammar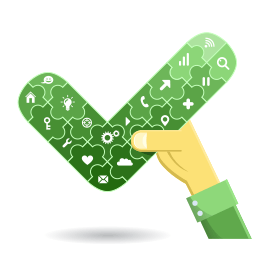 The first and foremost function, which good writing software should perform, is checking the spellings and grammar of a text.
All the writers do some spelling and grammatical errors; no matter how expert or experienced they are. Being a writer, I understand this as much as you do.
Ginger Software eliminates all these errors by checking the spellings and grammar of your text. It makes your sentences more clarified and meaningful by providing assistance in putting commas, removing unnecessary phrases and fixing other grammatical issues.
2. Rephrase your Sentences

Sometimes, some of our sentences are not that attractive or easy to read. The "rephraser" of Ginger Software detects all such sentences and provides their alternatives to make the text more attractive and clear.
It also checks the usage of your words and suggests better synonyms after scanning the whole sentence to make the text more presentable.
3. Translates your Texts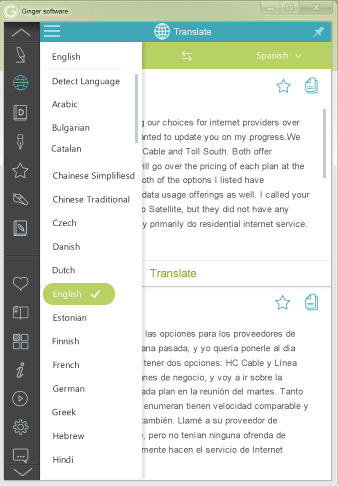 You can easily translate your English text to any other famous language through Ginger Software. The multi-language translator comes even in the free version of Ginger Software.
You can change your text in 40 prominent foreign languages by just clicking a button. Isn't it interesting?
4. Provides Text-to-Speech Facility

Text-to-speech conversion is a rare feature found in the common writing tools. So, this feature set Ginger software apart from all the other writing software.
You can put any text in Ginger and listen to it through the text-to-speech facility. Listening to your text will help in proofreading in a better way. Plus, text listening improves the English pronunciation and accent of the writers.
5. Boost your Vocabulary through Dictionary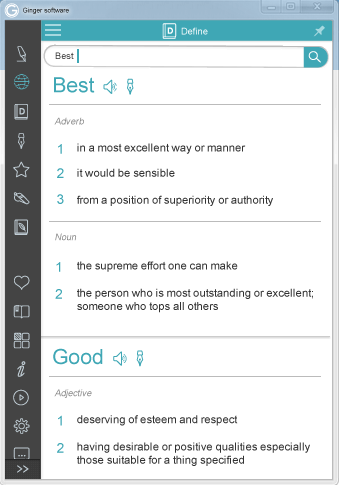 Dictionary is yet another feature that comes in the free version of Ginger Software. This in-built dictionary is very useful for enhancing your vocabulary.
The dictionary provides the meaning, definition, synonyms, antonyms, and origins of the selected word instantly. This eliminates the confusion as you can know the exact meaning of any word and use it accordingly.
6. Provides a Virtual Personal Trainer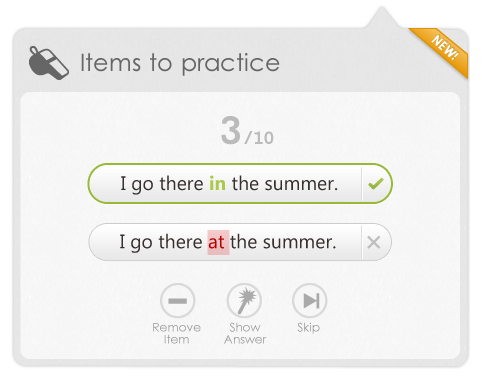 Ginger Software also provides a personal training facility for the writers. After analyzing your texts, Ginger detects your weaker areas or the areas in which you need improvement.
According to your personal requirements, Ginger software prepares rehearsal modules for you. By working on these modules in your free time, you can strengthen your weaker areas and become a better writer.
Installing and Setting up Ginger Software
The process of installing and setting up the Ginger Software is very simple. Still, I'm guiding you so that you can do it without wasting any time.
First of all, you have to download Ginger software online on your desktop or phone. For the Ginger Software download, you have to go to the official website of Ginger.
Here, you have to click on "install" to agree on the terms and services of Ginger. After clicking on it, the downloading process will begin.
The downloading process is quite quick. It will take just 1 or 2 minutes if your internet connection is stable.
After installation, the login page will appear. Here, you can sign up using your email and creating a password. Otherwise, you can log in via Google+ or Facebook.
After successfully logging in, you have to press the "start" button on the left to start using Ginger Software.
How to Use Ginger Software?
Now comes the main part. Unlike other complex grammar checking apps, using Ginger Software is very simple.
You will see a blank sheet where you can paste your documents or text fragments easily. On the left-hand side of this sheet, there is a toolbar that you have to use for using various services of Ginger.
The work of Ginger will start as soon as you paste your content in the blank space. After basic grammar check, you can click on any feature as per your need.
For example, you can click on the rephraser to get the rephrasing suggestions. You can click on the translator for translating the text. Like this, you can click on various buttons to use different features of Ginger Software.
You can also add Ginger Software as an extension in your browser, Ms. Word or use it in your keyboard. By such integrations, your every text will be checked and corrected simultaneously without doing any extra efforts.
Does Ginger Software Contain Plagiarism Detector?
You must be thinking that I haven't talked anything about plagiarism till now. Having such thoughts is normal because checking plagiarism is a very important part of writing.
Well, most of the writers don't even know that what they are writing is already written somewhere on the internet. That's why checking the plagiarism of any text before submitting it becomes mandatory.
Unfortunately, Ginger doesn't have any plagiarism checker as of now. It means you have to turn up to any other plagiarism checking tool even after polishing your text in Ginger Software.
It is a major setback of Ginger because a writer has to spend extra cost on plagiarism checkers even after getting the best subscription plan of Ginger Software.
What is the Cost of Ginger Software?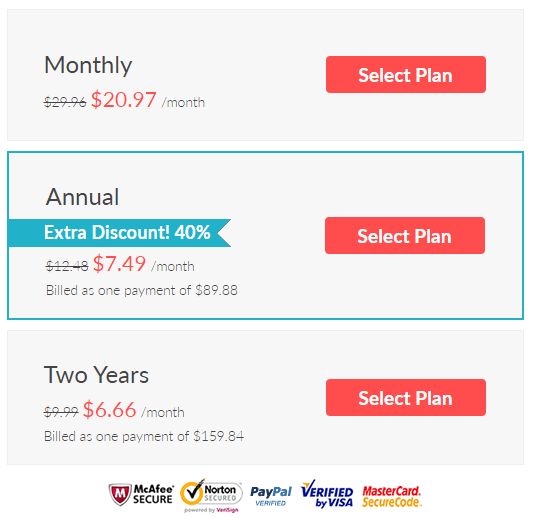 It's time to have a look at the price of Ginger Software. Ginger Software has a free version, a basic subscription version, and a premium subscription version.
In the free version, you can correct spelling mistakes and basic grammatical errors. But, there is a correction limit.
After crossing that limit for a day, you can't correct any error by clicking on approve. However, you can retype it. In this free version, you can also use the rephrase feature of Ginger Software.
Next comes the basic subscription plan of Ginger. The monthly cost of the basic subscription plan is $5.10. In this version, you can use unlimited grammar checker, translation tool, dictionary and can also add Ginger as your browser extension.
But, you can unlock every feature of Ginger by subscribing to the premium subscription plan. The monthly cost of this plan is $9.25. This plan gives you access to every unique feature discussed in this article.
Is Ginger Software Better than Grammarly?
If you are a writer, then this question should be hovering over your mind since you started reading this review of Ginger Software. Grammarly is indeed one of the most famous writing and grammar checking tool available in the market.
That's why a comparison between Ginger and Grammarly is necessary.
If I compare the features of Ginger Software and Grammarly, then I would say that Grammarly is better than Ginger.
Yes, because Ginger Software has some lesser important features like text-to-speech converter and translator while it misses on some main features like plagiarism checker.
On the other hand, the premium version of Grammarly has a grammar checker, plagiarism checker, and it also checks the delivery along as well as clarity of your text.
Also, the business membership of Grammarly gives you access to many team management tools as well.
If I talk about the usage, even then I would consider Grammarly over Ginger Software. Ginger is indeed ideal for writers who have to translate their texts in other languages after checking the grammar.
But, for writers like me, who just have to check the grammar and plagiarism of a text will find Grammarly more useful. Even it's free version has lots of interesting features.
Talking about the cost, Grammarly is quite expensive as compared to Ginger Software. The monthly subscription of Grammarly Premium will cost you $29.95; which is too much for new or budding writers. On the other hand, Ginger Software is pocket-friendly.
Other Alternatives of Ginger Software
Before subscribing to Ginger, you should also know about the other grammar checking apps or writing tools. These tools are the great alternatives of Ginger Software. So, let's have a look:
Grammarly: It tops the list because it is my personal favorite. Grammarly is the top grammar checking app which you can surely consider over Ginger.
Grammark: It is a good writing tool especially dedicated to academic writers or college/university-level students. It checks the grammar, wordiness, transitions, etc. But, it is less useful for writers who aren't into academic writing.
WhiteSmoke: It is one of the best grammar checking software. It detects the spelling mistakes, basic grammatical errors and provides suggestions regarding alternative words. However, its features are quite limited as compared to Ginger Software.
Hemingway Editor: It is designed to make your text more crisp and easy. Hemingway detects some basic grammatical issues like passive voice misuse and complex phrases or sentences as well. However, it just detects the mistakes and highlights them.
Prowritingaid: It is editing software that checks grammatical errors, spelling mistakes, and most importantly corrects your writing style. Prowritingaid also gives in-depth reports of the overused words, repetitions, cliches and many more.
Scrivener: This writing software is a scrapbook, typewriter, and ring-binder all at the same time. It is one of the most creative apps you will find in this niche. Scrivener helps you in organizing and structuring your work in order.
It doesn't provide suggestions for correction. So, you have to correct your mistakes by taking the hints.
Final Verdict – Should you Spend Money on Ginger?
Now, the real question is – is Ginger Software worthy of your money? In my opinion, Ginger is totally worthy of it if you are a writer who wants to be saved from silly grammatical errors, inaccurate word usage, and you also want to enhance your skills plus vocabulary.
In addition, people who have to deliver their work in different languages should also subscribe to Ginger.
Writers who have a low budget should also consider the basic plan of Ginger Software over other tools. However, if you are planning to try the free version of Ginger, then I would say rather than this, try the free version of Grammarly.
So, according to me, Ginger Software is quite useful for various purposes, and if your work requires these features, then you should spend money on Ginger Software without a doubt.