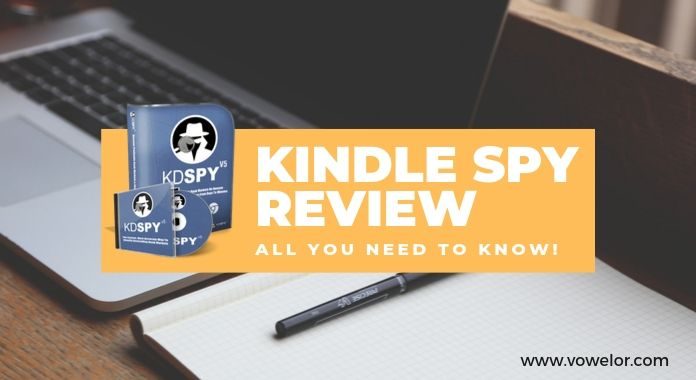 For self-published authors, tools like Kindle Spy (a.k.a KDSpy) play a very important role. Having worked with many Kindle authors, I exactly know the pain of keyword research, category analysis, constantly tracking and improving the sales rank etc.
Believe me, it's not a kid's play anymore!
That's why I decided to share my review of Kindle Spy which makes an author's life a lot easier. I have gone deep into each and every feature of Kindle Spy along with a few pro tips that nobody will tell you.
And, I am sure you wouldn't want to miss any of that at all. So, stick around and read till the end.
First off, let's begin with the basics!
Kindle Spy Review: My Thoughts and Opinion on KDSpy
Kindle Spy or KDSpy is a comprehensive Kindle publishing tool that helps authors in finding profitable keywords for their ebook, choosing the right categories and even spying on other authors.
Unlike other tools, Kindle Spy is available as a browser extension instead of standalone software. You can install the Kindle Spy extension in either Firefox or Chrome and that's it! It is compatible with both Windows and Mac.
It will help you to gather and analyze the information in a single click while you casually browse Amazon's website itself.
Detailed Look: Features of Kindle Spy
Kindle Spy outranks a few other similar software with some of the most interesting features. Let's discuss each of these features in detail.
1. Kindle Spy Category Analysis
As a Kindle author, it is crucial to know or at least have an idea of whether the book idea you have in your mind is worth some profit or not?
It can literally save you from writing out a 100-200 page ebook and then failing to make enough sales.
That's so heartbreaking! ?
With Kindle Spy's category analysis feature, you can take a look at the trustable insights of the top 20 books from more than 25000 categories on Amazon.
Here's how KDSpy Category Analysis works.
Visit the particular category you want to analyze on Amazon.
Now, simply click on the Kindle Spy extension on your browser.
It will show you a table with the top 20 books of that category, their price, estimated monthly sales, reviews.
The indicator at the bottom right will show a Green, Yellow or Red light to indicate the Popularity, Potential and Competition in that category.
My favorite part is the automatic indicator of Popularity, Potential and Competition which are shown in an easy to understand traffic signal layout.
It really saves a lot of time opening individual books, checking their stats and then coming to a conclusion whether it's profitable or not. KDSpy does all that for you in 1 click.
If you get all three green lights, that means you have found the gold mine! 😉
Pro Tip
In KDSpy v5, click the red info icon on the top left corner to see how many books you need to sell in 24 hrs to reach #1 and #20 in the bestseller list.
2. Kindle Spy Keyword Research
Once, you have found the right category, the next step is to find the right keywords on which your book can show up at the top of the Amazon search results.
I have talked to many authors whom I have worked with and realized 8 out of 10 authors do not really know about the power of the right keywords.
KDSpy has a keyword research tool that makes it surprisingly easy to find the right keywords according to your book and category.
Here's how KDSpy Keyword Research feature works.
Just enter a particular keyword on which you plan to write a book/ebook.
Now, simply click the Kindle Spy extension on your browser.
It shows a table of top 20 books with their KWT (Keyword in Title), KWD (Keyword in the description), Sales Rank etc.
Once again, there are color-coded blocks in front of every book. It indicates whether the keyword is present in the title, description of that book.
In the above screenshot, you can see four among the top 5 do not have the exact keyword in the title or description.
What does that exactly mean?
Basically, it means that there's a good chance if you have a well-optimized book title and description, your book might rank above these books (depending upon a few other factors that I'll discuss further.)
3. Word Cloud
So, KDSpy has this sneaky little tool called Word Cloud. Most people usually ignore it but you should not!
Let me tell you why.
On the Word cloud, you'll see 20 keywords that are most used in the books that are bestsellers in a particular category or for a particular search keyword. See the picture below.
Here you can see the words that are used the most in the bestselling books for the Diabetic and Sugar-free cooking category.
This indicates that these keywords are working perfectly to rank a book higher and eventually becoming a bestseller.
Pro Tip
Use at least 3 keywords from the Word Cloud in your kindle book title. Possibly, use all five keywords in the book description as well.
4. Tracking Sales Rank of a Book
Kindle Spy not only provides the SalesRank of a particular book but also lets you track the Sales Rank of that book.
But, why would you want to do it?
Well, sales rank tracking gives you a concrete idea of how the book performs over a period of 30 days.
Either it's your own book or your competitor's, the Sales Rank tracking helps in getting key insights such as on which days the book is performing well, what is the estimated daily revenue from that particular book etc.
This data helps in making informed decisions as a kindle author.
Here's how KDSpy Sales Rank Tracking feature works.
When you search a keyword or analyze a category, you'll see a 'T' in front of each of the books.
Simply click on the 'T' (which means Track) and you'll see detailed info about the book.
Now, hit the green button which says 'Click Here to Track Sales Rank'.
That's it, now Kindle Spy will automatically track the data for the particular book. You can see the books that you are tracking using the 'Rank Tracking' link on the top left corner of the KDSpy window.
The best part is that there is no limitation on the number of books to track. So, you can track as many books as you want!
Writing a book for the first time?
Try Novlr – an easy to use writing software to help you plan, organise and write your book without any headache. Read my detailed review of Novlr.
5. Spying on Competing Authors
I am not a very big fan of this one, but Kindle Spy lets you spy on any of the Authors on Amazon… because why not?
For any reason in the world, you want to know which author is earning how much and particularly from which book, this tool gives you all that data.
I do not see a better use of this feature except that it supplements your keyword research in a way that if an author is making huge sales with that particular book, you can assume that you also have some scope.
So, these were the main features of KDSpy. Now, the question is whether these features gonna burn a hole in your pocket? (I know the struggle of kindle authors!)
Let's find out!
How Much Does Kindle Spy Cost?
Kindle Spy has an actual price of $97 but right now it is available at a one-time offer price of just $47. At this price, you will get free lifetime updates along with a risk-free 60-day moneyback guarantee.
Grab this exclusive Kindle Spy deal today before it ends and save $50 instantly!
You might wonder that Kindle Spy extension is available for free on the Chrome web store then why pay $47.
Yes, that's true. You can download the KDSpy extension for free but you will need to log in using username and password which becomes active only after purchasing Kindle Spy.
Pros and Cons of Kindle Spy
After using Kindle Spy for more than a month now, here are the positive things that I found.
Regular updates – KDSPY is regularly updated with new features. It has released 200+ updates since 2014.
Affordable price – A one-time payment of $47 is an unbeatable price for a tool with so many useful features.
Easy-to-use browser extension – KDSPY is intuitive to use and can quickly be installed on Chrome and Firefox browsers.
Book tracking – You can keep an eye on as many Kindle books as you like using the book tracking feature and collect performance data over 30 days.
Countrywise Kindle stores – KDSPY is not limited to data from the U.S. Kindle marketplace. It supports eight other country-specific Kindle stores: UK, Canada, Germany, Italy, Spain, India, France, and Japan.
Though everything I mentioned above is great, there are a few things that are still missing in Kindle Spy.
No automatic updates for Firefox – Firefox users must manually remove and reinstall the software whenever a new major update is released.
Doesn't show Amazon demand data – KDSPY doesn't display the estimated monthly Amazon searches for keywords like other Kindle publishing tools.
Not for Safari and other browsers – KDSPY doesn't have any plans to release an extension for Safari, Microsoft Edge, and other browsers.
I hope the developers at KDSpy implement the following in upcoming updates.
Final Words
As a Kindle author, I am 100% sure that you must have found Kindle Spy to be really worth it (that too at such a heavy discount!).
In my opinion, though Kindle Spy misses out on some minor things, it is still an overall winner when it comes to getting relevant data about the Kindle ebooks, keyword ideas and authors etc.
Apart from the price tag, I am highly impressed with the regular updates – the latest being KDSpy v5 – which has added the functionality of showing data for books of other formats too (paperback, hardcovers etc).
So, what are you waiting for? If you want to be a pro at Kindle ebook business, Kindle Spy is the only tool you need. Here's your Kindle Spy discount offer. Avail now!