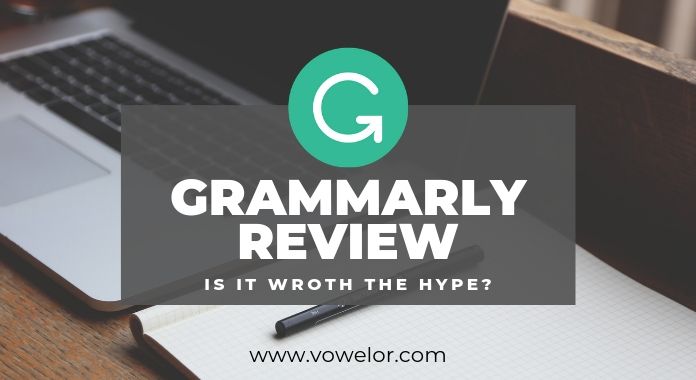 English grammar does not come naturally to everybody. So, can Grammarly help you become a better writer when grammar is not your strongest point?
Well, the answer is YES!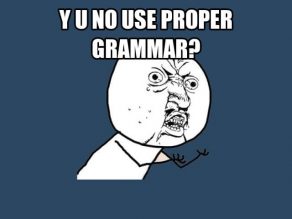 Grammarly is not just a grammar check, a spell check or a punctuation check. It is much more than that.
You probably already know that Grammarly is a great editing tool but is it really appropriate for everyone?
That is what I will help you figure out in my Grammarly review. I will answer the questions that most of you will definitely need answers to before you start using Grammarly.
How do you actually use Grammarly?
Is the Grammarly paid version worth buying?
Is Grammarly as good as human proofreaders?
FREE DOWNLOAD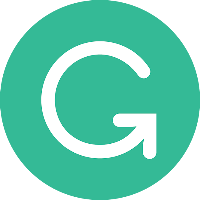 Grammarly
Grammarly is hassle-free and easy to use grammar checker and editing tool that comes with integrations for various platforms including Chrome, Word, Desktop, Online etc.
A detailed explanation of the mistakes that you have made.
Easily switch between various dialects.
Get reports on your punctuation, spellings, grammar, etc.
Comes with Plagiarism checker and Vocabulary enhancement.
Save $200 on Annual Package!
I'll be honest… I depend on Grammarly a lot when it comes to editing and proofreading articles.
I used the paid version of Grammarly to edit my Postgraduate dissertation. But, everyone does not need to buy the paid version as the free version does cater to most of the requirements that a writer has.
First and foremost, let me tell you what exactly does this grammar check tool do?
What is Grammarly and what does it do?
Sometimes, we might feel that opening an online spell and grammar checker is a hassle. You first have to paste your article and then you have to check and correct your mistakes.
Well, I feel you.
That's where Grammarly comes to your rescue.
It is like a virtual English teacher who tells you to correct your mistakes in an article or a piece of writing. It helps you correct your grammar, punctuation, word choice, spelling and your writing style while you write anything on MS Word, the web, your own website or any of your posts on social media.
So, if your aim is to impress somebody with a comment on a Facebook post with nearly flawless English, Grammarly is for you!
Not only this, but it also includes loads of other features.
Features of Grammarly (Free Version)
Let me briefly discuss the features that are available on the free version (because honestly, everyone loves free stuff!):
Language Preferences: You can easily switch between American, British, Canadian, Australian and American dialect by changing language preference settings in your profile. So, if you are somebody who wishes to write in two different dialects you can easily do so.
Grammarly Cards: This feature will give you a detailed explanation of the mistakes that you have made so that you do not repeat the same mistakes.
Reports: You can also get a report on the areas that you are weak in so that you can get better with time. You will get reports on your punctuation, spellings, grammar, etc.
Features of Grammarly (Premium Version)
Apart from the features of Free version, some extra features are available in the Premium version only:
Plagiarism Checker: Whether you are a University student or a writer, you need to check that there is no plagiarism in your piece of writing. Grammarly searches articles from every nook and corner of the internet and tells you the amount of plagiarism that your article has. Also, if you're somebody who wants to ensure that their content is safe, this feature is very important to you.
Vocabulary Enhancement: A great tool if vocabulary repetition is something that you do a lot… like me! It suggests synonyms and better vocabulary for the words that have been repeated and also help you write some complex vocabulary that will definitely make your English teacher proud of you.
How to use Grammarly?
There are a lot of versions of Grammarly that you can use like web, online and programs. This is especially helpful as everyone likes using Grammarly on different platforms. Some of the versions of Grammarly are:
Grammarly Extension (on Chrome, Safari, Firefox, etc.)
You can add the Grammarly extension on Chrome or any other browser and get help in correcting your articles, online posts and even your comments that you post online. A helpful feature for someone who wishes to impress others with their comments on posts!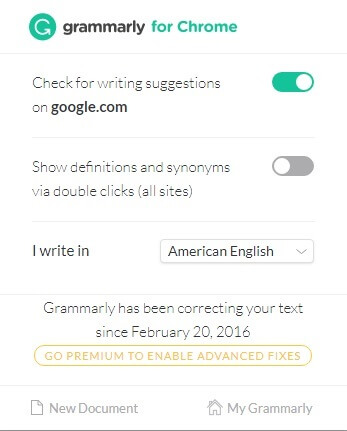 Grammarly Online
This is the website version of Grammarly that stores all the documents that you check. You can upload your file on this version with the help of internet and can also type within the given space. This is probably not the easiest way to use Grammarly though!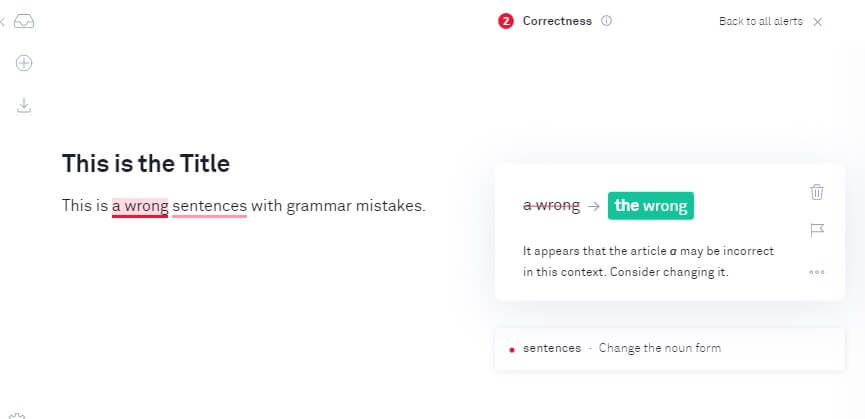 Grammarly for your Desktop
This is one of the easiest ways to use Grammarly if you are somebody who has a lot of documents to review but is too busy (lazy) to go online and check. You can just click on the little icon on your desktop and drop your files there, and voila, your English will be corrected at a supersonic pace.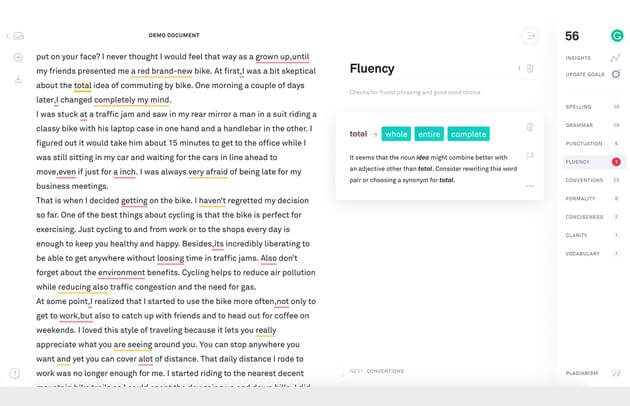 Grammarly for your Phone
If you're even lazier to open your laptop to write something and require immediate assistance on your phone then you can download the Grammarly Keyboard for IOS and Android and check whatever you're writing through your keyboard even if you are miles away from your laptop.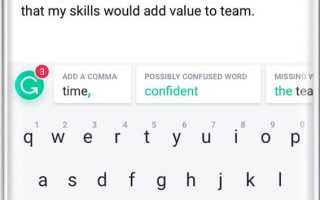 Grammarly for Microsoft Word
You're welcome Windows lovers because Grammarly has a version specially designed for you. You can just install Grammarly add-in into your Word and whatever you write will be thoroughly checked and corrected.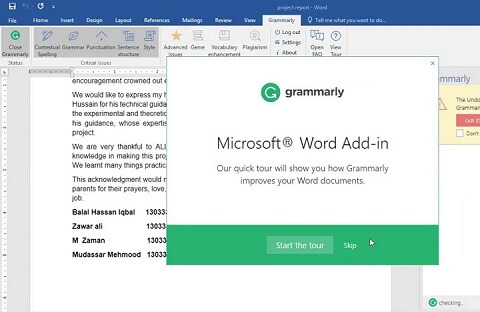 Grammarly vs. Human Proofreader
Though Grammarly Premium offers a lot of benefits and is almost accurate, it cannot be compared to a human proofreader.
An actual proofreader can help you correct your mistakes and also offer face to face guidance on the changes that are needed in the article. There are certain limitations to technology and software and it might miss some errors that only a human eye recognizes.
If you prefer an actual human proofreader, Grammarly can also help you in that.
You can send your article for reviewing to a human proofreader by paying a sum of money depending upon the speed that you wish your article to be edited. You can get your article edited in about 3 to 24 hours.
Grammarly Free vs. Grammarly Premium
The free version of Grammarly does include a lot of things but let us see how both these version compare with each other:
| Features | Free Version | Premium Version |
| --- | --- | --- |
| Critical grammar & spelling checks | ✔️ | ✔️ |
| Advanced checks for punctuation, grammar, context and sentence structure | ❌ | ✔️ |
| Vocabulary enhancement suggestions | ❌ | ✔️ |
| Genre-specific writing style checks | ❌ | ✔️ |
| Plagiarism Detector that checks more than 8 million pages | ❌ | ✔️ |
Now, that you can see the comparison between both, let us see how much money gets debited from your bank account if you wish to subscribe to the Premium version.
How much do you need to spend on the subscription of Grammarly Premium?
This chart depicts the monthly, quarterly and annual price of Grammarly Premium: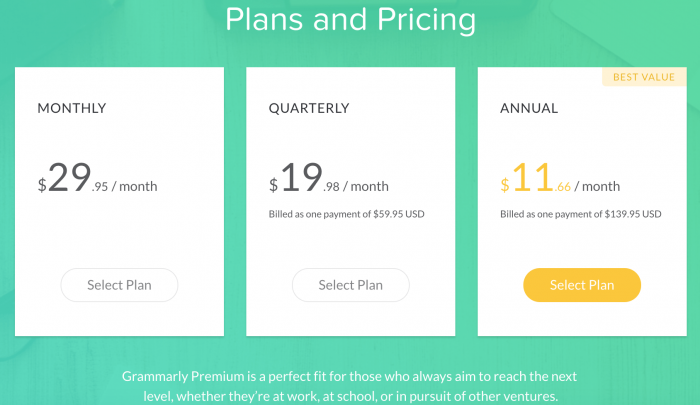 The annual plan obviously benefits people who write frequently and need to check their writing. You can save a lot of money by buying the annual subscription.
The monthly and quarterly subscriptions can be bought if you're somebody who requires the paid features that Grammarly offers for a limited period of time.
Now, that we've covered the amount that you need to spend on the Premium version, there arises the big question.
Is Grammarly Premium really worth the money?
My answer would definitely be… yes!
It is worth for people especially for students, online sellers, and bloggers who have to write original content with almost perfect grammar.
I used Grammarly while I was writing my Postgraduate dissertation as my plagiarism had to be less than 10%.
And, I could not find any other editor better than Grammarly to not only correct my mistakes but also give me an idea about the amount of plagiarism that my dissertation has.
It really was helpful as I was able to write impeccably and also without the fear of too much plagiarism. Now, that most of my official work is over, I use the free version of Grammarly.
But in the future, if I will ever need a plagiarism checker, Grammarly will definitely my first choice.
The free version of Grammarly offers more than any other free editor could offer and also is worth the time that you will spend correcting your English on it, but for the added features like Vocabulary Enhancement and Plagiarism Checker, you need to pay money.
So, I would definitely recommend students to buy the Premium version of Grammarly to avert any risks of submitting a plagiarized article or thesis that can land them in trouble.
Limitations of Grammarly
Grammarly is absolutely wonderful but every coin has a flip side and so does this one. There are some limitations that I found:
Grammarly Premium can be bought only in dollars which is a big hassle for people who do not do International transactions or do not have international debit and credit cards.
Grammarly Premium is a tad costly if you wish to use it just for a month.
For editing books, I would recommend employing an actual editor at Grammarly does not offer 100% accuracy.
The Plagiarism Checker is not full proof as there was a difference in the Plagiarism when I checked my dissertation on Grammarly and when my professor checked it on Turnitin (which is the plagiarism check software that Universities all over the world use to find the amount of plagiarism in a work).
THE FINAL REVIEW
Grammarly is good for you and I am definitely rooting for it.
The free version of Grammarly is enough for most of us and should definitely be one of the programs on the top of your list of proofreading applications.
Grammarly is great but it cannot replace a human proofreader.
You can use the paid Grammarly proofreader if you wish to get your articles edited by an actual proofreader which is great.
Grammarly Premium is a bit costly but if you buy the annual version, you can save a lot of money.
Grammarly is hassle-free and easy to use and the multiple language options give it an edge above other editing software.
I hope this review of Grammarly has answered most of your queries about using this editing tool. If you haven't given Grammarly a shot until now, do it without any hesitation. Keep writing on.