I have this special place in my heart for books that tell real-life stories. Reading them is inspiring as well as you learn a lot about life.
Recently, I read one such book – Me, My Mother and Her Cancer – written by Shekhar Narang and published in July 2019.
Me, My Mother and Her Cancer is an inspiring memoir where the author shares how his bond with his mother transformed after she was diagnosed with breast cancer and how she fought to conquer it!
So, let us get straight to the book review now!
Book Review: Me, My Mother and Her Cancer by Shekhar Narang
Me, My Mother and Her Cancer is Shekhar Narang's first book which he wrote to share with the world all the things he and his family went through as his mother fought breast cancer.
While reading the book, I realized that it is not just a memoir that would give courage to cancer patients and their families. It also works as a guidebook with important information and lessons embedded wisely into each of the chapters.
The book is divided into 30 chapters that tell you the journey of Shekhar's mother right from the point when she first realized about symptoms of Breast cancer to the very last chemotherapy session she has to go through.
Every chapter carefully focuses on the events, tests and hospital visits. But, the thing that touched me the most is the emotional roller coaster of a son who finds out that he may lose his mother.
It is so heartwarming to read how the relationship between a mother and son rekindled because of the deadly disease.
And, for those who are suffering from Cancer themselves, Shekhar's mother is definitely going to be an inspiration. The courage she showed and the brave decisions she makes during the process deserves a salute.
Shekhar Narang also expresses the value of the family and how important is the family's support in all the adverse situations.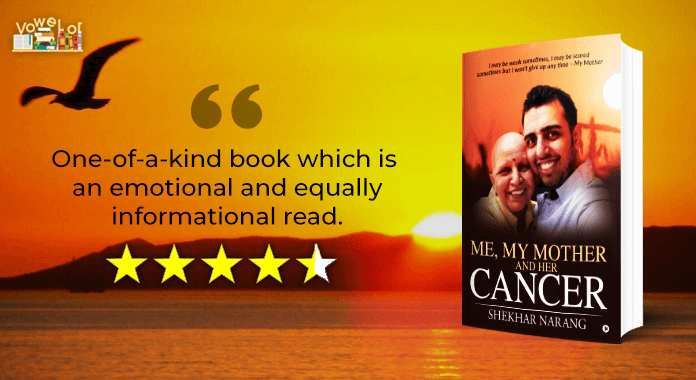 The Writing Style
Talking about Shekhar Narang's writing style, it is really very simple yet extremely effective. The author brilliantly portrays the emotions and turmoil which he went through during that 1 year.
While reading the book, you would feel as if you are a part of Shekhar's family.
Shekhar's honesty while writing is clearly visible in the pages. Whether he is writing about his personal life which was a mess then or when writes about his breakdowns during the journey, it is all very relatable.
One thing which makes Me, My Mother and Her Cancer one of a kind book is all the information that Shekhar Narang decided to give to the readers.
In this book, Shekhar has shared the names, processes, precautions and even the cost of each test that her mother had to go through. These are the things that every cancer patient's family is concerned about.
In the last few chapters, you will find the complete cost calculation and the interviews of the Doctors involved in his Mother's surgery.
Relatability
⭐⭐⭐⭐⭐
Usability
⭐⭐⭐⭐⭐
Writing Style
⭐⭐⭐⭐⭐
Vowelor Review
One-of-a-kind book which is an emotional and equally informational read.

4.7
Last update on 2020-03-20 / Affiliate links / Images from Amazon Product Advertising API
My Thoughts: Why You Should Read this Book?
In my opinion, Me, My Mother and Her Cancer is a must-read book for all those people who are battling cancer especially women with breast cancer.
The book will not only be a helping hand for the patient but also a guidebook with Dos and Donts for the family of the patient.
I would recommend this book to every son to be able to understand their mother's love and dedication she has for the family.
Quotes from Me, My Mother and Her Cancer
I may be weak sometimes, I may be scared sometimes but I won't give up any time.
That 1 year made me realize the meaning of the words – Maa, Mother, Mom.
My Mother was my first friend then I grew up and…
About the Author: Shekhar Narang
Shekhar Narang was born in Rajasthan. He is a software engineer and also holds an MBA Finance degree. Shekhar wrote his first book 'Me, My Mother and Her Cancer' about how his Mother defeated Cancer.
Shekhar has received appreciation and recognition for his book from various platforms. He was invited by the Health Ministry of India where the Health Minister Dr. Harshvardhan praised his book.
The author has also been a panelist on different events by NGOs that aim to spread awareness about cancer among the people.
Read the candid interview of Author Shekhar Narang with Vowelor as shared about his writing experience as well as his personal life.