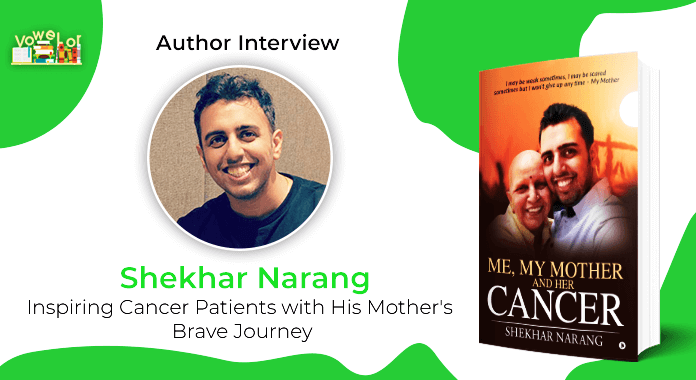 Reading books about real-life experiences has a lasting impact on our lives as a reader. And, thanks to those authors who put all their struggles and experiences into the pages of a book so that we can be inspired.
Today, we are happy to introduce you to Shekhar Narang, the author of an inspiring book – Me, My Mother and Her Cancer. The book follows the journey of Shekhar and his Mother through the difficult times of Cancer treatment and how they defeated it.
About the Author: Shekhar Narang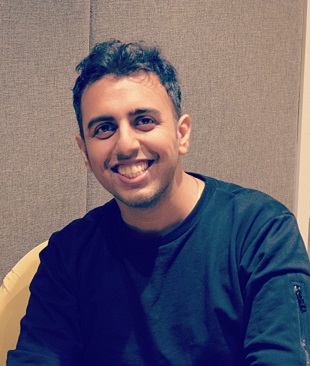 Shekhar Narang has written his debut book 'Me, My Mother and Her Cancer' based on his real-life experiences while his Mother went through the treatment of Cancer. He is a software engineer and an MBA in Finance from NMIMS Mumbai.
Born in Alwar (Rajasthan, India), Shekhar completed his schooling there. After that, he moved to Jaipur for an engineering degree and thereafter completed his MBA from Narsee Monjee Institute of Management Studies, Mumbai.
It's been 13 years now, Shekhar is living in Mumbai with his family. Apart from being an author, Shekhar is also a speaker and likes to travel.
Shekhar's father worked as a Bank Manager while his Mother was in the Education Department of Rajasthan. He also has an elder sister who is a textile designer.
Shekhar has been invited as one of the panelists by Festival of Hope foundation to talk about cancer along with Dr. Blossom Kochhar. The event was held at the Russian Center for Science and Culture, New Delhi. This event was covered by Indian express and Asian age.
We had a chance to have a candid interview with Author Shekhar Narang where he shared more about his life and the purpose behind writing this book. Read his interesting answers to our questions below.
What were you like at school? Any childhood memory you would like to share.
I was an average student at school and a very shy person, however, I was one of the finest students in Mathematics of my school.
Since I was very shy, I hesitated to approach anyone and had big stage fear. I wanted to do many things, but my fear was stopping me.
There was an activity of daily news reading in the assembly hall after prayer where any student can nominate to read the news in front of everyone.
So, one day I challenged myself and immediately after the prayer, I went to stage for news reading, my legs were shaking, and I was about to cry but somehow, I managed and started reading the news.
Within a minute I sensed that seniors were laughing at me and that time I wanted to leave everything and run from that place. But then I thought if I will run then everyone will laugh at me throughout the entire session so better to complete the news.
Then, I was on the stage for 5 minutes. That 5 minutes gave me one of the biggest strengths of my life that now when I go to the stage, I stand with confidence not with shaking legs.
What is your biggest achievement till today?
This book. I have never thought that it will make many people cry. The kind of response I am getting so far is great.
I recently got the invitation from the health ministry of India and got a chance to meet Hon'ble Health Minister of India Mr. Harshvardhan and he also appreciated my idea behind writing this book.
Which writers inspire you?
Hon'ble Dr. Kalam
Writing is stressful at times. How do you relax your mind?
Music and YouTube to divert the mind.
What is your favorite motivational phrase?
Nothing will work unless you do.
What advice would you give to your younger self?
Stop pretending to someone else.
What books do you like to read personally? What are you reading currently?
Biographies and History. Currently, I am reading Dark Blossom.
If you could have been the original author of any book, what would it have been and why?
Five-point someone because similar things happened in my life too.
Do you have a special time to write or how is your day structured?
It's a feeling however prefer to start my day early to get more time.
About the Book: Me, My Mother and Her Cancer
Me, My Mother and Her Cancer is Shekhar Narang's debut book. The author has beautifully shared his Mother's journey of fighting Cancer and conquering it.
Not only this book is inspiring but it also makes the reader understand the unconditional love of our parents which we only realize when they are not around anymore.
Also, 'Me, My Mother and Her Cancer' is a real-life guide for Cancer patients and their families. The book will help them in enduring difficult times and understanding every procedure and treatment in detail.
Coming Soon: A Detailed book review of Me, My Mother and Her Cancer will be published soon!
Last update on 2020-03-20 / Affiliate links / Images from Amazon Product Advertising API
Shekhar Narang shared more about his debut book with us and his experience while writing the book. Read further to know more about Me, My Mother and Her Cancer.
What made you decide to sit down and actually start writing about you and your Mother's journey through Cancer?
When this uninvited disease knocked at our door and entered into my Mom's life, it was only then I realized that so many people are suffering from cancer.
There were many occasions when I did not get appropriate information and faced challenges. At many moments, I found myself under the dark clouds. And, there were many instances where I and my family were enveloped in the urge to give up.
That was the time when I decided to write all such experiences so that these could help everyone in the future.
What is the hardest & the easiest thing about writing real-life experience?
Well if the journey was tough then while writing you are living all those moments once again and that is the hardest thing.
On the other side, if you are writing your own life experience then it becomes easy to explain and elaborate on things because you have lived them once.
How do you think this book will help other Cancer patients and their families?
To suffer from cancer may not be painful but the entire treatment process is very painful and costly too. There are 3 phases that come in every cancer patient's life.
First, when cancer just detects, this is the time where a patient needs to learn to prepare themselves for the upcoming big and challenging battle. My book talks about this First phase in-detail as what the entire family felt, how bad thoughts came and how Mom dealt with this situation.
The second phase is when treatment starts. This is the biggest phase where all different type of test conducts on patient, surgery, scans, injections and the most painful procedure is chemotherapy.
There is a roller coaster ride for a patient of mental and physical pain. This is the main time when a patient may give-up. My book talks about this phase a lot where how Mom gave-up and how the family came together to support her.
What kind of diet did we prepare for her, what kind of routine she followed and what kind of self-healing things she did to deal with that time and came out from that time? What all kind of scans, injections, surgeries and other treatment happens and how patient suffers all of that.
The third phase is – Life after cancer, and my book talks about how things start shaping their old roots. This phase is very emotional for everyone where life starts coming back to normal after a huge high and low tides and how to maintain a better lifestyle, my book talks about it.
Apart from 3 phases, there are 2 most important aspects I want to highlight, and it will surely help every cancer patient and that is the cost.
Each injection, scan, test, procedure, surgery, therapy, medicine, and chemo, how much cost is involved I have mentioned that in detail. Money plays an important role in cancer and I have covered everything in detail.
Another important part is that I had met with the top Gynecologist and Oncologist of India and took their interview and asked them all the basic questions that every patient have in their mind.
There are about 65 questions that talk about cancer in detail directly coming from the doctor's point of view. I have published all of them at the end of this book.
What makes 'Me, My Mother & Her Cancer' to stand out from other cancer-related books? What should a reader expect from it?
This book is from a son's point of view. This book is not only talking about the challenges, treatments, and procedures but this book gives a torch on the relationship as well.
Relationship with your parents, especially your first best friend of your life, your Mother. The very important message to everyone that never leave a cancer patient alone, at any cost.
This book is for all the resilient people who have made their way from a dark tunnel to joyous life and also to the ones who are still tangled in the jaws of tough times. After reading this book, you will discover a new dimension of life and you will actually start to live.
A piece of advice from Your Mother for the people fighting with Cancer.
Never give up because even a bad day also has 24 hours.
Any special experience about this book that you would like to share.
My mom kept on telling me that the day you will get married will be the happiest day of my life but when I showed the final copy of the book to my Mom, she cried and said that this day is the biggest and happiest day of my life than to see you getting married.
Future Plans
What are your ambitions for your writing career?
Writing gives me satisfaction that I can't explain in words. There are many stories that I want to tell the world and I have started preparing the one.
Are you working on your new project? What will be your next book about?
Not yet started but soon it will.
What does success mean to you as an Author?
The message which I want to convey via this book will reach the maximum audience.
Where can you see yourself in 5 years' time?
To living in the cancer-free world.
Your opinion about Vowelor.
Great initiative and a wonderful platform for readers and authors to connect with. Energetic team and a fantastic community to gain and share knowledge.
Are you also an author? Get your book featured on Vowelor now!