Akshay Punjabi's debut book, Failure Fun, is a one-of-a-kind book sharing his real-life entrepreneurship experience. The book is about how his startup 'Wowlet' failed and what budding entrepreneurs can learn from the mistakes Akshay did while running his venture. This book was published in 2021 by Adhyyan Books.
Unlike most other entrepreneurship books, Failure.fun by Akshay Punjabi essentially highlights what NOT TO DO instead of preaching what to DO (which is simpler of the two!).
Here is a snippet from the book:
As a first-generation entrepreneur I needed to make sure that my family understands the risk I am taking and their expectation on my availability – both physically and financially. That is where I missed out and just manipulated Roopanshi into saying 'Yes' to me.

Entrepreneurs are a unique breed who can go to whatever extent to manipulate people and that is what I did. But I paid a huge cost for the next three years, every month I was questioned on getting money at home which created disempowerment for me, and it was causing a huge distraction in focusing on the business. Our relationship, too, was affected because of money.

My advice is to go for being an entrepreneur and have your family, especially your parents and wife in alignment with your vision.
Book Review: Failure Fun by Akshay Punjabi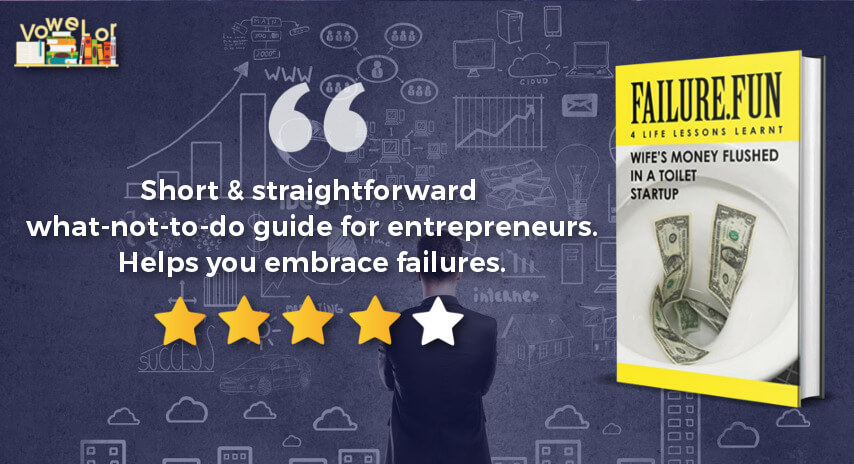 The book starts with a very thoughtful 'failure resume' where the author introduces himself and all the failures he had from failing an exam or getting fired from a job.
Before the book starts to discuss his failure story, Akshay explains why failing at something can actually be good and why it is important to embrace those failures.
The first chapter is about how Akshay's professional life and his love for travel. And, after his 32-day New Zealand trip with his wife Roopanshi, he finally found the 'big idea' for his own startup – clean toilets for travelers.
In 2017, He convinced his wife and left his job to work full-time on this startup. Akshay went all in leaving no stones unturned and raised a major part of the 10 million rupees he estimated he required for the venture.
Soon, Wowlet has signed deals with big Indian corporations and expanded to 18 locations with over 150000 people who used their toilets daily. They had revenues, they had brands collaborations, but even after all this, Wowlet has to close operations within 3 months.
That's where the actual meat for this book starts. In the next chapters, the author explains terms like Brupid (brave+stupid) which is a disastrous mindset for business. He talks about the partnership mistakes, contracts with clients, terms with VCs, etc., that limit you and your business ultimately.
The book also describes the idea of working 'inch wide and mile deep' which is essentially being laser focussed. And, not diverging your creative energy into tasks that can be delegated for better such a social media, accounting, etc.
Akshay also focuses on hiring the right people with the right experience and the right talent for the job. Instead of saving money by hiring the wrong people, choose an efficient team; it can do wonders for the business.
Another very important factor that Akshay discusses is the Business Model failure. In the easiest words, he explains how the imbalance of CAC (customer acquisition cost) and LTV (lifetime value) can eventually break the whole revenue model for your business.
At the end of the book, there are nine key questions that every entrepreneur must ask themselves to ensure their business model is workable and scalable.
Also, in the last chapter, Akshay talks about the Rewards of Successful Failure. He shares how the failure of Wowlet changed him professionally becoming more mature, proactive, and better decision making.
Relevance
⭐⭐⭐⭐
Practicality
⭐⭐⭐⭐
Writing Style
⭐⭐⭐⭐
Vowelor Review
Short & straightforward what-not-to-do guide for entrepreneurs. Helps you embrace failures.

4.0
✅ Get your copy of Failure.fun by Akshay Punjabi on
Amazon now
!
My Thoughts on the Book
As a business book, Failure Fun by Akshay Punjabi is strikingly different – it does not preach anything. If you've read popular books for entrepreneurs, they mostly tell you what you should do, how you should do it, etc.
Unlike that, this book is more like reading an experience of failing and learning from it so that you can avoid making the same mistakes. You can take it as if your elder brother is sharing a piece of advice that you would want to follow.
The book is short and straightforward with just 32 pages of absolute practical wisdom. The author ends the book with 'Happy Failing, everyone!' which is one of the most unique ending sentences for a business book.
About the Author: Akshay Punjabi
Akshay Punjabi is an author, an entrepreneur, and a trainer from the state of Haryana in India. His debut book is Failure.fun which got published in 2021. He started his venture 'Wowlet' in 2016 and eventually had to shut down after facing ups and downs. That experience became Akshay's inspiration for this book.
Akshay has completed his schooling at Delhi Public School and went on for higher studies at Indraprastha University. He has volunteered for the last 13+ years with World's largest training & development company.
He has himself completed over 60 courses in different areas of expertise. Apart from writing, he plays violin and enjoys lawn tennis. Read the exclusive interview of Akshay Punjabi with Vowelor to learn more about his life, works, and future plans.