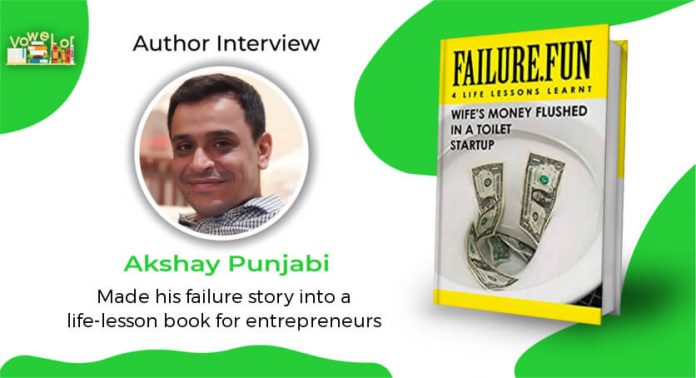 It is said that we must learn from our failures; be it life, business, or relationships. But, not many believe in sharing their failure story to help others learn important lessons of life. Meet Akshay Punjabi, an author who has written 'Failure.fun', a book about his failed startup and the lessons he learned while running it.
Vowelor had a chance to have an exclusive interview with author Akshay Punjabi where he discussed his childhood, life mantras, his entrepreneurial journey, and ultimately writing the book 'Failure.fun'.
Before we get to this interesting interview, let us first know a little more about Akshay Punjabi.
About the Author: Akshay Punjabi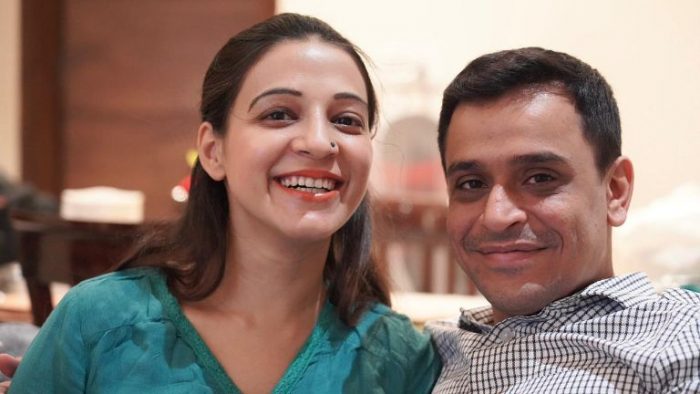 Akshay Punjabi is the author of the book 'Failure.fun' which got published in 2021. He is an alumnus of Indraprastha University and Delhi Public School. He has been a volunteer for the past 13 years with World's largest training and development company.
Akshay has trained himself and others in relationships, career, and other important aspects of life through programs by Landmark Worldwide and has completed approx. 60 courses. He is also a violinist and a tennis player.
Akshay's wife is an entrepreneur and both have a 9-month old son. They live in Faridabad, Haryana, with his parents who are both doctors. His younger brother runs his production house.
Further, we asked her about his school life, his reading habits, and how he went entrepreneur to a writer. Read his interesting answers below.
What were you like at school? Any childhood memory you would like to share.
I have studied Delhi Public School and my parents are doctors so always have gone through the pressure of studies and scoring good marks. Studies never interested me, so my marks were always below average.
Given I was in DPS, so I had to go through a lot of comparison and inferiority complex of not being intelligent. One of the memories that I still have, and it changed the course of my life was failing in one of the subjects in 9th class and was not promoted to 10th class and I had to stay back for remedial classes and I used to hide myself from the children who got promoted to 10th class.
What is your biggest achievement till today?
Running my Toilet Startup.
Which writers inspire you?
Gary Keller, Jay papasan, Bob Burg, John David Mann, Edward De bono.
Writing is stressful at times. How do you relax your mind?
Take a break, I am a violinist and a tennis player. I am currently preparing for the All India Tennis Academy match in October and I play violin with my 10-month toddler.
What is your favorite motivational phrase?
Don't wait for the destination, enjoy the journey.
What advice would you give to your younger self?
Keep Exploring and be curious.
What books do you like to read personally? What are you reading currently?
I like to read books that are focused on productivity and strategy hacks. I also read books which are about entrepreneurship and Design thinking. I am currently reading (Fast, Cheap, and Viral), Six thinking hats and Parenting.
If you could have been the original author of any book, what would it have been and why?
Go Giver, as that is my story of life. I have believed in giving and not expecting. Pay it forward.
What made you decide to sit down and actually start writing? Any exact moment or life event?
I was closing my closing and realizing my mistakes and I realized that my failures were best teachers so thought of being public about it.
Do you have a special time to write or how is your day structured?
Yes, I spend time writing at night.
What is the reason you write for; is it for the readers or your own self or some other thing?
For the readers.
About your Book: Failure Fun
Akshay Punjabi's debut book 'Failure.Fun' is the story of his own failed startup 'Wowlet' (a toilet startup). He shares his journey in the form of four important life lessons that everyone should learn (especially aspiring entrepreneurs).
Akshay has put down his 7 failures in this book and after each failure chapter, there's a worksheet that helps you realign your actions when you face such a situation. Most importantly, it is not a regular self-help book that preaches stuff, instead, it tells you to accept and love your failure, and eventually grow from inside.
Stay tuned to read the full book review of Failure.Fun which will be published on Vowelor soon!
Author Akshay Punjabi shared more about his book Failure.Fun and his future plans. Read further to find out.
What genre is your book? What draws you to this genre?
Business and management. One of the things that I learned in my Journey of my last start-up that I picked up a lot of things to do and had a lot of ideas but nothing was fully executed. So what had me write about this was that one thing that entrepreneurs should focus on is "Saying NO" such that they can do what is really required.
What makes 'Failure. Fun' to stand out? What should a reader expect from it especially young entrepreneurs?
Authenticity and simplicity. It is a short story. Saying No to things such that they can pick the right things to do and do it properly.
Your book is essentially a failure story, but it is inspiring. What is the hardest & the easiest thing while writing such a book?
Being authentic and vulnerable. One of the things that I faced while writing was that my people criticized why are you so upfront about your failure. This was the hardest thing to face and the easiest part was that I can straight forward write about my failure and there is nothing to hide.
As this is based on your real-life experience, any special memory while writing that you would like to share.
There were a lot of memories and one of them was a difficult time when one of the founders was going out due to my mistake and regretted that I should not have taken that decision.
It is a significantly short book (32 pages). Any specific reason for this? How would you convince the readers to spend on this book?
You can read the review on Amazon. In a simple way, it specifically shares 4 lessons. I believe in minimalism.
Future Plans
What are your ambitions for your writing career?
Share this story with young entrepreneurs.
Are you working on your new project? What will be your next book about?
It will be something around parenting.
What does success mean to you as an Author?
People being inspired and take action in their life.
One learning that you'd like to pass on to young debut authors.
Just spend 30 minutes daily focussing on writing 100 words and not the whole book.
Your opinion about Vowelor.
Great service to new authors.
Want to know more about Akshay Punjabi? Connect with the author on Linkedin, Facebook, and Twitter.
Are you also an author? Get your book featured on Vowelor now!