Chrome Mountain is a fully action-packed novel written by Ben Schneider and published by Outskirts Press in May 2018.
The story is about a genius scientist Trey and an ex-gang member Sonya who is on the quest to save Trey's life from the Chromes.
Chrome Mountain is Ben Schneider's debut book but reading the book for the first time didn't feel like reading something written by a debut author.
Here's a small snippet from the book
"Grandma, I know you're up there." She spoke softly. "I know you're in a better place. But now that you've left this life behind, I don't know what to do with my life." She blinked away another tear and took a deep, shaky breath.

"What should I do? Should I become a vigilante? That could be fun, certainly more exhilarating than dating another loser guy.

I would really like to help someone less fortunate than me…but I don't know-how. And I wish I wasn't sick of being alone…but I am. How pitiful!"
Book Review: Chrome Mountain by Ben Schneider
Sonya was escaping from her old gang. She was assaulted by the gang boss and her ex-lover Levi, on the previous day. She thought no one was aware that she was fleeing.
But one of the gang members, Brock had trespassed in her escape plan. She had no option but to kill him. She had abandoned her grandma five years back.
When she escaped, She had stolen 70000 $ from Levi and now it was almost three years from her escape she got a call from her friend stating that Levi's gang was after her. She was again on the run for her life.
In some other part, Trey had invented a device that would make him very rich. On the flip side, it would cost so many innocent people's lives if the device was falling on the wrong hands.
Weighing the pros and cons, he had destroyed the device. Knowing that his fiancee had left him without saying a word, he lost his job. Now three years over, he left his present job too and was on his way to see his parents.
Maybe it was destiny's way of playing things that Trey has to meet Sonya.
Story
⭐⭐⭐⭐⭐
Characters
⭐⭐⭐⭐
Language
⭐⭐⭐⭐
Vowelor Review
An Action Thriller that will keep you riveted till the end!

4.5
My Thoughts
Chrome Mountain is a fully action-packed novel. From the start to the last page, there was some chasing, fighting, and firing going on like Alistair MacLean novels.
Ben's work experience with the airforce made this novel more influential, imaginative and realistic. Ben is expanding his ideas, where there is a fundamental trait of the American Democracy, FREEDOM is under threat now.
In another angle it is a Scientist's quest for the values; To become rich or to make the country safe? Both are mutually exclusive choices.
Sonya's character is picturized well by Ben. Her mother abandoning her at a tender age and died later and the following death of her father led her an abnormal childhood.
From a rebel for her age to get out of home, adventurous to join the wrong crowd to find her sweetheart, at last, she has come of full circle.
She not only realized that she made a wrong choice but also wanted to rectify the things she had done in the past.
Her empathy towards Becky and recalling her school days with her and her regret for abandoning her grandma made her a tough woman with a tender heart. Trey before meeting Sonya was a different person altogether after meeting and falling in love with her.
Trey could have easily fallen for money and the stardom that the device might have brought in for him.
He was a loner and no girls were after him and maybe that was the only opportunity for him to prove himself to the society. But he put his self-interests on the backstage.
Even though coming in few pages, his family members are making a better impression on the readers' minds. What a quite character his mother was!
Levi is one of the remarkable villains living in his own world. The usage of different kinds of arms in this novel is professionally dealt with. Love blossomed between Trey and Sonya is drawn beautifully.
Sonya was attracted and love at first sight for her. Whereas for Trey it was a different experience but destiny made his life intertwined with Sonya.
Descriptions of the goons and the outlaws who were running a sophisticated facility are realistic. The style of writing is catchy and captivating which makes this novel one sitting read.
Few flip sides for this novel too.
There are some chasing, especially the one from their hotel to their meeting with FBI agent should have been curtailed to make this novel more intriguing.
Likewise, right under the nose of various government authorities, a terrorist organization is building facility after facility and killing lawmen at its own whims and fancies are not so realistic.
Maybe in his next novels, Ben will overcome these shortcomings. Overall, it is a good read with a four-star rating.
About the Author: Ben Schneider
Born in 1977, Ben Schneider is an American author and an Air force officer. Ben published his book 'Chrome Mountain' in June 2018.
He is working towards making this book into a full book series with main protagonists being – Sonya and Trey. The sequel of Chrome Mountain is going to be the North Factor which is expected to release soon!
Apart from writing, Ben is also a graphic artist and has published a graphic novel series called Airman Artless.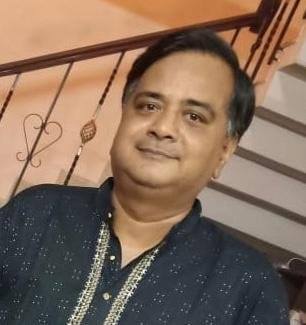 This review is written by one of our Vowelor Facebook Community members – Saravanan Manickavasagam. He's an avid bibliophile, writer, ex-banker, and a proud dad.
When he isn't working, you might find Saravanan reviewing books, writing articles, proof-reading and editing amateur works or attending literary events.
His taste in literature is wide-ranging from crime to classics, poetry to politics; fiction to non-fiction – as long as it's a book he will give it a go! Ceiling-high bookshelves are a dominant feature wherever he goes, and a stack of books constantly threaten to tumble down his desk.