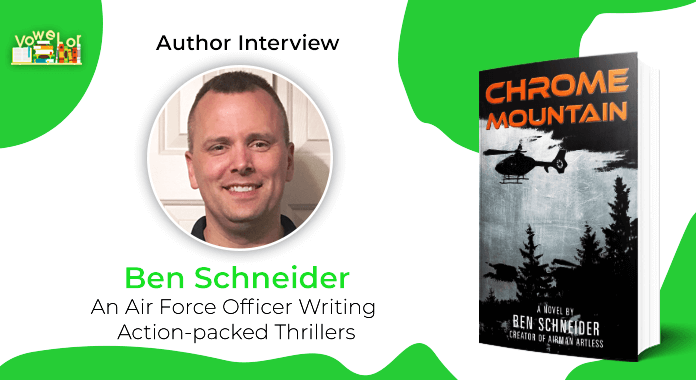 Reading a good action novel is a nail-biting experience. And writing such an action thriller is even more exciting. Today, we are introducing you to Ben Schneider, the author of Chrome Mountain.
Ben Schneider published Chrome Mountain back in June 2018 which is a riveting action thriller book.
Let's dive in and know more about Ben as a writer as well as his personal life and experiences.
About the Author: Ben Schneider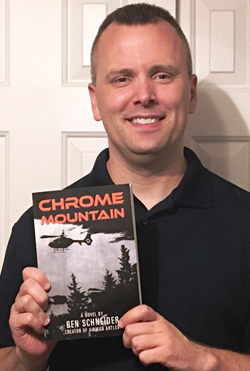 Author Ben Schneider was born in 1977 in Oklahoma City and grew up near Newcastle. He completed his B.A. in Graphic Design at Oklahoma University.
In 2003, Ben married Suzy and joined the Air Force. He has been stationed in different parts of the world. But, his parents still live in their first home in Oklahoma.
Ben dedicated his debut novel, Chrome Mountain, to his parents. He firmly believes that there is absolutely nothing he would have changed about his parents or the way they raised him.
Ben Schneider recently published his second book Realm Journey in June 2019. He is also working on the sequel of Chrome Mountain which is titled The North Factor.
Here's the conversation we had with Ben Schneider. Read his crisp answers to know him personally as well as about his first book Chrome Mountain.
What were you like at school? Any childhood memory you would like to share.
In school, I was not very bright. I was quiet, standoffish, and easily offended. Because I didn't have enough sense to ignore insults, I was often everyone's favorite punchline. The only childhood memory of mine that might be worth sharing is when I won the talent show in 5th grade by playing the harp.
What is your biggest achievement till today?
In June of 2019, I completed my novel, Realm Journey—my oldest idea.
Which writers inspire you?
Almost all writers inspire me, especially David Morrell, Terry Goodkind, Cordia Byers, Ann Marston, and Roderick Thorpe.
Writing is stressful at times. How do you relax your mind?
I read fiction and watch the "Fail Army" channel on YouTube.
What is your favorite motivational phrase?
"Talk is cheap because supply exceeds demand."
What advice would you give to your younger self?
Stop playing video games and read more.
What books do you like to read personally? What are you reading currently?
I am partial to anything filled with at least one of the following: action, suspense, thrills, and humor. I am currently reading Safe Haven by Nicholas Sparks.
If you could have been the original author of any book, what would it have been and why?
There is no such book. I have never read any good story that I thought I could have written better.
What made you decide to sit down and actually start writing something?
I wanted to find out if the ideas in my head sounded as good on paper.
Do you have a special time to write or how is your day structured?
Usually, my only window of opportunity is during my lunch hour at work.
You are a Graphic artist as well. If you have to choose one in Drawing & Writing, what would be your choice?
Writing, because it requires the imagination to work harder.
About the Book: Chrome Mountain
Chrome Mountain is an action-adventure thriller set just 3 years into the future. The story follows Sonya's journey from escaping a dangerous biker gang to saving Trey, a scientist, from the terrorist organization called Chrome Falcon.
Trey's invention can change the world, but, if it goes into the wrong hands, it could destroy everything. Sonya believes she is the chosen one to save the world. The book is filled with amazing action sequences and nail-biting chases.
Coming Soon: A Detailed book review of Chrome Mountain will be published soon!
Ben shared more about his debut book with us and his experience while writing the book. Read further to know more about Chrome Mountain.
What genre is your book? What draws you to this genre?
The genres of Chrome Mountain are: Thriller, Action-Adventure, and Sci-Fi. I am drawn to these genres because there are usually no other genres that hold my interest.
What is the hardest & the easiest thing about writing?
For me, the hardest thing about writing is my effort to avoid overusing certain words. The easiest thing is knowing when scene breaks are called for. I will not waste a reader's time with irrelevant material—unless the material is remarkably amusing and does not clash with the scene.
What is the reason you write for; is it for the readers or your own self or some other thing?
It is for both myself and the readers. For me, I enjoy watching my good ideas become great ideas when I transmit them from my brain to paper. I also don't want to spend my final years wishing I had explored my writing skills. For readers, I offer entertainment and reminders that life is always better when you treat others well.
You are serving in the Air Force. How much impact does it have on your story?
In the Air Force, four things that are often stressed are: discipline, checklists, time management, and exhausting all options. When I give these qualities to my protagonist, he/she makes more sense to the readers.
What makes 'Chrome Mountain' stand out from other action thriller books? What should a reader expect from it?
Since most of the novel is set three years into the future, the sporadic Sci-Fi elements are surprises to most readers. Like other authors of action thrillers, I put much stress on story twists and character development. However, I set the bar much higher on action scenes, humor, and character likeability—which I usually don't find in 95% of the action thrillers I read.
Any special experience about this book that you would like to share.
There are two reasons the main protagonist is female:
So she will have to face challenges that males would not.
It makes the novel appeal to a larger audience.
Future Plans
What are your ambitions for your writing career?
I would like to make an entire series of books about Chrome Mountain's two main characters: Sonya McCall and Trey Radisson.
Are you working on your new project? What will your next book be about?
I am working on Chrome Mountain's first sequel, The North Factor. It will be about Sonya McCall's dark past returning to threaten her.
What does success mean to you as an Author?
I measure my own success by the number of people who read my books. At this time, I'm not even close to seeing myself as a very successful author.
Where can you see yourself in 5 years' time?
I can't imagine my life in 5 years being much different than it is now.
Are you also an author? Get your book featured on Vowelor now!