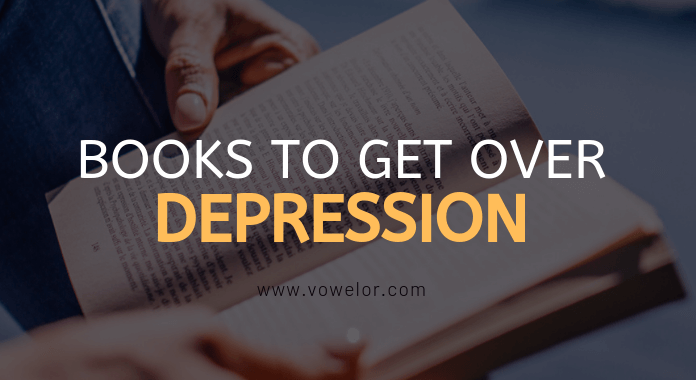 Have you come across the saying, friend in need is a friend indeed? Well, it is actually true, books can be your best friend ever and reading books about depression can cure your mental illness.
One in every five people is now suffering from depression and we still cannot talk about the elephant in the room!
There are times when we feel like no one on the earth understands us. When we think that weaving our feelings into words is the toughest task to do. When we just want to sit and stare in the blankness of our existence and the times when we are just NOT FINE.
You need to talk about it. Share it with your family and friends or just read books on depression. There are many authors who had actually written books dealing with depression and anxiety, despite society's reluctance for it.
There are wounds that never show on the body that are deeper and more hurtful than anything that bleeds.

Laurell k. hamilton
Believe me, these books based on the subject of depression will work as an anti-depressant drug for you and make you realize that you are not alone in it.
If you are ready to take a few steps for your better self, then you need to be with me and further read this list of best self-help books for depression.
Books to Read When You Feel Depressed
When I say this is the list of best books about depression that means it will not only help you in dealing with it but you will also witness the journey of finding 'what it is like to be depressed'.
I have included both fiction and non-fiction genre books to help with depression. This will be an ultimate list of books for both saviors and sufferers of the depression.
1. Shoot The Damn Dog by Sally Brampton
In 2008, when a successful magazine editor of Elle and prize-winning journalist, Sally Brampton released a memoir about depression, everyone was awestruck.
No one had ever imagined, not even her friends and colleagues that she was going through from a tough time. She was battling with depression and alcoholism on her own and like any other person, she tried to deny the fact that she needs help.
Shoot the Damn Dog is one of those books which had talked about the depressed person's journey. Sally has written her story with tremendous honesty mentioning about her suicide attempts and finally surviving through all of it.
With this overcoming depression book, Sally has inspired many people to talk about depression and I guess you will also be one of them.
2. Looking For Alaska by John Green
This book is just not a cliche love story where a boy meets girl and they both fell in love with each other.
I wish things could be so simple in real life but I am glad that John Green has written this book to tell people about the complex emotions every young adult comes across.
Miles Halter is so done with his boring and dull life in Florida. He has decided to change his introvert and quiet lifestyle and add up some adventure in life in his new school in Alabama.
Miles life turns upside down when he meets young, beautiful, daring, and emotionally troubled, Alaska Young. Eventually, he falls in love with her but things are not that simple.
You are going to love the Miles obsession for the famous people's last words and Alaska's constant struggle to get out of the Labyrinth of sufferings.
3. Impulse by Ellen Hopkins
None of the three teenager protagonists of the story had ever thought of meeting someone who could understand them.
Vanessa, Tony, and Conner were living and struggling with their own lives and bumped into each other at Aspen Springs, a psychiatric hospital. A place where those who have attempted the ultimate act of suicide are treated.
Discover the three main characters' point of view and their unique stories. You will feel connected with the story if you had ever seen or felt depression at some point in your life.
4. Silver Lining Playbook by Matthew Quick
This heartwarming story plot is a New York Times bestselling novel and was adapted as a major movie which was nominated for eight Academy Awards, four Golden Globes, and four Screen Actors Guild Awards!
In this book, you are going to meet a slightly different character, Pat. Pat has a somewhat different theory of life from other people. He thinks that his life is a movie produced by God and he has been assigned to a mission to be physically fit and emotionally literate.
However, he believes that God will ensure him a happy ending and he will get back to his estranged wife, Nikki. Although, nothing in life is going with this theory.
I don't think you will ever miss such an acclaimed book which is said to be the soulful, tender, humorous, and true debut novel of Matthew Quick.
5. All The Bright Places by Jennifer Niven
When the first time I read this book I had no idea that what this book deals with. But from the very beginning, I was eager to know about the lives of the characters.
Theodore Finch who could surrender living for death. The only thing he could think about is death which seems fascinating to him and besides several trials of killing himself, he was saved every time by someone.
The story takes an interesting turn when Finch meets Violet Markley, a girl who just wants to escape her past and present and wants to live for the future. Love blooms when they both collaborate to complete the assigned project of "nature's wonder".
After seeing the shattered selves of each other, will they be able to hold and mend each other?
I sincerely want you to find out the answer and read this incredibly powerful story of love and emotions.
6. Furiously Happy by Jenny Lawson
I don't think you always need to be sad or feel upset while reading a book about depression. No one wants to feel sorry for themselves and grieve upon it.
So, here is this book which talks about serious mental illness like depression and anxiety but not so seriously. Jenny Lawson has written this memoir with inimitable humor and honesty describing her journey with severe depression and how she learned to live her life to the fullest.
You will be learning to enjoy your flawed and imperfect self. You will be knowing the difference between "sane" and "furiously happy". And, you will understand that sometimes being crazy is not bad and it just feels right.
This happy book talking about the major disease which is the opposite of 'happiness' is something that intrigued me to read it. (And maybe to you also.)
7. The Noonday Demon by Andrew Solomon
If you have ever been or still acquainted to the depression patient then you know how hard it can be sometimes to be there for them when they need you the most.
The Noonday Demon is written by Andrew Solomon and it can be a guide for you to understand the mental illness in the deeper personal, culture and scientific terms.
Andrew has done the extensive research which includes the interviews with fellow sufferers, doctors and scientists, policy makers and politicians, drug designers, and philosophers.
You will be peeking into the insights of depression and anxiety clearing all the doubts and the hopes to cure and deal with it.
Solomon has explained all the medical terms in such layman language that you will not feel lost even once while reading this book.
8. The Bell Jar by Sylvia Plath
It has been 56 years since this book is published but did I ever found a person who thinks that this book is not relatable? No! A Big No.
This American Classic has depicted mental illness with such lucidity that no one else could make readers feel it other than Sylvia Plath in her semi-autobiographical book.
Esther Greenwood is the protagonist who is a talented, brilliant, intelligent, and gorgeous young lady. But deep inside she was carrying emotional baggage and struggles to find her identity in the face of social pressure.
No matter what but you cannot think of ditching this modern classic.
9. Darkness Visible by William Styron
You are not alone who is going through the tough times. There are many and one of them is William Styron who suffered through depression and conquered it.
Darkness Visible by William Styron is a memoir which talks about how depression had left him hopeless and suicidal. The book reveals his life events which majorly are about the hospitalization and eventually his path to recovery.
While reading this book, you will be walking through the path to which every depression patient is familiar with. You will be able to know what it is like to be a person with this mental illness which will be painful but beautifully portrayed.
10. It's Kind of a Funny Story by Ned Vizzini
Teenage life is never easy for anyone. It is the time when you go through millions of emotions and find yourself as the misfit in this world.
In this book, Craig is like one of us who has dreams of working in a big firm for which he needs to go to a right college and apparently to a right high school for the right job.
Ambitious Craig has done everything and worked very hard that he almost killed himself to get into his new school. But, when he starts going to a new school he realizes that he stands nowhere close to the brilliance of other students in the school.
After all this, Craig ends up in the mental hospital where he meets some other misfits and finds his comfort zone. He finally faces his sources of anxiety.
I bet this book will be your one of the favorites once you read it!
11. Perks of Being a Wallflower by Stephen Chbosky
If you had loved reading Catcher in The Rye and connected well with it, then you might consider it as a sequel of Holden's life narrated as Charlie. And, if you haven't read any book on the teenager issues then also you will be loving this coming-of-age book.
Charlie is an introvert person who writes letters to some anonymous stranger telling about his deepest secrets and darkest feelings. He is a shy boy but with unconventional thinking capabilities.
He becomes friends with his seniors, Patrick and Sam and tries to live in the present. However, this makes his life a little more messed up but at the all of it is worth it.
12. Reasons to Stay Alive by Matt Haig
This non-fiction book about depression is the autobiography of Matt Haig written in the form of a memoir.
This is the true story of a man who was 24-year-old when he could see no way to go on living. He was a 'party-animal' and n epicurean as he says until the physical symptoms of depression and anxiety occurred.
Matt Haig triumphed this mental illness like a one-man army and inspired many people with his joyous and humorous realization of living better.
13. Lost Connections by Johann Hari
Sometimes we don't even realize the fact that maybe we are suffering from depression and anxiety. Reason being, we do not know how it all starts. We don't know anything particular about the origin of depression or how long will it last.
Johann Hari is an investigative journalist who suffered from depression since his childhood. He spent his teenage years taking anti-depressants and was often told that the problem was caused due to a chemical imbalance in his mind.
Lost Connections is the book which has answers to almost all the questions related to depression. He voyaged to the forty-thousand-mile journey across the world interviewing people about what causes and cures the depression.
These solutions are radically different from the ones we have been offered up until now and give us hope that together we can end this disease.
14. Feeling Good by David Burns
If you are depressed, the first thing you need to find out is what are the thoughts that are making you feel depressed.
David Burns is a psychiatrist M.D. unveils that all the emotions related to depression like anxiety, guilt, low self-esteem, and many others can be cured without any medicine.
He has researched and found out the scientifically proven techniques which will teach you to uplift your mood and help you in feeling good.
Even reading this book can make you happy and cheerful. Everyone should read this book once in their lifetime to not only treat depression but also to be emotionally independent.
15. The Mindful Way Through Depression by Collected Authors
When I first came to know about this book, I was not so sure about picking it. But then I checked its reviews on various websites and there was not a single person who had given it less than five stars.
Therefore, it would not be wrong if I say that the most influential book in mental health is The Mindful Way Through Depression.
The Mindful Way Through Depression written by four authors is worth the read. It is not only for the depression patients/therapists rather anyone who wants to change their life can read it. The techniques mentioned in the book are the best to follow and reduce chronic unhappiness through mindfulness.
Don't worry, there is no technical writing and it is one of the best books to read when you are suffering from depression and anxiety.
---
Final Words
About 60-80 percent of depressed people can get back to their normal life and be cured. However, it is the most curable disease of all mental illness and reading books to cure depression is just a little step towards a better life.
From all the aforementioned books list for depression, my favorite book is All The Bright Places by Jennifer Niven. I could re-read this book for thousands of time and yet not get enough of it.
I know after reading these books you are going to be so addicted to this bibliotherapy for depression that you might need to search for more books. So here are a few books I am going to read next.
Playlist for the Dead by Michelle Falkoff, 13 Reasons Why by Jay Asher, This Close to Happy by Daphne Merkin, and Turtles All The Way Down by John Green. 
Give reading a shot! You won't lose anything rather a new experience will be added.