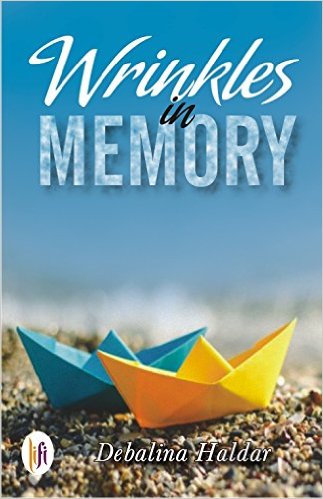 Book Review : Wrinkles in Memory by Debalina Haldar
Wrinkles in Memory by Debalina Haldar is an anthology of 22 stories based on the theme of remembrance and nostalgia. Debalina intends to take her readers into the hidden nooks of the heart and discovering the long lost emotions that reside therein.
A special thing about Wrinkles in Memory by Debalina is that the readers can smoothly transverse between the stories. Each story will take you to a different time, to a different place in your mind and you will connect the dots immediately.
In her second book, Wrinkles in Memory, Debalina covers stories from a wide range of geography and generation with much relatable characterization and themes. The last story of the Wrinkles in Memory is an adaptation of Rabindranath Tagore's 'Upagupta'. This book is sure to form tiny, distinct and irrecoverable wrinkles in the memories of the readers.
Storyline

Characters

Writing Style
Vowelor Review
With Wrinkles in Memory, Debalina came up with a very different image from her previous book. Most stories are truly nostalgic. Want to relive some moments? You should read this one.
About the Author
Debalina Haldar is an alumna of the 2015 batch of IIM Lucknow. She started her writing career with her debut novel, The Female Ward, which was globally published in 2013. Debalina works as a management consultant in Deloitte after completing her post-graduation from IIM Lucknow. Her second novel Wrinkles in Memory released in August 2016.
Debalina enjoyed writing right from class II. She has won Illuminati ' 11 Critic Choice Award and Anubhuti '14 award at Lucknow Literary Festival. Apart from being an author, Debalina Haldar is a trained Bharatnatyam dancer and well versed Rabindra Sangeet singer.