Kazungul is an African mythology-based fiction-thriller novel, authored by Marcus L. Lukusa and published in the year 2019. The book is based on various Egyptian mythology, and the Hebrew Bible and features the infamous battle of Gog and Magog.
The story revolves around the life of a teenage boy named Raymond Bakaraï, whose life turned around when he grew up and moved to another city for higher education.
The story is as interesting, as complex, and as exuberant as the book's cover look. I started reading the story in a very reluctant way, initially, I anticipated it to be one of those complex history book mythology stories, but little did I know what a mind-blowing reading experience awaited me ahead.
Book Review: Kazungul Blood Ties – Awakening of Ancestral Curse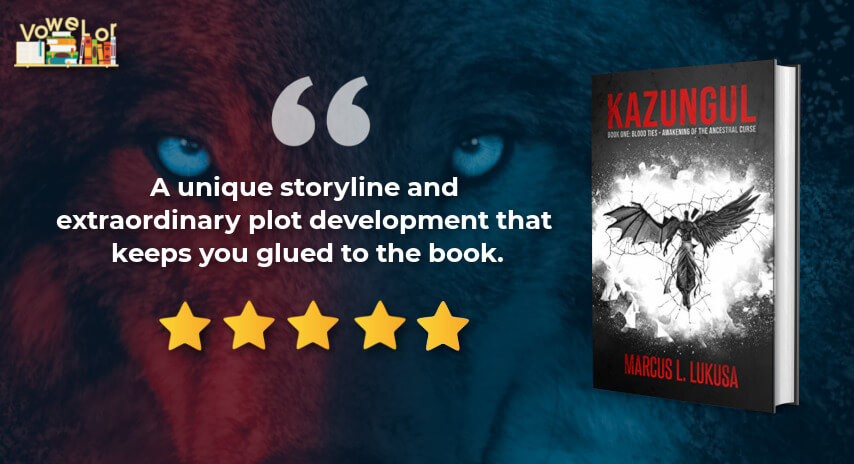 The book has a lot of messages to deliver to its readers. It gave me a whole new perspective of not just the world but our whole existence, the working of the universe, and us humans as a community.
The story starts with the main protagonist narrating a mythological story of war amongst the beings of heaven, the love of Daïs and Hamael, the origin of Hadimas, Hadimas coming to earth, the formation of Hadimasian kingdom and eventually its demise. What happens after, is what the story is all about.
Setting ⭐⭐⭐⭐⭐
The story is set in the African continent in the year 2008. Raymond Bakarï was a normal teenage boy who lived in a small town with his parents. his life changed when he left his hometown to pursue his higher studies in Johannesburg. He had to travel across the continent from deserts to mountains to oceans and rocks, he had to cover it all to find answers to the questions that would decide his fate.
Plot ⭐⭐⭐⭐⭐
Raymond Bakarï is a normal teenager who has to shift to Johannesburg from his hometown away from his parents to pursue his higher education. At his college, he finds out about his immense powerful abilities By mistake which suddenly changes his life completely. He goes on an adventurous quest to find out his true identity, and his immense Supernatural powers and to save the world.
So, who is Raymond? What purpose does he have to serve on earth? What secrets have been kept from him? What is his true identity? What trouble is dooming upon the Earth and how is Raymond going to save it? Find the answers to all these questions in this amazing chilling book which you want to put down before completing!
Writing ⭐⭐⭐⭐⭐
The writing of the story is very subtle, readable, and informative. The story is very strategically written providing all the required background and foreground parts of the story without filling you up with too much information. The simple language of the story and all context building of the story makes it very understandable and connectable.
Theme ⭐⭐⭐⭐⭐
The story of Kazungul essentially revolves around the African mythologies of the Hadimasian Kingdoms. There have been instances when everyone has felt the presence of a higher power in the universe who sometimes also intervenes in our world, this story is of one such incident, it will make you realize that we are not the only living beings in our solar system and that it is full of undiscovered mysteries.
Writing Style
⭐⭐⭐⭐⭐
Plot
⭐⭐⭐⭐⭐
Theme
⭐⭐⭐⭐⭐
Vowelor Review: A unique storyline and extraordinary plot
development that keeps you glued to the book.
5.0
✅ Get your copy of Kazungul by Marcus Lukusa on
Amazon now
!
Reasons to add this book to your TBR
We have all heard many stories about the Gods influencing our nature, the world ending, and the ultimate war between the celestial beings. So, what makes the story different from all of them? To start with, the story is a fictional take on African mythologies which in itself is a very unique aspect of the story.
Being an avid reader, the setting of the African continent was quite new for me as most of the literature and stories are mostly set in the American or European continents. The story is written from the point of view of a normal teenage boy whose life changes after he discovers some astonishing facts about himself and his lineage.
The book, Kazungul, will give you a whole new perspective to see the world, our existence, and the power we hold as humans, as a one-whole community.
About the Author: Marcus Lukusa
Marcus Lukusa was born in Lubumbashi, Democratic Republic of Congo, on 15 February 1984, the second son and child of Ruth Ndjibu and Venance Lukusa. He works at Axis House as DRC Commercial Sales Representative, supplying mining reagents and engineering in the Copper Belt; including DRC his country of origin.
But in his free time, he is a fan of martial arts and was crowned South African national champion of Kung Fu (Sanshou) and best overall fighter two years in a row, setting records in South Africa's history of kung fu in 2010 and 2011 and wore his Country's colors to represent the DRC in the 2011 Wushu world championship in Turkey Ankara.
Despite his love for martial arts, he has decided to step down and focus more on his imagination and creative side, making science fiction writing his escape world and hobby. He is also a philanthropist visionary and founder of the Young Leaders Congress working in building a network for African future leaders.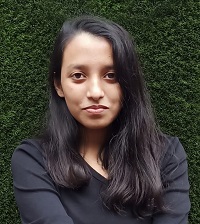 This review was written by one of the Vowelor's book review team members – Shubhangi Shreya. She is a multipotentialite. She is a curious head who is always egar to learn new things.
She is a graphic designer and an aspiring journalist. In her free time she loves to discover new books and stories to add to her collection.