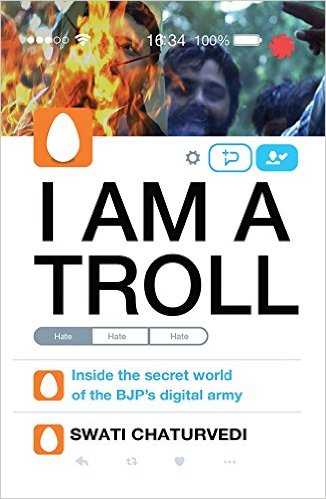 | | |
| --- | --- |
| Book Title | I Am a Troll |
| Book Author | Swati Chaturvedi |
| Publisher | Juggernaut |
| ISBN | 9386228092 |
| Language | English |
| Pages | 192 |
| Year Published | 2016 |
Book Review : I Am a Troll by Swati Chaturvedi
I Am a Troll by Swati Chaturvedi is a controversial eye-opener book on the online Trolls and how they influence common man's daily decisions; at least in our country. Swati Chaturvedi, a veteran journalist, has written I Am a Troll. The book takes the trolls of internet heads on and exposes the organized people behind. The complete name of this book is I Am a Troll: Inside the Secret World of BJP's Digital Army.
I am A Troll by Swati Chaturvedi essentially brings into light the organized game of negative social media influencers commonly called Trolls. Swati Chaturvedi quotes a number of incidents where trolls actually acted like religiously or politically provoked mob and influenced the country as a whole. She has targeted the Bhartiya Janta Party (BJP) and its alleged digital promotion/defamation mechanism. She claims this propaganda also affected the election of Mr Narendra Modi as Gujrat CM and eventually PM of India.
In her book, I am A Troll, Swati claims the hate-filled tweets are packed with communally volatile misinformation. for instance, a mythical exodus of Hindus from Kairana in UP. Sometimes they contain threats like Work with so-and-so and we will boycott your company/paper/channel/product or even worse (the episode of Snapdeal & Amir Khan).
A shocking read, I am A Troll by Swati Chaturvedi is the result of her explosive investigation conducted over two years. It included interviews with top politicians, bureaucrats, marketers and even the trolls themselves.  Swati Chaturvedi certainly lifts the veil over this murky subject.
Vowelor Review
A Shocking read and an eye-opener for the internet dweller, especially for the so-called Twitteratis.
About the Author : Swati Chaturvedi
Swati Chaturvedi is an award-winning print and broadcast journalist who has worked for The Statesman, the Indian Express, Hindustan Times and Zee News as well. She lives in New Delhi. She is also a proactive Twitterati and speaks loud on a number of issues including Trolls and politically influenced social media.
Swati Chaturvedi's first book, Daddy's girl, was published in September 2016 which was on the Arushi Murder case fetching good response.