He Never Kissed Me is a feel-good romantic novel written by Sharon Katy. The story is about two complete strangers falling in love, understanding each other inside out, and becoming the perfect couple everyone desires to be someday.
It is Sharon Katy's debut novel that got published in 2021 by Notion Press. The book is short, heartwarming, and can be easily read in one sitting.
The lead character, Aina, narrates the story of how she meets a complete stranger named Suhail in their training institute. And, completely opposite to their expectations, they fall for each other.
Here's a snippet from the book:
I could barely take a walk after he said good night and left, I don't know, what I was more smitten about, was it his good looks or his manners or his ability to understand I wanted or take a walk without me saying a word. Whatever it was, I liked it. I liked the confusion my mind was going through.

Now, I was regretting not turning back the first time he said 'excuse me'. But again, I wanted to be sure it was me he was calling. Although I was the only person in that vicinity. Still good to be sure than be embarrassed. He had my complete attention if that was what he intended in the first place but I didn't want to jump to any conclusion. With his eyes still twinkling like the brightest shooting star in my mind, I decided to go to sleep.
Book Review: He Never Kissed Me by Sharon Katy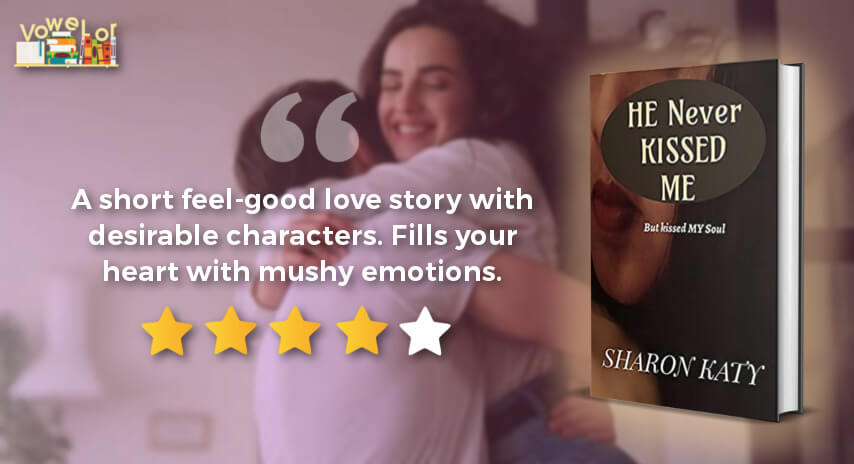 The story begins as Aina reaches the training institute where she and other selected candidates will be trained for two months for their new job. This institute is located in Delhi and the winters have just started.
Aina's first encounter with Suhail happens in the dining hall. She chose a corner to eat peacefully and a group of boys starts staring at her, Suhail was a part of that group.
The same evening, they meet again during the walk, but this time it was different. Aina gets star-struck with his good looks and charm. Her opinion of him completely turns around right there.
The very next day, Suhail asks her if they can take a walk together and, in few days, it turns into a daily thing – walks, and coffee, and sharing about themselves with each other. Suhail is a charmer, well-behaved, smart, and respectful towards women – a perfect man any girl would want.
Aina and Suhail slowly break their bubbles and start spending all day together from eating breakfast to taking classes, calling each other 'baby' and 'jaan', and even spending time outside of the institute on holidays.
Suhail even fakes an injury to be in the same bus with Aina during a field trip for training. He also willingly quits smoking for her. He takes care of her when Aina was on her period and gives her a paper bag full of chocolates, pastry, sanitary napkins, etc.
All these small and sensitive gestures make their bond grow even stronger in such a span of time.
On a cold Delhi winter evening, their Dean catches them together holding each other's hands and being close. Aina almost freaked out but Suhail handled the situation so maturely and even told the Dean that he wants to marry Aina. And, they could get out of it with an apology letter.
By the time half of the training period was over, everybody on the campus knew about them, including the teachers. They became the 'It' couple! They would hold hands in front of everyone and have cute little moments.
On the last Sunday of their training period, they along with their friends plan a day outing and watch a horror movie at the multiplex in a nearby mall. After the movie is over, they see someone has decorated a small area with flowers and heart balloons.
Aina thinks some couple gonna propose and asks everyone to stay and see. Suhail makes an excuse to use the restroom and comes from the front where the flowers and balloons were decorated.
To Aina's surprise, Suhail proposes her in front the all these people at the mall. He gifts her a bracelet with their initials 'AS' on it. They both contain their emotions and felt lucky to have each other. That marks the beginning of a forever!
Storyline
⭐⭐⭐⭐
Characters
⭐⭐⭐⭐
Writing Style
⭐⭐⭐⭐
Vowelor Review
A short feel-good love story with desirable characters. Fills your heart with mushy emotions.

4.0
✅ Get your copy of He Never Kissed Me by Sharon Katy on
Amazon now
!
My Thoughts about the Book
Firstly, Sharon's writing did not all seem like the work of a debut author. She has a good sense of keeping the story on track yet being able to tell you more about the characters apart from the situation they're in at the moment.
The story is relatable to the young audience for sure. The reader is bound to relive their share of romantic experiences while reading the book.
The characters are lovable and equally desirable. As the story progresses, you start to root for Suhail and Aina's love, you want them to stay together. Sometimes, you may even pray to the author that please keep them together – no tragedies towards the end, please.
The ending is really sweet and somehow restores your hope in love. The way it has ended, makes you wanting for more.
There is an amazing possibility of getting a sequel to this where we get to know what happens after those 60 days of training. Do they get posted in the same state? OR how do they manage a long-distance relationship?
A Few Flip sides of the Novel
He Never Kissed Me feels short in some sense. The author may have added a few more layers around these two characters. Also, the author focused completely (maybe willingly) on Suhail & Aina, there are little to zero details about their friends or teachers.
About the Author: Sharon Katy
Sharon Katy is an author, a teacher, and a blogger from Telangana, India. She comes from a family of defense personnel and proudly calls herself a fauji brat. Her debut book 'He Never Kissed Me' was published in 2021.
Professionally, she has experience of over 7 years of teaching and currently works as a teacher at a reputed school in Hyderabad. She holds a Master of Arts degree in International Relations and Affairs from Jawaharlal Nehru University.
She has always enjoyed writing and sharing her thoughts with people. Her blog is full of brilliant posts on various topics life, love, memories, women empowerment, and more.
Sharon is a die-hard romantic herself and that is quite evident from the way she has written her first book.