Evil at the Core is an urban contemporary fiction book by the author Vinquita Romaine, published in the year 2022. The book follows Quentin who takes off on a sudden adventure after his life just falls apart.  Faced with a combative wife and her infidelity, compounded by the loss of his job, he decides to literally escape across the seas.
But will it be as easy as he thinks or there would be some trouble waiting there for him? Pick up Vinquita Romaine's Evil at the Core to find out.
Here's a snippet from the book:
It was a most strange sensation, kissing a woman, something which I had not done for at least a couple of years! After the first year of our marriage, the kisses between Harriett and me became token gestures and soon disappeared. Harriett's disregard for me was such that even the perfunctory kiss on the cheek was banished. I have to admit this was the worst possible reintroduction to a romantic kiss.

I was just the physical apposition of two pairs of lips, with absolutely no other human interaction. I am sure Claire felt the same, but nevertheless, she was determined to keep it going as long as she could. It was then that I noticed four men striding briskly towards us. Marty and his henchmen.

I pulled away from Claire and turned to him, saying, "Well, well, if it ain't the jealous husband." Claire immediately followed, "You know, Marty, this guy here can kiss like you never can. I can't wait to see what he can do for me in bed!"

Marty nodded his head at the man standing near me and before I had even time to be surprised his fist rammed into my abdomen. I buckled over, winded, and at the same time, I could see that one of the other men had clamped his hand around Claire's mouth to stop her screaming. And then the most terrifying three seconds of my life, as I was physically hoisted by two of them and hurled over the side!
The shock of hitting the cold waters of the Hudson River cannot be overstated. However, there was a substantial element of excitement and an adrenaline surge that was already pumping me up, which unquestionably contributed to my survival.
I kicked strongly and surfaced for air. It probably took me about a minute to get control of myself and the thought flashed through my brain that this was probably as good a time as any to give up the ghost and depart this world.
Book Review:
Evil At The Core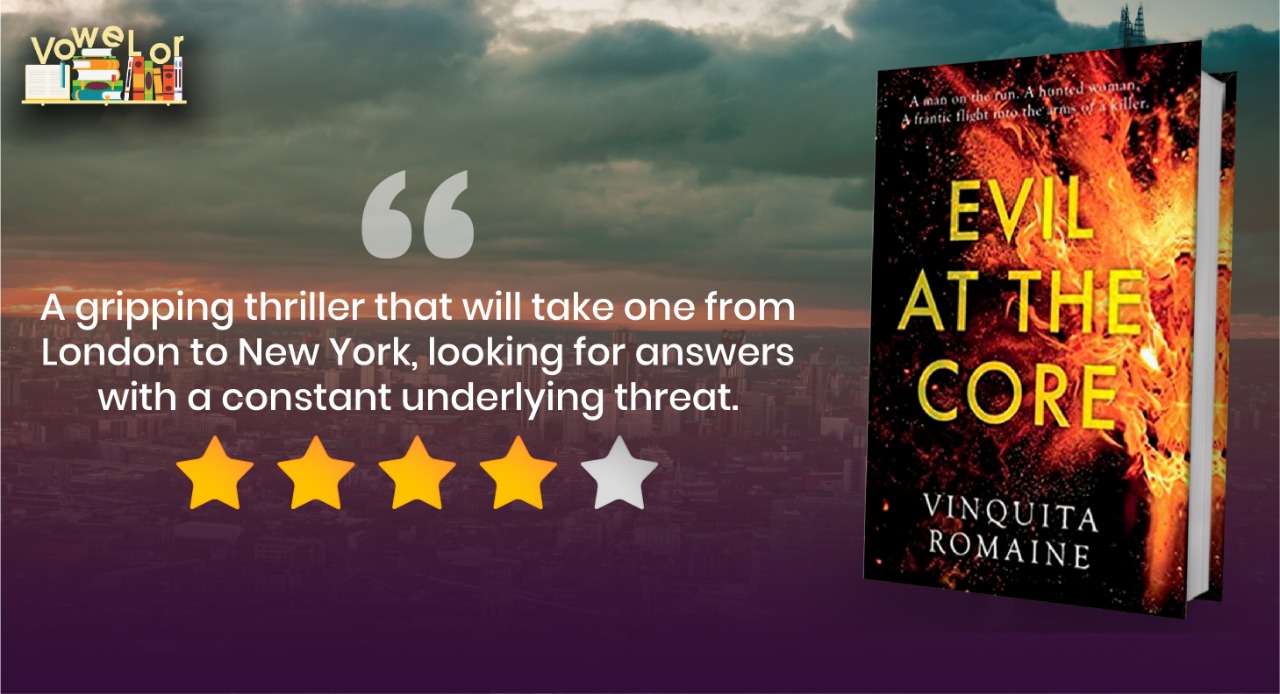 Evil at the Core takes us from London to New York and beyond, as part of the protagonist's spur-of-the-moment decision. With his journey, we too fly across the lands and sail through with his emotions and eventually grapple with our own doubts about how to deal with what life throws at us.
Coming from a dysfunctional family and no parental support, Quentin always had an underlying fear of abandonment, which led him not to confront his wife about her infidelity even though he suspected it. However, when the moment of crisis arrives, he chooses to fly into 'oblivion' thinking it will help him move on. But destiny had other plans for him. Another kind of chaos and adventure was waiting for him.
If you are someone who is into cross-continental thrillers, blended with some serious drama, then Evil at the Core is just the right pick for you.
| | |
| --- | --- |
| Storyline | ⭐⭐⭐⭐⭐ |
| Characters | ⭐⭐⭐⭐ |
| Writing Style | ⭐⭐⭐⭐⭐ |
| Vowelor Review: A gripping thriller that will take one from London to New York, looking for answers, with a constant underlying threat | 4.5 |
My Thoughts about the Book
Evil doesn't always have to be personified by red horns and a pointed tail. It clearly presents itself in everyday scenarios and in the choices people make. That is something that Vinquita has portrayed in his novel in a very commendable fashion. Throughout Quentin's story of intrigue, trauma, deceit, and eventual salvation, Vinquita has provided important life lessons to the readers.
Each character plays a pivotal role in shaping him as a man and the choices he makes. When characters like his grandmother and cousin added to his childhood trauma, Aunt Charlotte and Jimmy taught him compassion, and friends like Harry and Kevin gave him a safe space to be himself. As all of us move forward with life, so did Quentin and left his friends behind, to his shame.
Evil at the Core is one story that is filled with twists and turns but somehow makes the readers feel connected to the characters and underlying their thoughts and feelings.
About the Author: Vinquita Romaine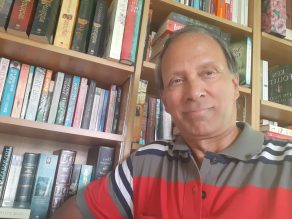 Vinquita Romaine is an author and a doctor. He has recently published his book, Evil At the Core. It is a contemporary fiction novel that touches on topics like moving on, dealing with a dysfunctional childhood, bad marriage, spontaneous adventure and above all, the fundamental nature of evil.
Vinquita resides in Britain with his family and has had a long career as a consultant in the British NHS. He is very much into fiction and reads a lot from various genres. He is also an avid traveller, having been to over 100 countries. When he isn't reading, one can find him spending time with his granddaughter, interspersed with cooking and golf.