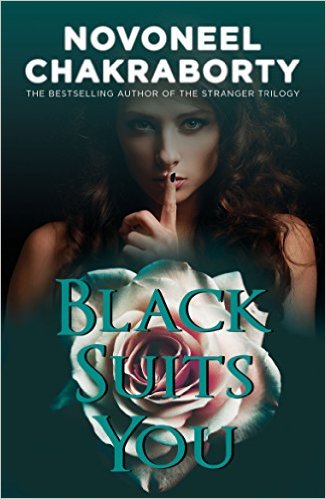 | | |
| --- | --- |
| Book Title | Black Suits You |
| Book Author | Novoneel Chakraborty |
| Publisher | Penguin Random House |
| ISBN | 8184007906 |
| Language | English |
| Pages | 304 |
| Year Published | 2016 |
Book Review : Black Suits You by Novoneel Chakraborty
Black Suits You by Novoneel Chakraborty is a mysteriously dark and thrilling love story of Kiyan Roy, a twenty-seven-year-old author. With his bestselling erotica trilogy, Handcuffs, Kiyan has gained a lot of fame and fan following but he has always been an anonymous face.
And when Kiyan Roy makes the public appearance for the first time to promote his books, his readers fall for him instantly. His good looks and sense of humor make one of them to get too close. This mysterious admirer follows Kiyan across the cities, book events, hotels, and media interviews. This secret girl seduces him the way it is done in Kiyan's novels.
Towards the mid of Black Suits You by Novoneel Chakraborty, the protagonist Kiyan gets obsessed with her. Soon Kiyan is trapped in this twisted love affair. Gripped in the dark romance and a secret gift, Kiyan loses controls on his life and career while this girl leads him down a dangerous path.
We won't roll in the spoilers. So, you must read it till the end to find out whether Kiyan rectifies his mistakes or his path to desire end in doom. Novoneel's book, Black Suits You, cleverly reveals that some love stories are one shade darker.
Storyline

Characters

Writing Style
Vowelor Review
Black Suits You by Novoneel Chakraborty is an unpredictable pyscho-sexual thriller that will grip you hard till the end.
About the Author : Novoneel Chakraborty
Being born in Assam and schooled in Lucknow, Novoneel Chakraborty is an author who has made his mark from the scratch. Inspired by his grandfather who was a playwright, Novoneel got into writing.
His debut novel, A Thing beyond Forever, was released in 2008 and became a huge success. Motivated by all the love he got from his first book, he released his next books including That Kiss in the Rain, How about a Sin Tonight? and Ex.
Novoneel tasted the real taste of success with his bestselling The Stranger Trilogy. Apart from novels, he also writes screenplays for TV and has a number of popular youth shows to his credit.