Arizona Starseed is a fiction-based novel written by Phoenix Barr. The story involves River Anderson, a simple loving character who loves to be surrounded by nature. But, tragically gets involved in mysterious events.
Phoenix Barr published The Arizona Starseed as her debut book in the year 2021. The book keeps you hooked throughout unraveling magical mysteries in the simple life of an average girl.
Here's a snippet from the book:
"Hey! Hey! Little woman … where are you going?" a man asked, the man who wouldn't leave her alone all night. He pushed his body into hers, trying to hold her up straight. "I'm just trying to get into my car, so I can rest for a few minutes. I'm not feeling well," River said, hoping he would go away and leave her alone. Her head felt like it was going to split in two, as she doubled over feeling severe nausea. "Come into my truck. You can put the seats all the way back and relax," he replied, grabbing her arm. River fell back, hitting the ground.

No. Please … I just want to sit in my car." She said, her vision doubled and her joints stiffening. "Come on, short stuff," the man said, picking her up like a baby. "Up you go. We are going to my truck." River was too weak to protest. Her head wobbled back. She had no control over it, as she tried to look at the man's face. Everything was spinning, blurring, moving too fast.
Book Review: Arizona Starseed by Phoenix Barr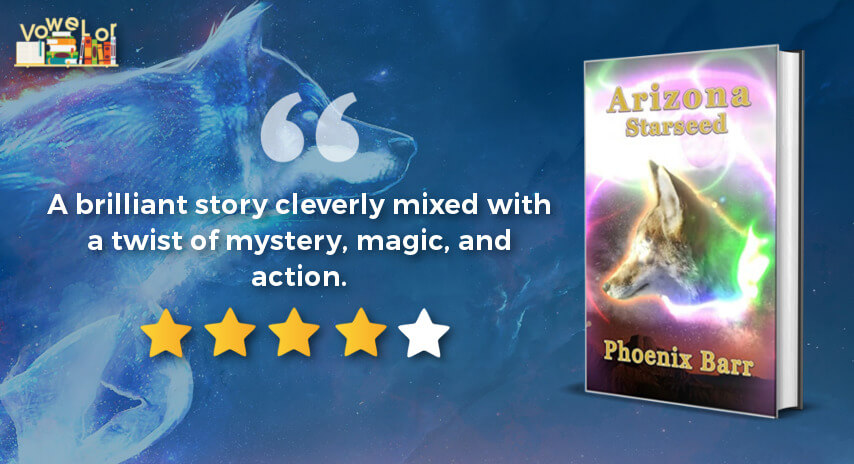 The story begins with twenty-nine-year-old River Anderson, who meets with an accident and finds herself next to a rattlesnake. The snake jumps at her when River tries to move her body. And suddenly out of nowhere, a large Coyote jumps in between to save River from the snake.
Back in Ohio, River had a very dreadful past with her ex-boyfriend Coty who was abusive and violent towards her. She moved to Arizona after Coty was put into jail. She had her best friend, Amy, who supported her and took care of her throughout.
Things get even weirder when River faced a strange man who tried to drug her in a bar. He tricked her into his truck and took her away on a different road. The coyotes who saved River's life earlier from the snake attacked this man when he tried to misbehave with her.
For a moment, when River comes to her senses, she sees herself in the arms of another man walking down with the coyotes but finds herself lying peacefully in her bedroom in the morning.
While all this is going on, a new staff member, Alex, has joined her hospital. He carries a very handsome, good-looking, and positive personality. And surprisingly, he asks River out for a date. The same day River receives a text message from an unknown number, the message was from her ex, he wanted her to come back into his life.
Before the date could even begin, she finds a gift at her doorstep – a ring. And when she wore it, she suddenly gets chills in her body. The jewel was pure and robust with colors, containing indigo-blue, emerald-green, ruby red, and a stone with many flashes of color.
River was petrified throughout her date. Her finger lit up, an unexpected and mysterious bolt of energy shot through her back, sending a quiver of electricity throughout her body. No matter how hard she tries, the ring would not come off her finger.
Soon, she gets to know that the mysterious man who saved her life was Erik and they start meeting every now and then as if he was protecting River always.
But, River's chaos doesn't end as a tragic event happens when River goes on a bike ride with Erik, Alex, and Amy.
The story progresses and River starts to see the effect of the mysterious ring. River discovers her presence on Earth has a greater purpose while Erik, Alex, and other galactic beings assist her to take on the heroic encounters across the galaxy.
Storyline
⭐⭐⭐⭐
Characters
⭐⭐⭐⭐
Writing Style
⭐⭐⭐⭐
Vowelor Review


A brilliant story cleverly mixed with a twist of mystery, magic, and action.

4.0
✅ Get your copy of The Arizona Starseed by Phoenix Barr on
Amazon now
!
My Thoughts about the Book
Phoenix Barr's debut novel did not really seem like a work of a debutant; the simple phrases, the expression, and the narration of the entire story was splendid. She has an amazing understanding to portray each part of the story frame by frame keeping it fast-paced yet understandable.
Phoenix Barr very cleverly mixed a real-life incident (that could happen to anyone) with a twist of mystery and magic turnover.
The characters she mentioned gave a positive impact whereas she also portrayed a villain in it. The author did not end the story in one single book, which keeps the readers moving and patient enough to think about what happens next.
Read Arizona Starseed by Phoenix Barr to find out all the answers to who gave her the ring, who are those coyotes, what do they want from her, and what is River's real purpose on Earth.
About the Author: Phoenix Barr
Phoenix Barr is an author and a nurse from Ohio. Arizona Starseed is her debut book which she published in 2021. Her writing genre explores phenomena, thrillers, myths, and legends.
She currently resides in Arizona with her boyfriend and youngest son. She works at a local hospital and has been taking care of the pandemic patients since 2020.
Phoenix loves the outdoors, trees, nature, gardening and plant-based cooking. She had a difficult childhood as well as she is a domestic violence survivor who believes in knowing how to defend oneself.
Read the exclusive interview of Phoenix Barr with Vowelor to learn more about her life, her works, and future plans.