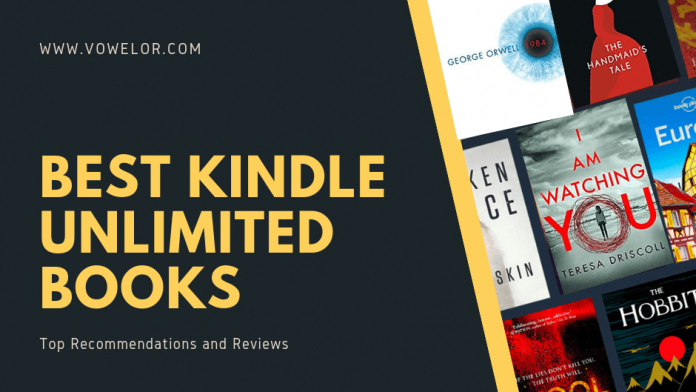 Amazon's Kindle Unlimited is indeed a very useful service for book lovers. Yes, you get the chance to choose from over one million books of different genres and types after subscribing to Kindle Unlimited. But, the task of finding the right books among this huge list can become a real headache.
Without having the knowledge of best books available on this service, you will end up downloading random books by judging them on the basis of their titles or genres. (Seriously, I can't call it an evaluation.) You will reject many of these books after reading a first few pages. Of course, the results of random selections will be something like that.
So, all in all, the whole process of adding, testing and then removing the books will waste your time. Considering this, I have curated the list of best books of all the times that are available on the Kindle Unlimited Library.
By reading this article, you will not only know the names of these books but also get to know about their genres and plots. All of this information will help you in shortlisting the correct books as per your reading taste. So, let's have a look at this list.
List of Best Books Available on Kindle Unlimited
Here is the list of the best kindle unlimited books of 2018 & 2019.
1. Hunger Games Trilogy by Suzanne Collins
Hunger Games is a New York Times Bestseller series that contains three books, namely The Hunger Games, Catching Fire and Mockingjay. All these three books are available on Kindle Unlimited. If you love adventure and action-packed fiction books, then you must try this famous book trilogy.
Genre: Adventure fiction, sci-fi, fantasy.
Description: The book is set in a post-apocalyptic time where the twelve districts of Panem are ruled by the Capitol (cruel government). The Capitol has created a cruel game known as Hunger Games to give punishment to the local people for an earlier revolution.
In this fatal game, one boy and one girl from each district have to fight until only a single person remains alive. The whole story of how people fight for their survival is really gripping.
2. The handmaid's Tale by Margret Atwood
Published in 1985, the story of this book was so interesting that Hulu has created a web series based on this novel which became highly famous. People who like to study about different social structures and prejudices will surely love this dystopian novel. (Check out more dystopian novels here)
Genre: Utopian and dystopian fiction.
Description: Set in England, the story of this novel revolves around women subjugation. How the women were used for sexual slavery in the U.S. after it was captured by a group of conservative Christian revolutionaries is shown powerfully. The portrayal of religious beliefs and the gender imbalance of dystopian society will make you cringe.
3. Harry Potter Series by J.K. Rowling
I believe that the Harry Potter series doesn't need any introduction as you must know about it and probably already seen the whole movie series. But, reading its books is a totally different experience. So, if you wish to relive your childhood days, then you can read any of Harry Potter books on Kindle Unlimited.
Genre: fantasy, drama, thriller, young adult fiction.
Description: The book will take you into the world of witchcraft and wizardry, where a young boy and his friends keep doing constant efforts to fight the devil and save their magical school, Hogwarts. The thrilling atmosphere and entangled plot will surely keep you engaged.
4. 1984 by George Orwell
Published in 1949, 1984 by George Orwell is counted amongst one of the seminal works of 20th century. So, if you are looking for the much-known works of some famous authors, then this book should be in your Kindle Unlimited book list.
Genre: Sci-fi, dystopian fiction, political fiction.
Description: George Orwell has portrayed a nightmarish and horrific vision of a totalitarian and bureaucratic world in this book. The book presents how a dictator (Big brother in this case) can control, influence and manipulate people's life as well as their thoughts. In such a scenario, how the protagonist opposes the system is worth reading.
5. A Shade of Vampire by Bella Forrest
People who enjoy reading thriller books featuring supernatural creatures like vampires can try A shade of Vampire for sure. This is the first book of a long book series containing 77 books. So, go for it if you think you can read the complete series to solve all the mysteries embedded in this story.
Genre: fantasy fiction, paranormal fiction.
Description: The book revolves around a vampire island community known as Shade. The chronological story starts when a human girl, Sofia, is abducted from a beach by a vampire of Shade on her birthday night. You will later come across the love story of this girl and a five hundred years old vampire, Derek Novak. The book is fully loaded with romance, family drama and conflicts.
6. The Namesake by Jhumpa Lahiri
The Namesake by Jhumpa Lahiri is a New York Times Bestseller. People who are looking for a dramatic family fiction novel will love this book. But, it has more to offer than just a family story torn between the eastern and western worlds.
Genre: literary fiction.
Description: The life of two generations of the Ganguli family is shown into two different worlds. Ashoke and Ashima Ganguli are born and brought up in Calcutta. But they settle in Massachusetts, America after their wedding. How these two people survive in the new western environment while holding on to their Indian values is shown in this book.
You will also see how the perspective of their son i.e. the next generation will be different from his parents due to the new environment.
7. The Lord of the Rings Trilogy by J.R.R. Tolkien
Published in 1954, The Lord of the Rings is a classic novel trilogy which is edited several times since them. It is counted among one of the bestselling novels ever written in English literature, so you must give it a shot. This epic fantasy book is the sequel of another fantasy novel, Hobbit, published in 1937.
Genre: fantasy fiction, heroic fiction.
Description: The story revolves around magical rings which were crafted by elven smiths. Sauron is the dark lord who wants to capture all these rings to become the most powerful ruler and rule the Middle-earth. The one main ring which rules all the others is possessed by Hobbit. The whole story of fighting for immense magical power makes this novel truly thrilling.
8. I am Watching You by Teresa Driscoll
You will not only find classics but also the latest books from the new authors on Kindle Unlimited. One such example is I am Watching You written by Teresa Driscoll and published in 2017. The book is one hell of a thriller which will keep you in suspense till the very last page.
Genre: mystery, suspense, psychological thriller.
Description: It is a story of a lady, Ella Longfield, who one day overhears two young men flirting with teenage girls on a public train. She notices something strange and later realizes that these men have just come out of prison. She thinks of calling for help but didn't. The next day, the news of the disappearance of one of those teen girls shock Ella. She couldn't forget this incident even after a year, and someone keeps sending her threatening letters about that day.
9. The V Girl by Mya Robarts
Among lots of young adult fiction books that you will find on Kindle Unlimited, The V Girl by Mya Roberts totally worthy of your time. Published in 2014, it is a romantic book which portrays the struggle of a girl in a dystopian future.
Genre: young adult, fiction, romance.
Description: The book is set in post-apocalyptic North America; which is at war. Sexual slavery is also legal in this place. Due to this, the young protagonist Lila Velez desires to lose her virginity before the troops attack her area and take her virginity by force. She decides to seduce her only male friend, but her plans become futile when she met Aleksey Furst, a broody man having links with troops. Will she fall for a most distrustful man in a scenario of war? Read it to find out.
10. The Butterfly Garden by Dot Hutchison
Published in 2016, The Butterfly Garden is a book for people who love to read mystery and thriller-filled crime stories. This young adult thriller story is based on Shakespeare's famous play, Hamlet. It is the bestseller according to Amazon charts; so you can consider it for reading.
Genre: Mystery, thriller, horror, fiction.
Description: The story is set in a secluded mansion, having a beautiful garden. This garden holds lots of secrets as it is possessed by an obsessed gardener who keeps a collection of beautiful butterflies in the garden. By butterflies, we mean girls who are kidnapped and tattooed by this man. The garden is discovered, and FBI agents interrogate the only survivor of this place. This victim girl entangles this case even more. Read to find out why this case becomes the most horrific one of the careers of those agents.
Conclusion
Start binge-reading by adding any of these books into your Kindle Unlimited account. Witness some love stories, solve a few mysteries and become a part of the struggle of the main characters of these books. So, choose your books and get ready to jump into an altogether new world with Kindle Unlimited!