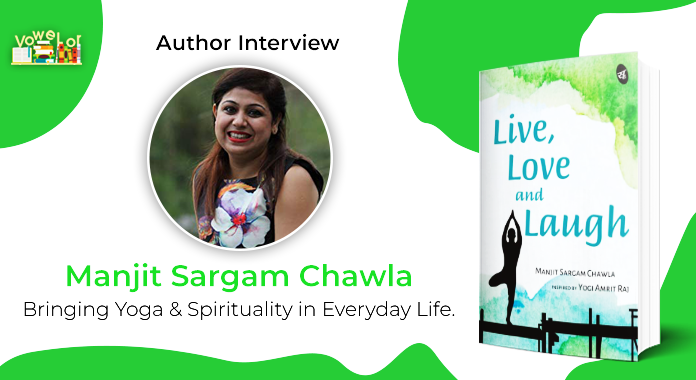 Today, all of us struggling to find a balance between our life goals and happiness. Adding spirituality in our lifestyle can help you achieve this balance.
Luckily, there are authors who make this a lot easier for you. And, today, we have one such author with us – Manjit Sargam Chawla – a banker, a spiritual author, motivational speaker and a yoga enthusiast.
On the release of her latest book 'Live, Love and Laugh', we had a chance to have a candid conversation with her where she shared a lot about herself and her writing journey.
About the Author: Manjit Sargam Chawla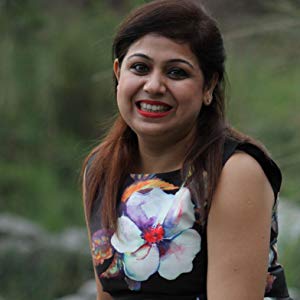 Born in 1983 in Shahabad Markanda near Kurukshetra, Manjit Sargam was brought up in a very spiritual environment of Nirankari Bhawan itself where her grandfather was a preacher.
Her parents had the wisdom in them to teach her about the Laws of nature. They both know the secret of Brahmgyan and living the Law of Attraction.
Being the eldest child in a family, she was nurtured with immense love and care. Staying in a spiritual place is like a temple for her, she personally learned lots of things on devotion, belief, faith and service through many saints.
She used to wake up with the voice, brooming the whole Nirankari Bhawan by her Grandfather and Father. So, being in an environment of Sewa(Service), these spiritual lessons getting imbibe in her subconscious gradually.
Apart from spiritual knowledge, Manjit Sargam has impressive academics too. She holds various degrees including Bachelor of Computers, Masters of Computers, Masters in Computer Science and JAIIB, CAIIB in Banking.
Currently, she works as a banker in a nationalized bank and she also runs a blog in free time.
Here's the conversation we had with Manjit Sargam Chawla. Read her interesting answers and get to know her personally as well as about her new book Live, Love and Laugh.
What were you like at school? Any childhood memory you would like to share.
This question makes me realize that my school life was not as comfortable as may be of many children.
I was an old soul, my life teachings were away from selfishness and backbiting which was the first thing I ever noticed in my classmates which make me realize to stay alone in my class.
I was too sensitive to the environment of beating students and staying in the competition.
I remember an incidence, once in a College near my school "Arya Girls College", a leader/Politician came in a helicopter that landed there in our school playground.
I remember so many students were running there and broke the discipline of the school. They also asked me to come with us and I refused, as for me, the true celebrities are those who leave a mark in someone's life. So to chase any celebrity was not part of my nature and I refused.
But, when the Principal came to our class to verify who ran towards the helicopter, one of my best friends named me and that was enough shocking.
I was slapped by my principal, and that scar still remains in me, as you have asked this question, I remember the event. It was not the slap that hurt, it was the friendship that shows the selfishness and leaves a scar on my soul.
What is the biggest achievement till today?
Touching the hearts, having the Love of everyone for me in their hearts is the biggest achievement of my life.
Which writers inspire you?
Paulo Coehlo, Dr. Josheph Murphy and Dr. Brein Weiss are an inspiration to me.
Writing is stressful at times. How do you relax your mind?
Binaural beats Meditation, Surfing Nature and spending time with my loved ones.
What is your favorite motivational phrase?
"If you want something, the whole Universe conspires to achieve that"

– Paulo Coehlo.
What advice would you give to your younger self?
"You were an emotional fool, love everyone but stay protected and learn to have self-worth. Loving Yourself is more important than anything"
What books do you like to read personally? What are you reading currently?
Well, I love self-help and Mysterious books like "Many Lives Many Masters" by Dr. Brien Weiss, Rich dad Poor dad, Telepsychics by Dr Joseph Murphy, You can Heal your Life by Louise hay, Brida, The Alchemist by Paulo Coelho. Currently, I am reading Hindi literature "Mere Hardev".
If you could have been the original author of any book, what would it have been and why?
It would be the "Brida" by Paulo Coehlo, or "Only Love is real" by Dr. Brein Weiss. I read these books after writing mine on Twin Flame and Soul mates.
And while I was reading the book, it creates the goosebumps as I had already written the wisdom which I felt years before and the same wisdom is written in these books, the knowledge no one tells me about.
I didn't read about the concepts which I wrote and read after a year of writing through some other author.
What made you decide to sit down and actually start something?
Its a passion, I love to express my feelings, my vibrations to everyone. I love to share the wisdom I have with others, and the most beautiful thing is when I write, I instantly connect to the highest power which brings peace in me.
Do you have a special time to write or how is your day structured?
Yes, I am a Banker, Mother, Wife, Daughter in Law so I have to manage every aspect of life. For me, the best time is early in the morning after meditation when everyone is sleeping.
Live, Love and Laughter by Manjit Sargam Chawla
Live, Love and Laugh is the third book by Manjit Sargam Chawla in which she has put together her thoughts on living a happier life by bringing the concepts of yoga, the law of attraction and manifesting the dreams.
The Author has jotted down her real-life experiences to guide the readers on how this attraction possesses the power to unleash your hidden potential inside you by spiritual awakening.
Manjit also takes inspiration for this book from Yogi Amrit Raj, who is an award-winning Ayurvedic Doctor and certified Yoga trainer.
Now, let's discover more about her book, the idea and process behind writing this book, and author Manjit Sargam's future plans.
What genre is your book? What draws you to this genre?
My Book genre is Self Help and spirituality. My subconscious draws me towards writing in this particular genre.
What is the hardest & the easiest thing about writing?
The hardest thing about writing is when you are not aligned when your soul is not connected to the super soul you can't write and thus you try to procrastinate many times.
The easiest thing about writing is when you start writing, the whole book comes in front of you in your imagination and you continue for the same gradually.
What is the reason you write for; is it for the readers or your own self or some other thing?
The reason behind my writing is young readers. When a youth comes to me with their depression, problems and sadness, my soul felt drained and devastated.
It becomes a necessity for me to write about those issues and to share the wisdom so that others can seek benefits from it.
Firstly, I was my inner voice and then gradually it becomes a habit due to the readers motivated me to write more, they always question when the next book will come to make me write more and more.
What makes 'Live, Love and Laugh' to stand out from other self-help books? What should a reader expect from it?
Live Love and Laugh is basically a book on Law of Attraction, Yoga, and Law of nature.
The difference between this book and the other law of attraction books is that this book contains real-life experiences and stories which when demanded I can prove from the people who manifest things.
A mixture of different techniques like Ho'oponopono technique, Washroom technique which makes it easy to follow the law of attraction.
In what ways you think 'Live, Love and Laugh' can help Gen Z?
Nowadays our young generation i.e Gen Z is facing much emotional stress and they are far away from the true spiritual wisdom which was there in ancient times, which creates chaos in them.
To stay connected to spirituality through positive thoughts and to concentrate on their goal, this book is a must-read.
The book will firstly cleanse the thought process and then stepwise instructions towards success, happiness, and peace. The book will teach them about Love, relationships, money, health and the appropriate use of all of these virtues.
Any special experience about this book that you would like to share.
Firstly, I named the book "Scarcity to abundance" but Publisher says it's a tough name so suggest some other names. I slept in the night while praying to the Universe for the appropriate name.
Suddenly in my dream state, I remember a blessing from our Nirankari saint Late Rev. J R D Satyarthi Ji who once bless us with the mantra "Live Love and Laugh" which so much correlates with the book hence the book named "Live Love and Laugh".
Future Plans
What are your ambitions for your writing career?
I never see Literacy as a career. To me It's a passion, It's a Love and it's a blessing.
Whatever strikes my soul it will be written by the soul, although I had already written my next book on Telepathy and intuition. So no pre-planned concepts.
Are you working on your new project? What will be your next book about?
I already wrote a book on Telepathy, intuition and astral projection but the work are in process.
What does success mean to you as an Author?
Success is an illusion. Everyone has their own criteria for success. For me, if a single soul gets benefited from my writings, for me if a single soul gets nourished from my writings then it's a blessing to me and considered as a success.
Where can you see yourself in 5 years' time?
Well, as such I have no plans, I trust in divine planning, whatever will come will definitely be pleasurable.
Your opinion about Vowelor.
During my research in the Literacy world, I see Vowelor to be growing day by day through continuous efforts of Lalit Sharma and Manik Ghawri.
You Vowelors connect readers with the appropriate books and keep the literacy alive. I have also seen the Vowelor group in doing efforts to stop piracy. Highly appreciable task.
Are you also an author? Get your book featured on Vowelor now!