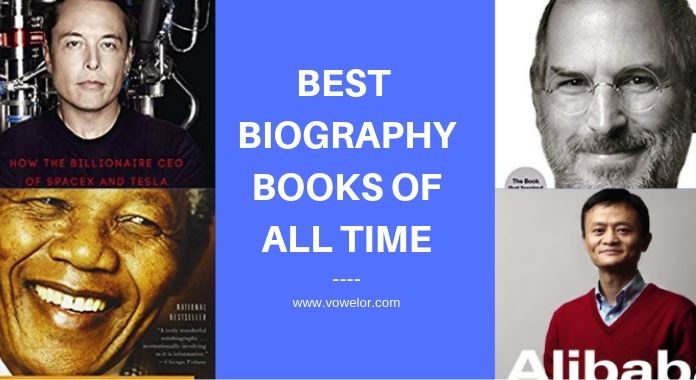 As wisely said, learning from other's mistake is a great way to save a whole lot of time. And what in the world can be a better way to do that than reading biography books based on the life of famous and well-known people.
In this article, I am going to enlist some of the top biography books you can pick anytime to get self-motivated and educated.
Top Recommendation for the Best Biography Books
Last update on 2023-10-02 / Affiliate links / Images from Amazon Product Advertising API
Here is the complete list of great biographies that everyone should read to get inspired and motivated.
1. The Diary of a Young Girl by Anne Frank

The Diary of a Young Girl tells the story of Anne Frank, a young girl, and her sufferings during the tumultuous times of the Holocaust.
In tough times, Anne Frank came out as a survivor from the worst, and her positive zeal towards life is what makes The Diary of a Young Girl a must-read biography book among the readers.

I Know Why the Caged Bird Sings was written in 1969. The book explains the early years of Famous American Writer and poet Maya Angelou.
In this book, you will get to know about the power of good literature that helps to overcome the problem of racism and trauma.
In her autobiography, Maya Angelou discusses various problems in the society of those times such as rape, racism & literacy of women.

A Movable Feast is one of the top rated biographies. This book is about the struggle of his early age as a journalist and an apprentice in Paris in the 1920s when he used to live outside the native country.
This memoir consists of many personal observation and accounts of Ernest Hemingway. He mentioned several bars, cafes and hotels, and many famous personalities whom he met during those days.

Homage to Catalonia by George Orwell is another good memoir to read. It is about George Orwell's personal experiences and observations during the Spanish Civil war.
For those who are interested to read about the Spanish War, then this is one of the best memoirs to read which takes a stand against totalitarianism and democratic socialism.

Next one in my list of best biographies of all time is The Life of Samuel Johnson by James Boswell. It describes the extraordinary life of Samuel in an all-new way.
This biography book takes many critical liberties with Johnson's life, as Boswell makes various changes to Johnson's quotations and even censors many comments.

Written by the former president of the United States of America, Barack Obama, Dreams from My Father rewinds his life up to the enrollment at Harvard Law School.
Barack Obama formed his father's image from the stories told by her mother. Dreams from My Father explains the life journey of the First African-American President. It is a must-read biography book for those who are looking for real-time life inspiration.

In my opinion, this is among the great biographies to read while you are on the path of becoming a great entrepreneur. 'Titan' is written by Ron Chernow. The book takes you through the life journey of John D. Rockefeller and how he became the richest man in America and creator of the country's first and most powerful monopoly: the Standard Oil Company.

Written by Martin Gilbert, Churchill: A life is a popular biography of multi-talented personality – Winston Churchill. The book highlights his 55 year-long journeys from a schoolboy and soldier to his years as a war leader and elder statesman.

Born Standing Up is a book based on the life of Steve Martin – an American author, actor, comedian, producer, playwright and screenwriter.
The book explains about his early days at Disney land, working at a bar and in a club as a comedian in a very low salary. Counted amongst the best biographies and memoirs, this book is the gateway through his childhood day's sufferings and hard work which made him a famous comedian.
If you love to read about the journey from nothing to everything then you should definitely pick this one right away.

It is an unfinished traditional record of his own life written by Benjamin Franklin. The Autobiography of Benjamin Franklin is about his youth, apprenticeships, the formation of his philosophy and ideals, and his path from poor roots to business and social success.
The book also explains about his idea of the 'American Dream' and the idea that a poor can have the fortune of becoming known to the world. No doubt, many famous publications have included this book in their list of best biography books of all time.
My next recommendation is one of the best autobiographies that I have read to date. Long Walk to Freedom is the autobiography of first South African President Nelson Mandela. The book depicts his early life, coming of age, education and 27 years in prison.
In the initial pages of the book, Nelson Mandela describes his upbringing as a child in South Africa and connected to the royal Thembu dynasty. There is no better book than this one if you want to know about the struggles of Nelson Mandela.
The Rise of Theodore Roosevelt is a biography of United States President 'Theodore Roosevelt' written by Edmund Morris.
The book covers the time from  Roosevelt's childhood to the Presidency. It will also give you detail knowledge about his family, his passion for learning despite severe illness. Altogether this is one of the best books you can read truly based on someone's real life.

The Story of My Experiments with Truth is among the best autobiographies of all time. It is written by the world-famous personality, Mohandas K. Gandhi who is also known as Mahatma Gandhi.
The book depicts the life journey of Mahatma Gandhi from his childhood days to the most socially active freedom fighter during the British rule in India.
In this book, you get to learn about the ideology of Non-Violence and Truth wins overall. This is one of the life changing biographies for the people who aim to bring a change in society for the good cause.
Last update on 2023-09-18 / Affiliate links / Images from Amazon Product Advertising API
14. Steve Jobs by Walter Isaacson
My next recommendation is also my personal favorite. It is the biography of 'The God of Innovation', Steve Jobs.
Walter Isaacson wrote this biography based on more than forty interviews with Steve Jobs conducted over two years. In addition to interviews with more than one hundred family members, friends, adversaries, competitors, and colleagues — Isaacson was given "unprecedented" access to Steve Jobs's life.
The inspiring life of Steve Jobs made this book the most popular biographies of all time.
15. Elon Musk by Ashlee Vance
Elon Musk is the most innovative and differentiating entrepreneur of contemporary times. Ashlee Vance has beautifully written this biography portraying the man with greatness.
The CEO of SpaceX, PayPal, Tesla, and SolarCity has amazed everyone with his sense of entrepreneurship and ability to use technology in an innovative way.
The book reveals how he was bullied in his early childhood and was scolded by his father and finally how he had used the pebbles of his life journey in building his entrepreneurial bright future.
This is a must-read book for tech entrepreneurs or everyone who aspires to be a successful person.
Hailing from a humble background, Jack Ma established the world's second-largest e-commerce company, Alibaba. Duncan Clark, the author of this biography captures the humble beginnings and the rise of Jack Ma. He had also mentioned about the economic explosion and the socio-political scenarios of China.
This book is written in a lucid and compelling way which can inspire many business-minded people. It is a must-read biography book for those who are starting from scratch. If Jack Ma can, you also can.
Amazon is a giant of e-commerce which can easily mortify any growing competition. However, in the starting days of the business, it was just a bookselling service. Jeff Bezos, the founder of Amazon was not satisfied by just being a bookseller. He wanted to establish a store with everything.
This motivational biography of Jeff Bezos tells us how he concentrated on long term goals even if some short term profits were overlooked. Go and read this fascinating entrepreneurial story and hold on to its wisdom.
No success story is made overnight. It takes years and years of persistence to build a giant brand such as Starbucks. Howard Schultz made a comeback as a CEO to sail the ship of his coffee company.
At that time the company was going through some critical phase of recession and only through the leadership skills of its CEO could change its fate. He lived through the struggling years and recreated the brand which is now the best brand in its forte.
Well, if you are facing the worst phase in your life, then you should definitely try this interesting biography book and get the insights of leadership and problem-solving abilities.
Ogilvy Mather is known as the 'Father of Advertisement'. The Confessions of an Advertising Man is Ogilvy's biography which was first published in 1963.
With its relevance in today's world, this book is known as the bible of advertising. Ogilvy Mather is the one who laid the foundations of advertising and taught about some life-changing experiences.
In this biography book, he also talks about people management, office politics, and corporate ethics. Believe me, it is a complete guide for all the employers as well as the employee.
Grinding it out- the making of McDonald's is one of the top biographies which can inspire you to chase your dreams. A man at the age of 52, when everyone else plans their retirement, Ray Kroc planned his career.
He did not just set up a business but built an empire which is one of the largest fast-food corporations in the world with over 32,000 stores around the globe.
The Man who knew Infinity is the biography of Srinivasa Ramanujan – an Indian mathematician. It is an inspiring account of his childhood in India and his mathematical achievements.
He wrote a letter to the GH Hardy asking for the guidance on some issues in the numbers. Soon professor realized that this is some geniuses work and called him to England.
If you love reading about the unknown yet inspiring lives of people, you cannot miss this biography book.
22. I am Malala by Malala Yousafzai & Christina Lamb
This is one of the best autobiographies you can find in the bookstores. Malala Yousafzai is a Pakistani girl who was shot down by Taliban in Swat Valley, Pakistan. Now she is a perfect living exemplar of courage and will-power.
She fought against terrorism and for the right to education for which she was honored with a Nobel Peace Prize in 2014. Read this biography to some inspiration from the young girl who walks bravely on the path against terrorism.
In the year 1992, a boy named Chris McCandless walked into the path of thrill and adventures. He gave his $25000 in charity, gave away all his possessions, and burnt all the cash in his wallet to explore the new life. He left his home and entered into the wilderness of Alaska.
Jon Krakauer is a mountaineer and the author of this best selling biography book. This contemporary biography is an evocative read and will fill you with amazement.
24. The Wings of Fire by APJ Abdul Kalam
Wings of the Fire is the one book which will fill you with inspiration and determination to chase your dreams.
APJ Abdul Kalam jots down his hardships and milestones of his life which molded his personality. Things were never easy for Kalam Sir but still, he won many hearts and was excellent in every field.
APJ Abdul Kalam was India's 11th President who served his term from 2007-2011. Prior to the presidentship, he was a scientist by profession who had done groundbreaking work for the country's missile program.
Final Thoughts
No wonder, there have been so many inspiring personalities from all walks of life whose life stories are more than just motivating. There are numerous biography books that still can be added in the list and having that in mind I am not ending it here.
What we will do is to add your suggested biographies to this list. Drop your suggestions on best biography books in the comments section below.
Last update on 2023-10-02 / Affiliate links / Images from Amazon Product Advertising API