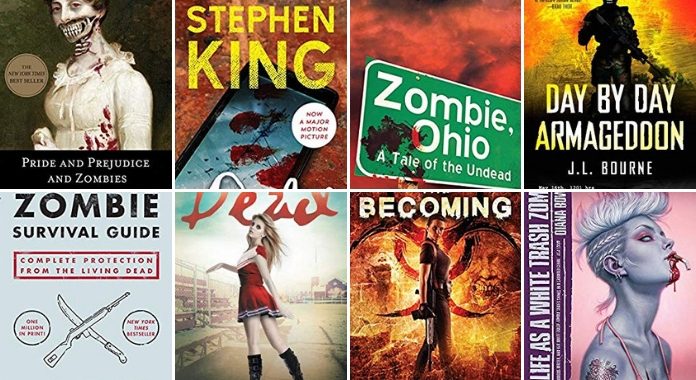 If you think all zombie stories are the same, then I doubt that you have even read the best zombie books yet. Probably, you might have read all cliche stories of these undead beings.
It's time to leave those books behind as I introduce to you 15 of the really best zombie apocalypse books that I've enjoyed recently.
I personally like reading about zombies. Reason being, firstly, it is adventurous to read these apocalyptic books and secondly, the writer is best at its imagination while writing zombie stories.
You may want to jump to my recommendations on books about zombies, but, before that I would like to give you a little information about the origin of zombies.
Etymology – The English word "zombie" was first recorded in 1819, in a history of Brazil by the poet Robert Southey, in the form of "zombie", actually referring to the Muslim Afro-Brazilian rebel leader named Zumbi and the etymology of his name in "nzambi".
It is said that zombies were first invented in Haiti, possibly originating in the 17th century when West African slaves were brought in to work on Haiti's sugar cane plantations. Brutal conditions left the slaves longing for freedom.
According to some reports, the life—or rather an afterlife—of a zombie represented the horrific plight of slavery.
Nowadays, Zombie books are generally categorized to Fantasy, Horror, and Sci-fi genres of the literature.
So, I think now we have a better reason to believe in zombies, their existence and read some interesting books about zombies!
My Recommendations on Best Zombie Books
Here is the list of top zombie books you cannot miss reading, if you are a true zombie apocalypse fan.
1. Pride and Prejudice and Zombie
Pride and Prejudice and Zombies is the strangest blend of the classic novel and the blood spattering world of zombies. It is the reanimated story of Jane Austen's popular novel Pride and Prejudice and was added in the New York Times Bestseller list.
The book chronicles the story of a small town – Meryton which has fallen under the clasps of a deadening plague and the dead are returning to life. Elizabeth Bennet is determined to wipe these creepy creatures out of the town but was distracted by the arrogant Mr. Darcy.
The full blend of romance, heartbreak, sword fights, comedy, and the undead make this book one of the best zombie novels for the fans.
2. The Becoming by Jessica Meigs
The story of this book sets in the heart of Atlanta during the spread of Michaluk virus. It is killing humans and turning people into human cannibals. Three people, Ethan Benett, Cade Alton, and Brandt Evans are on the mission to stop this global destruction.
The zombies of Jessica Meigs' world are a little different. They aren't completely mindless rather they have animal intelligence. That means, they know the strategies of hunting and killing their prey.
This zombie book series is fast-paced and intelligently crafted by the author that you will surely enjoy reading as your next pick for zombie books.
3. Zombie, Ohio by Scott Kenemore
'Zombie, Ohio' is a book based on the insight into zombie's life. Through this book, you will find yourself digging deep into the intricacies of the undead and exposure to the gooey stuff inside of people's head.
The book is about the life of a college professor, Peter Mellor, who dies in a car accident during the time when zombie outbreak in the city.
In his next life, he takes birth as an intelligent living dead. While exploring the zombie life he figures out that his accident was actually a murder and after that, he tries to unsolve his own murder mystery.
Once you start to read this amazing zombie fiction story, you will thoroughly be engrossed in the mystery, horror, and thrill that this book caters to its readers.
4. Zone One by Colson Whitehead
'Zone One' is a national bestseller zombie book. It is a chilling horror story that will definitely give you goosebumps and grip on your fleshy pleasures of zombies.
When a pandemic hit the planet, the world was divided into two parts: one uninfected, occupied by living people and the other infected, occupied by zombies.
The island south of Canal street – aka Zone one was to be cleaned by the armed forces to destroy the feral zombies. Then on, things slipped out of the hands of Mark Spitz who is one of the sweepers assigned for this task.
As reviewed by New York Times Book Review, the book is written with economy, texture, and punches. It is a celebration of modernity and preemptive wake for its demise.
5. Generation Dead by Daniel Waters
The next book on the list of best zombie books is 'Generation Dead'. And it is actually a  zombie romance book. Have you read a book on zombies which is based on love and romance? Not yet? then add this one to your TBR zombie books list now!
'Generation Dead' is about a girl, Phoebe who is a zombie, but lives with not so similar beings. No one wants to sit with her in the college cafeteria, not in the classroom and she desolated among the one who can breathe.
Everyone is shocked when she reveals that she has a crush on leader of dead kids, Tommy Williams. The story takes twists when her best friends try to protect a zombie from killing to complete a love story.
While reading through this book, you will find romance is rekindling in the zombie's lives in this sharp, funny and page-turning novel.
6. My Life as a White Trash Zombie by Diana Rowland
In this book,My Life as a White Trash Zombie, you will witness the transition from 'living being' to the 'living dead'.
Angel Crawford is losing her mind while dealing with her exhausting life. She is fed up with her alcoholic father and the continuous rejection for the job application due to her past criminal records.
She tries to kill herself by overeating the painkillers and ended up in the hospital and after that, her life has completely changed. Angel accepted a job offer where she is not able to resist the cravings for brains.
I definitely recommend you to read this hilarious 'white trash' zombie book series which shines distinctively in this crowded genre.
7. Breather's by S.G Browne
'Breather's' is a very different zombie book from all the books that I have listed so far in the list of best zombie books. This book talks about the zombie's rights and love they deserve. Interesting! This is a kind of zombie book that you would want to read and enjoy.
Andy Warner feels isolated when he is abandoned by his friends and family after discovering his new zombie life. He joins an Undead Anonymous Meeting where he finds his companions. Rita, an impossibly sexy recent suicide with a taste for the formaldehyde in cosmetic products, and Jerry, a twenty-one-year-old car crash victim with an exposed brain and a penchant for Renaissance pornography.
Everything changes when these three meet and makes every page of this teen zombie book worth reading.
8. Feed by Seanan McGuire
Feed is written by Seanan McGuire under the pen name of Mia Grant and it is the first book of the NewsFlesh trilogy of horror and sci-fi genre.
When the science was busy in curing diseases like cancer and cold, they created something which cannot be stopped. The infection spread and was killing human beings on the unstoppable command: FEED.
Two bloggers, Georgia and Shaun Mason are on the quest of finding the cause of the infection after twenty years. They are in the chase of truth even if it kills them.
Feed is one of its kind of zombie apocalypse book series and its political thriller story makes it a good choice for the zombie books fans.
9. The Zombie Survival Guide by Max Brooks
Before I start to tell you about 'The Zombie Survival Guide' book. I want to ask, have you ever wondered, what would happen if our planet had a zombie outbreak?
This book will prepare you with every possible attack that can take place and teach you how to survive them.
'The Zombie Survival Guide' is a humorous book preaching its readers the ways to be safe when zombies attack the world.
Few of them are: Organize before they rise!; They feel no fear, why should you?; Use your head: cut off theirs; Blades don't need reloading. And many more…
It is one of the best zombie survival book and also listed as the best zombie audio book on Amazon. After reading this book you will be two step ahead from those zombies and will survive as a fighter.
10. Warm Bodies by Issac Marion
If you are into reading something unusual zombie love story book, then 'Warm Bodies' is definitely the perfect zombie book you should go for. This book is about a love story where love happened between a living and a living dead.
R, an undead boy is living his zombie life very satisfactorily. He rides on airport escalators, listens to Sinatra in 747 which he calls it his home and occasionally feeds on humans. And, one day he meets a girl.
R starts developing his feelings for Julie who was all colors in his grey landscape. He couldn't eat her, though she looks tasty rather he protects her.
This unbelievable zombie love story is dark, funny and will compel you to sympathize with all the characters.
11. Monster Island by David Wellington
Monster Island is one of the top recommended books for the intelligent zombie book readers and also one of the best zombie book series based on monsters.
It is a chronicle of the times when the 'developed' countries have been ruined by the zombie's destruction. But the only places with high weaponry like Somalia are safe to live.
Gary, a living dead is a kind of exception in zombies. He is a living dead, eating humans but he has retained his human intelligence and is an evil mind behind the chaos.
There is another city which is heavily armed with school girls who are in the search of desperately needed medicine. They think they are prepared for everything and Gary comes to know about the truth of zombie survival.
'Monster Island' is the first book in the 'monster' zombie novel trilogy series. You can also read other books of the series if you are into reading zombie apocalypse horror sub genre.
12. Cell by Stephen King
You just can't ignore books written by Stephen king when you talk about zombie horror books. If you a fan of Stephen king which I know most of you are, then you can enjoy the double taste of zombies and horror written by none other than Stephen King himself.
The Story of the book is about Clay Riddel. He is an art professor who wants to make art but it can only be possible if he could crack the deal in Boston. Everything is beautiful in this autumn afternoon. But the destruction unleashes itself soon.
A devastating phenomenon has come to known as The Pulse via mobile phones, wiping users' brains and leaving them with nothing but aggression and desire for destruction.
13. This is not a Test by Courtney Summers
If you are on a quest to find out 'What will you hold on to when everything is gone?', then you certainly have to read this amazing zombie book and find out the answer.
Post-Apocalypse has destroyed the world. Six months after, Sloane and other five students have taken shelter in the Cortege High School. Every now and then they could hear the pounding on the doors by the monstrous zombies. Sloane has nothing to live for but the other five still have some hope of survival.
This unusual and intriguing YA zombie book is an exciting story that you just cannot stop reading.
14. The Girl With All The Gifts by M.R. Carey
The next on the list is The USA Today Bestseller. And, I must say it is the best zombie book of all time.
Melanie is a girl with usual hobbies like learning about spellings and sums. Every day, she waits in her cell to go to the class where she was moved by the pointed gun on her head and was strapped with her chairs by the Sergeants. She jokes that she won't bite or kill anybody but no one laughs.
This suspense thriller and a gripping story of a girl will definitely put you on an adventurous ride to the zombie's world.
15. Day by Day Armageddon by J.L. Bourne
The last but not the least book on the list of best zombie books is Day by Day Armageddon. The story of the book puts up a couple of question straightforward, What if the world is destroying and you couldn't even find the source of the evil powers? How would you even keep up with the hope of survival?
'Day by Day Armageddon' is a horror fiction zombie book which tells a similar story. The world is ending and no one knows the evil mind behind this apocalypse. The deads on the planet are rising to the living dead.
This is a handwritten journal of a man's zombie survival in the global disaster. He must make some decisions which will either end up living like others or would survive this apocalypse.
This zombie fiction book will grip you and make you read it in a single sitting.
Final Words
Out of all the zombie books I have listed, it was hard to choose one as a favorite. So, I am suggesting you two of my favorite ones.
First is 'The Girl With All The Gifts' because of its unique concept and the second one is 'Generation Dead' as it is rare to find such an amazing zombie romance book in the market.
Top Selling Zombie Books