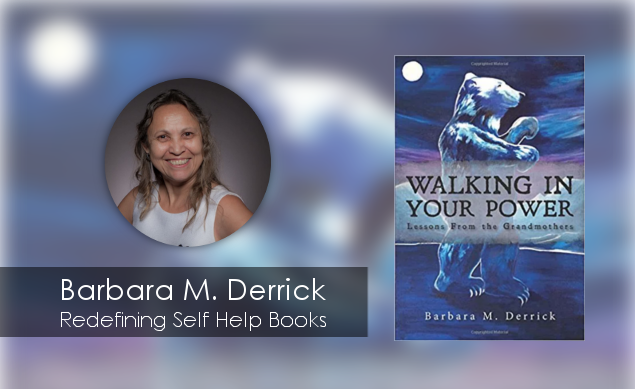 Every one of us has our share of struggles in our lives. Right? And many times things become worse. Self-help groups and reading Self Help books can be a significant way to tackle them and move forward in life. And, the mindful authors of these Self-help books deserve an applause.
Today, we are introducing you to one such author – Barbara M. Derrick and we also take a sneak peek into her debut book Walking in Your Power: Lessons from the Grandmothers.
About Barbara M. Derrick
Barbara Derrick was born and raised in a small lumber town called Quesnel B.C. Her mother was Tshilqot'in a strong indigenous woman born in the mountains of Nemiah Valley, B.C., and her father a Ukranian/Hungarian/Scottish man who was born on the prairies of Waka, SK. Barbara's younger brother was born when she was eighteen months old. Her parents didn't have much and believed education was the answer to all problems. Her brother passed away in 2009, and both parents passed away within the last eighteen months.
Now, Let's dive straight into our conversation with Barbara where she reveals a lot about her as a person and an author. 
What were you like at school? Any childhood memory you would like to share.
At school age, I was busy drawing, and daydreaming during class time. I found myself standing in the corner quite often because I wasn't listening to the lesson of the day. Instead, I was caught up in other worlds, or distracted by the texture of a crayon on paper. From an early age, I was artistic spending hours drawing or coloring on pages if I could find them.
While in elementary school I didn't like English and avoided writing assignments. Until that one day, my second-grade teacher caught her drawing. The teacher encouraged me to write a story about the drawing, and from that time I began to love English. I and my late brother grew up being bullied by classmates and it became the hallmark of my advocacy to breaking the cycles of family violence.
What are your Qualifications?
My educational qualifications are within four areas: certified Native Social Development Worker, certified Native Arts & Culture Instructor, certified Teaching Adult Learners, certified coach, speaker & Trainer for the John Maxwell Team. Additionally, two years of university.
My professional bundle contains: 2 years Program Director, 10 years Social Work and 11+ years of instructing Native Arts & Culture on the faculty at a college and 11+ years head curator for 4,000 artifacts.
What is your biggest achievement till today?
My biggest achievement at the present is receiving an "International Literary Award" from the ProfessionaWomen'sns Network in recognizing my support in indigenous communities and for my book "Walking In Your Power – lessons from the grandmothers."
Which writers inspire you?
A writer who is an inspiration to me is Brenne Brown because of the author's shame research which I deem as a very powerful way to look at courage. Daring Greatly is a book that all readers should have in their library.
Writing is stressful at times. How do you relax your mind?
I enjoy the time it takes to write, and love pouring out onto pages messages from beyond, the inspirations from spirit. To relax my mind, and to regain focus I love to listen to flute music, recite my love letter to myself and go in touch with Mother Earth.
What is your favorite motivational phrase?
Two of my favorite motivational phrases are,
"Creativity Never Sleeps…"

Unkown
"How you do anything, is how you do everything."

1988, Cheri Huber
What advice would you give to your younger self?
At age 19 I didn't believe people would read my book if she wrote one. The advice I would give my younger self, start writing they're breaking down the doors to buy a copy!!!
What books do you like to read personally? What are you reading currently?
My favorite reads are books from the John Maxwell library. I am currently reading and examining "The 15 Law of Growths" and have another book titled "The Passion Test." I love to learn and will choose books that will help me learn and grow as a leader in my area.
If you could have been the original author of any book, what would it have been and why?
I am the original author of my book and couldn't imagine anything else than walking with the bear.
Those were some of the interesting insights about Barbara and her personal life. Now, let's have a sneak peek at her book – Walking in Your Power: Lessons from the Grandmothers.
Walking in Your Power by Barbara Derrick
A distinctive self-help book blended mindfully with a touching story.
Walking in Your Power is Barbara M. Derrick's debut book which was published in May 2017. It is a distinctive self-help book blended mindfully with a touching story. The book is divided into 13 chapters and the complete title of the book is 'Walking Your Power: Lessons from the Grandmothers'. Read more about Walking in Your Power.
We also asked Barbara about her journey while writing this book. Read our conversation with the author herself talking about her debut book.
What made you decide to sit down and actually start something?
Moments after her mother passed away, I was in my hotel room alone, in shock and filled with so many passing thoughts. I had stayed beside my mother's side, holding her hand until she slipped into the other world. My mother survived the horrible atrocities of residential schooling from her tenth birthday until she turned sixteen. The extent of the abuses that occurred was never talked about but I knew because i felt the pain, and the anger. I didn't want my mother to be remembered as a survivor, and instead started to rewrite a story as a legacy; a woman who was a warrior and the reason why I felt the need to honor her for.
My father's story came about because of a thought, "you'll never truly know about someone unless you open your heart and push aside judgement." My father had a form of schizophrenia a mental illness that people in the 40s and onwards did not talk about for fear of being placed in an asylum. I rewrote my understanding of the time because my father never shared what happened to him growing up.
The third chapter about my late brother who passed away form alcoholism is about a man who had a good heart. A person who couldn't love himself but left his memoirs for the world to read, to understand the depth of addiction. And as the chapters unfold, each story was carefully woven with the teachings for elders in my life who guided me through difficult and heart-wrenching moments.
Do you have a special time to write or how is your day structured?
Writing is anywhere, anytime. If you have a clear thought, it comes in with a picture and the author pens it down quickly on a scrap piece of paper. I carry with my pens, and notepaper just in case. I write through the eyes of a character named "Muskwa" an elderly woman.
What genre is your book? What draws you to this genre?
The genre for "Walking In Your Power: Lessons from the grandmothers" is self-help. I am drawn to self-help books because they are a calling card for a much larger vision and that is to speak internationally to readers all around the world. The book works as a workbook with activities at the end of each chapter, and I feel this is the greatest example of creativity that could be offered to readers.
What is the hardest & the easiest thing about writing especially poetry?
The hardest thing about writing a book is the editing! The easiest part is writing the book.
What is the reason you write for; is it for the readers or your own self or some other thing?
When I began to write my book it became a way for me to heal as I wrote. My main reason for writing the book was to encourage readers to share their stories, and to let them know anything is possible. If you dream it, live it you too could also achieve it!
What makes 'Walking in Your Power' to stand out? What should a reader expect from it?
Just recently at a tradeshow, I watched people walk by the table and then stop to back up. Each person examined the cover, then slowly flipped to read the back. Some people didn't put it down, others opened the book to randomly read a page or two. All bought the book.
The readers have said, "I read raw emotion, it was if you transported me there. As I read, I recognized my need to heal. The writings are profound it's not a book of leisure, it has some very real truths. Yet, I felt you were with me every step of the way. I discovered an activity at the end of the chapter, this excited me! Readers have said they have read the book more than once, and want more!
Any special experience about this book that you would like to share.
I had a dream in 1990 about a huge bear which I vanquished after turning into a bear myself. At each trade show, book signing or speaking engagement I tell the story of the origin of the color blue on my book, the mystery tailored around the bear and how it represents the teachings of my ancestors.
Future Plans as an Author: Barbara Derrick
What are your ambitions for your writing career?
My focus is to deliver "Walking In Your Power – Lessons from the Grandmothers" in speaking engagements and training sessions all over the world. I am currently thinking about writing Vol 2 Walking In Your Power. Each chapter is aligned with an exercise, each exercise will become a book. Barbara plans to write 4
Each chapter is aligned with an exercise, each exercise will become a book. I plan to write 4 more smaller books to create a curriculum readers can receive further understanding about themselves and the world.
Are you working on your new project? What will be your next book about?
At present, I am working on content for her "Native Studio Art- Cultural Institute." The next book is still in the embryonic stage – readers will know, when the author knows.
What does success mean to you as a Writer?
Success for me is about "investing in others" and helping others realize their dreams and bring them into fruition.
Where can you see yourself in 5 years' time?
In five years time, I hope to speak internationally to audiences of 2,500 to 5,000 as a speaker who empowers others.
Where can the readers connect with you directly?
Readers can find my book publishing company, art studio and training industry on most social platforms. Follow her on Twitter, Follow her on Instagram and Like her on Facebook
For my book readers, a private site has been set up exclusively for their sharing after reading "Walking In Your Power – lessons from the grandmothers." Readers must send a photo of them holding the book, and where the book came from to: derrick@nativestudioart.net and Barbara will reply with an access code.