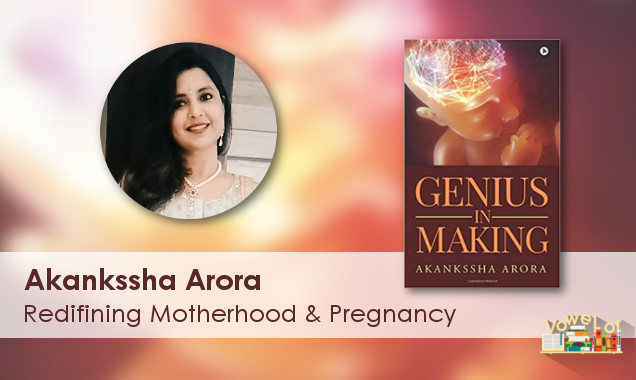 In today's complex lifestyle, more and more self-help books are playing an important role in guiding our ways through the complications of life. Many authors have focussed on different aspects of life in their Self Help books. In recent years, a lot of authors have talked about Women and making their lives better.
Today, we are introducing one more such author who gave an all-new perspective to motherhood right from the pregnancy period in her debut book "Genius in Making". She is Akankssha Arora – a mother, an avid reader and a Reiki practitioner from the city of Ambala.
About Akankssha Arora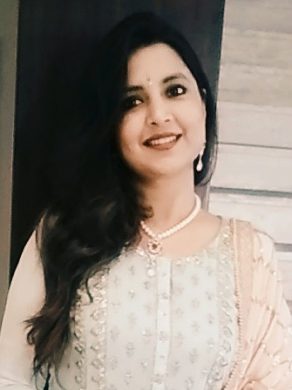 Akankssha Arora was born in Jaipur, the Pink city of India, to loving and caring parents who were involved in giving her privileged and overprotective childhood. She is the eldest child in the family with two younger siblings.
She completed the early part of her education in Jaipur itself which she adores a lot for its heritage and culture. As a bright child in school, she always sought knowledge and loved to read books.
At the age of 21, she has to face a huge blow when her mother passed away leaving behind the beautiful memories that Akankssha still cherishes.
Now, let us take you to the candid conversation we had with Akankssha Arora and know more about her as a person and her debut book.
What were you like at school? Any childhood memory you would like to share.
I was a bright child in school, a seeker of knowledge. I loved to read books and actively participated in co-curricular activities in school. English literature and biology were my favorite subjects. School life was fun.
What are your Qualifications?
I did my graduation from Kurukshetra University and then a course in Fashion Designing. Got married at an early age. Later, I learned Reiki and have been practicing it for more than 10 years now.
What is the biggest achievement till today?
I believe that my biggest achievement is being a Mother. Motherhood gives you a whole new perspective in life. It's a matter of great privilege and responsibility to raise the next generation. It's the role that I cherish and take great pride in.
Which writers inspire you?
I m a big fan of Khalil Gibran.
Writing is stressful at times. How do you relax your mind?
Writing is not at all a stressful experience for me. For me, it's kind of a meditation. I feel relaxed and rejuvenated after I write.
What is your favorite motivational phrase?
Hmm .. Favorite motivational quote.
"You are never given a desire, without also being given the power to make it happen. You may have to work for it, however"
What advice would you give to your younger self?
Oh..that's call for an introspection. Well to my younger self I would say take life easy, cherish each moment, travel more, be independent, listen to your heart more than your head. Be more fun person, don't think too hard.
What books do you like to read personally? What are you reading currently?
As a kid, I grew up on a heavy dose of Russian folktales and Nancy Drew series.
Read a lot of Alfred Hitchcock suspense thrillers. In college, I was more inclined to read Khalil Gibran, Jeffrey Archer, Erich Segal, Sydney Sheldon, Linda Goodman's books
Babra Cartland and of course Mills and Boons.
Lately, I am more into motivational and inspirational stuff. I love reading autobiographies – Autobiography of a Yogi and OPEN by Andre Agassi. I really enjoyed reading.
Recently I read Licence to Live by Priya Kumar.
Currently reading Immortal Talks by Shunya. Yet to comprehend it fully.
If you could have been the original author of any book, what would it have been and why?
I m happy being the original author of "Genius in making" hope it makes an unprecedented mark in the history of books. Getting ambitious. Haha.
Those were some of the interesting insights about Akankssha Arora and her personal life. Now, let's have a sneak peek at her debut book – Genius in Making.
Genius in Making by Akankssha Arora
Genius in Making is Akankssha Arora's debut book which not only talks about the Do's and Don'ts during Pregnancy but focuses majorly on creating the right environment in the womb to make sure you give birth to a Genius.
The book opens up an all-new perspective towards pregnancy with concepts like Womb school (Garbh Sanskar), Detoxification of Body, Mind and Soul and their positive effects on the baby to be born. Read more about Genius in Making.
Akankssha also shared her journey while writing this book. Read the interesting conversation we had with her below.
What made you decide to sit down and actually start something?
Writing this book has been an emotional journey for me There was never ever a plan to write a book. It is not a product of some hidden ambition to be a writer. I don't precisely remember when and how but I had this deep realization about how profoundly a pregnant woman's thoughts affect the unborn baby.
And how a pregnant woman can transform the lives of her unborn child in her womb by just programming herself with the right habits and attitude. It was something that I wanted to share immediately with my daughter but at that time she was too young to comprehend it fully, so I started writing notes to her, which eventually turned into the book" Genius in making".
Do you have a special time to write or how is your day structured?
Thoughts can come randomly when you are in that writing space in your head as you are constantly thinking about your subject. I use to make notes of all the random thoughts then and there only and later when I had time with proper research I use to pen them down. I get my "me time "usually between 10 am to 1 pm..so mostly I work during these hours.
What genre is your book? What draws you to this genre?
My book comes under the category of self-help and motivational books, especially during pregnancy. The thing that draws me to this genre is that in order to achieve anything in life one should have the right attitude and mindset for it.
One should be self-reliant and internally motivated to meet all the challenges. So this book helps you to identify your strengths and work on your debilities and become the best version of yourself to produce another best version of himself.
What is the hardest & the easiest thing about writing?
Well, unless you have the clarity of the thought you want to convey, it's not possible to write. Once the clarity of thought is achieved, then writing becomes very easy.
What is the reason you write for; is it for the readers or your own
self or some other thing?
I usually write for myself, but this book has been written with the intention to awaken my tribe(women) so they can actually realise their innate power and their dominion over the life of their unborn child.
What makes 'Genius in Making' to stand out? What should a
reader expect from it?
Aww… Genius in Making is my baby. It's my labor of love and devotion. This book is written with a lot of emotion. It is a book from one mother's heart to another would be mother's heart. It is pure, genuine, love, concern and wisdom shared. Since this book started as notes to my daughter. I've put every possible thought and knowledge, I would want her to know and utilise during her pregnancy to create a Genius Baby. I hope that all the women who are yet to become a mother will be able to take full advantage of the knowledge shared and create their own little genius. The world really needs more Geniuses around.
In what ways you think 'Genius in Making' can help to-be Moms?
Well, Genius in making can hugely help would be mother's to awaken to their power within and it would help them to realise their full potential. It will help to motivate them enough to transform themselves physically, mentally and spiritually to create a Genius baby.
Any special experience about this book that you would like to share with the readers.
I think this book has got divine blessings from the word go. From the moment I conceptualized this book, it's been more like the universe guiding me and pushing me to the next step. It is said You don't choose a book the book chooses you. I've started to believe it like never before. It has been a transformational journey for me too. As the help, assistance and motivation required to pull it through were so easily available to me.
I believe that I m just a medium not the source. I guess the eternal source (God) intends to convey something through me. Some message is to be delivered somewhere through this book. Maybe too many Geniuses are waiting to be born. This book will help mothers to create the right kind of environment in the womb required to create a Genius.
Future plans
What are your ambitions for your writing career?
Well.. expectations of people around have mounted really high after this book. Hope I m able to keep up with them. Next book is still a loud thought nothing concrete yet.
What does success mean to you as a Writer?
Success to me as an author means that the book reaches as many women as possible and they take full advantage of it.
Your opinion about Vowelor.
Working with Vowelor had been an incredible experience. I really appreciate the contribution of team Vowelor in the making of the Genius in making. They have been a huge support, always available and ready to help with any publishing and post publishing issues.
Now they are also instrumental in the promotion of the book. I feel blessed to have the most reliable, consistent and efficient Vowelor team as a part of my journey of Genius in making.