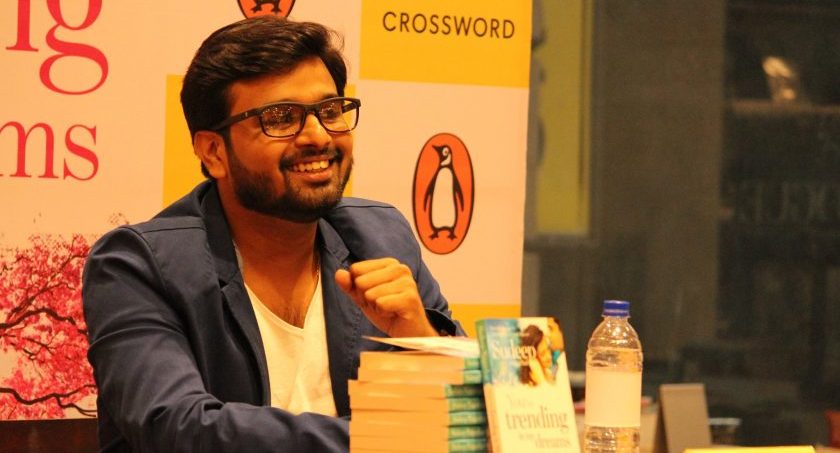 If you are a reader of Romance, then you must add Sudeep Nagarkar books list to your collection of books. Sudeep Nagarkar is the winner of 2013 Youth Achievers' Award for the highest selling books in the category of Romance in India.
The books written by Sudeep Nagarkar reflect the true image of friendship, love, and trust in a relationship. All books of Sudeep Nagarkar are based on the subject of life and true stories.
From his debut novel, Few things left Unsaid to his latest release  All Rights Reserved for you in 2016, he continues to give the magic of love to his readers.
Sudeep Nagarkar Books List
Here is the complete list of all books written by Sudeep Nagarkar including his latest novel published in 2016.
Last update on 2023-12-01 / Affiliate links / Images from Amazon Product Advertising API
1. Few things Left unsaid (2011)
This is the first book of the Sudeep Nagarkar Books list and it is also his debut novel. Few Things Left Unsaid is the story of two engineering college friends, Aditya and Riya, who fell in love with each other.
Finally, a break up takes place between them and they walk towards the different path of life. Soon they get back to each other after some time but then life is not the same for both of them.
2. That's The Way We Met (2011)
This is the second book by Sudeep Nagarkar which is the sequel of 'Few Things Left Unsaid'. The Story of the book revolves around the love of Aditya and Riya. Both of them try to make their love low profile so that it doesn't get affected by the circumstances of life.
Aditya and Riya soon experience the pain of separation after the break-up. This results in the deepened of the bond between them. Out of sudden Riya's father passes away, the family faced the financial problems.
Now Riya, who is the main character of That's The We Way Met has to choose between the love of her life and her family.
3. It Started With a Friend Request (2013)
Another true modern love story added to the Sudeep Nagarkar books list with the release of It Started With a Friend Request.
It is about a guy named Akash who is very conservative in nature. He meets a girl named Aleesha who is a mass media student in a local disco and exchange their Blackberry pins.
With regular chatting on the phone, they somehow fell in love with each other and wants to take their relationship to the next level. But in between a misfortune takes place in their life and all the things changed.
4. Sorry You're Not My Type (2014)
The story of  Sorry, You're Not My Type is about a musical band YUVA which comprises of three personalities Vikrant, Anamika and Yuvi. One day a stranger named Aditya knocks to their lives.
The upcoming of strange Aditya changes the course of their life in a way they could have never imagined. Sorry, You're Not My Type by Sudeep Nagarkar has all the spices of love, drama, romance, and mystery.
5. You're The Password to My Life (2014)
The next entry to the Sudeep Nagarkar books list is You're the Password to My Life. This book of Sudeep Nagarkar explains the true meaning of friendship in the best possible way.
The main characters of the story are Virat and Kavya. Both of them share the same qualities and traits which makes them the best friends for each other.
The story takes a twist when a sudden miss happening took place in their life as a result, their true friendship is put to test. You're the Password to My Life is based on Sudeep's cousin's life.
6. You are Trending in My Dreams (2015)
It is another interesting addition to the list of books by Sudeep Nagarkar. It is about four college-going students – Varun,  Ahana, Malvika, and Garima. All of them belong to different family background and have different personalities. When all of them shifted to a flat in Mumbai, their bond of friendship grows stronger.
The story of You're Trending in My Dreams changes when one of their friends finds herself caught in the weird instance and all of them work together to make things normal again.
7. She Swiped Right into My Heart (2016)
This is the story of love and the healing power of friendship. Sudeep Nagarkar beautifully presents the different colors of friendship.
The story is about a college girl Geet, who is not so popular in college but gets along with Shibana, the beautiful and known face of the college. To win the popularity vote, Geet takes the help of the handsome guy in the college named, Rudra. Rudra takes advantage of Geet to come close with Shibana, but Shibana has a soft corner for a different guy.
Toward the end of She Swiped Right into My Heart, a misunderstanding takes place, Geet must make a decision that will not just affect her life but also the life of her friends.
8. All Rights Reserved for You (2016)
One of the recent novel written by Sudeep Nagarkar released in 2016. You cannot bear to miss this book from Sudeep Nagarkar books list as this one is about the real story his love life.
This is the story of a long term relationship between Aditya and Jasmine. Both of them lives poles apart mentally as well as physically. Aditya the 'hero' of the novel is the passionate writer, on the other hand, Jasmine doesn't even like to read.
This book is about how love can create a bridge to make everything possible. When you will finish reading All Rights Reserved for You, you will feel the power of trust, trust that wins every heart.
9. Our Story Needs No Filter (2017)
The latest novel by Sudeep Nagarkar is Our Story Needs No Filter whose release date is 26 Jul 2017. It is another promising romance novel that has the potential to melt the hearts of the readers.
Our Story Needs No Filter is set on the premises of a college where love develops on the backdrop of college politics. Raghu and Ruhi are the main characters who will definitely steal your hearts.
10. She Friend-Zoned my Love (2018 – Latest Novel)
Sudeep Nagarkar has recently launched his 10th love story, She Friend-Zoned my Love. The story revolves around two best friends, Amyra and Apurv. The book is a coming-of-age teens love story dealing with friend-zone problems.
Read this book to know how the equation of two best friends changes when a third person introduces into the scene.
Final thoughts
Well, that was the closing of the list of books written by Sudeep Nagarkar. But I believe, Sudeep Nagarkar will continue to give us the dose of Love, Romance, and Drama.
So, towards the end, I can promise one thing, this Sudeep Nagarkar books list will definitely add up to your reading list. If you have anything to share about Sudeep Nagarkar Books, please feel free to drop your valuable words in comments.