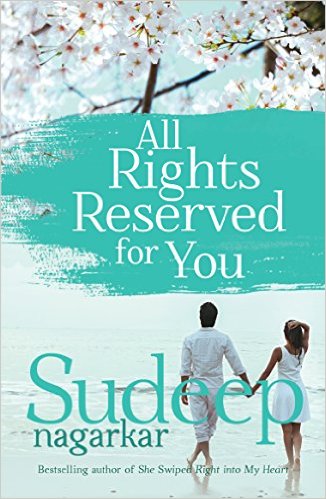 Book Review : All Rights Reserved  for You by Sudeep Nagarkar
All Rights Reserved for You is Sudeep Nagarkar's 8th novel and this time he is enchanting his own love story with his to-be wife Jasmine. Although everything is cloaked under the layers of romantic fiction – one that Sudeep does the best.
The story of All Rights Reserved for You is about Aditya and Jasmine – a couple who are poles apart mentally as well as physically but still fall for each other head over heels.
Aditya, the 'hero' of the novel,  is a passionate writer while Jasmine cannot even imagine herself reading. Both live miles away in different cities. With almost nothing in common, love sneaks in and changes their lives.
This novel is all about how love can make things possible. Long-distance being the villain of the story, Aditya and Jasmine resort to bridge their relationship with Skype, Facebook and Whatsapp.
All Rights Reserved for You by Sudeep Nagarkar is a soothing real-life story of two lovebirds separated by distance but are never really far apart. Trust builds relations but most long-distance relations are destroyed because of it. But, this novel  proves all conventions wrong to prove, long distance relationships do work 'very well'.
Check Out – Our Story Needs No Filter: Sudeep Nagarkar's New Novel Releasing in July 2017

Storyline

Characters

Writing Style
Vowelor Review
A heart-warming love story of two love-birds miles away but never really far apart. Sudeep has cloaked his own real-life story in beautiful fiction to the extreme.
About the Author : Sudeep Nagarkar
Sudeep Nagarkar was born in 1988 in Mumbai and studied engineering at DM College of Engineering. After completing MBA, he started working at an IT firm. He released his first novel Few Things Left Unsaid in 2011 followed by That's the Way We Met in the next year.
After the second release, he turned to a full-time author despite the opposition from his family. It took him no time to rise to the platform of a bestselling author with his novels – It Started with a Friend Request, Sorry, You're Not My Type, You're the Password to My Life, You're Trending in My Dreams and She Swiped Right into My Heart. And All Rights Reserved for You is the latest novel by Sudeep Nagarkar.
Sudeep Nagarkar received Youth Achievers' Award and has been featured on the longlist of the most influential celebrities for three consecutive years by Forbes India. He also writes for television. His books have been translated in various languages like Hindi, Marathi, Gujarati and Telugu.
View All Books by Sudeep Nagarkar
We request the readers to support the authors by stop doing All Rights Reserved for You free pdf download. Instead, buy your print copy / ebook to help authors to grow and write more.