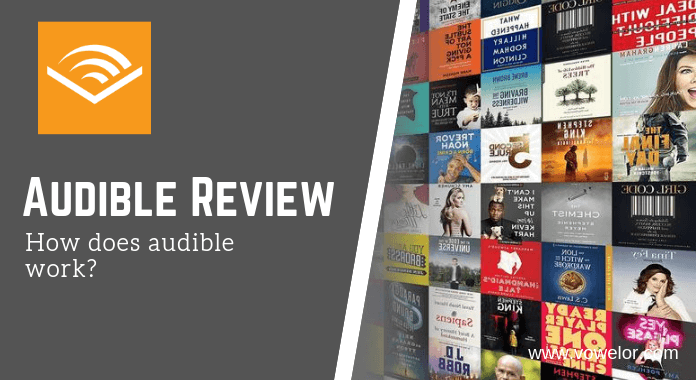 I wonder sometimes how easily technology has seeped into our lives. The perfect example of this is audiobooks. It feels like we never lived without them. And, talking about audiobooks and not mentioning Amazon Audible is just impossible. (I can see you nodding your head 😉 )
But what often ceases us from using new technology is not knowing its working. I know using Audible is not a tough task but there are many more features that can enhance your user experience.
This article will take you through the journey of 'How does audible work?' Not only this, as you will read through, you are going to unravel many other features and benefits of Audible.
So, here I am to explain every single detail of my newly found love, Audible.
But, before that, I would like to start with the fundamentals of Audible. (I am a bit basic!)
Get Two Free Audiobooks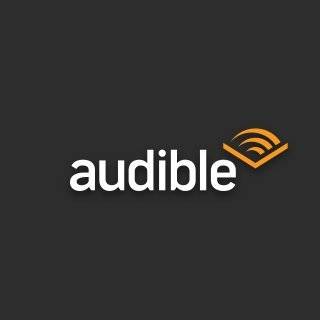 Amazon Audible
Audible books are perfect for anyone who struggles to take time out for reading books.
To sum it all Audible has these exciting offers for you:
30% off on every audiobook for all the audible members.
One credit each month.
Ads-free listening to audiobooks.
Controled narration speed.
Try Audible and Get Two Free Audiobooks
Introduction: What is Audible?
To my understanding, Audible is like a big shop on the internet which sells and produces audiobooks, radio and TV programs, and the audio versions of popular newspapers and magazines. It provides you with the world's largest selected audiobooks that you can also listen to anywhere and everywhere.
Apart from the website, audible also have an app with powerful features that makes listening to audiobooks less challenging.
I have been using Audible for a while now. It is not that I have replaced physical books by audiobooks. I am just saying that I find audiobooks more convenient and easy. Or maybe it's the Amazon Audible which made listening audiobooks more fun.
I started with a 30-days free trial and since then not a single day passed when I haven't listened to the audiobooks. The best part is you can login to any device and continues listening to the book where you left last time.
So, just let's know how does it work.
How Does Audible Work

To get going with the working of Audible first of all you need to do is log in as the Audible member.
Audible works on a subscription basis. That means if you want full access to the audiobooks then you have to take a subscription either monthly or annual. Every month you will get a free credit added to your Audible account. This credit can be used while purchasing one audiobook.
Once your trial is over, you need to cancel your account if in case, you don't want to continue with your subscription (Though, I don't think this will happen). Otherwise, you will be automatically subscribed as of the paid member.
One thing I find a bit unusual with Audible is they don't ask if you want to continue with your membership. Instead, they automatically charge us unless we ourselves cancel the account.
When I am talking about 'how audible works' beside telling the audible membership plans and its credits (which I have explained in detail below)  it's necessary for you to know about the audiobooks.
Amazon Audible allows its users to listen to audiobooks ads-free and high-quality audiobooks that can be accessed online and offline. You don't need to worry about extra data usage as this offline access will allow you to listen to all your favorite audiobooks which you have already downloaded.
Furthermore, you can curate and organize your own personalized library and access it any time and anywhere. The best thing about Audible is it allows you to return or exchange the book titles. So, in case, you find any book uninteresting or didn't enjoy it, then you can change it on with another title without any trouble.
Any Audible member can get access to the book of different genres like technology, romance, sci-fi, personal development, fantasy, business, biographies, mystery, and thrillers. Also, you get to listen to Audible originals. However, another perk of Audible is you can buy two of six audibles on every first Friday of the month and listen to them whenever you want. (I have a reminder set for every first Friday)
Before, Going into the further anatomy of Audible's working, I would like to tell you what special features Audible offers. If you know these features then you can simply skip this part to know Audio Subscription plans. 
But maybe… skipping isn't a good option and you might miss some exciting features. (Just saying!)
Features of Audible App
Here are the features of Audible Amazon which make it one of the best platforms for listening to audiobooks.
1. Narration speed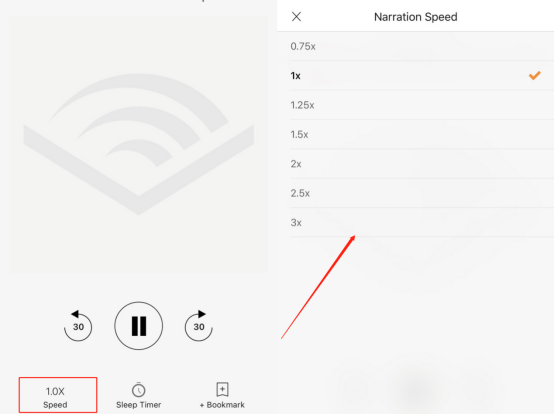 My first concern before trying audiobooks was what if the narrator of the book speaks fast? How would I manage that?
Audible has this amazing feature which controls the narration speed according to your requirement. You can either slow it down or if it is too slow then you can fasten it. Basically, Audible lets you to take over the pace of the narrator and control it according to your understanding.
2. Car mode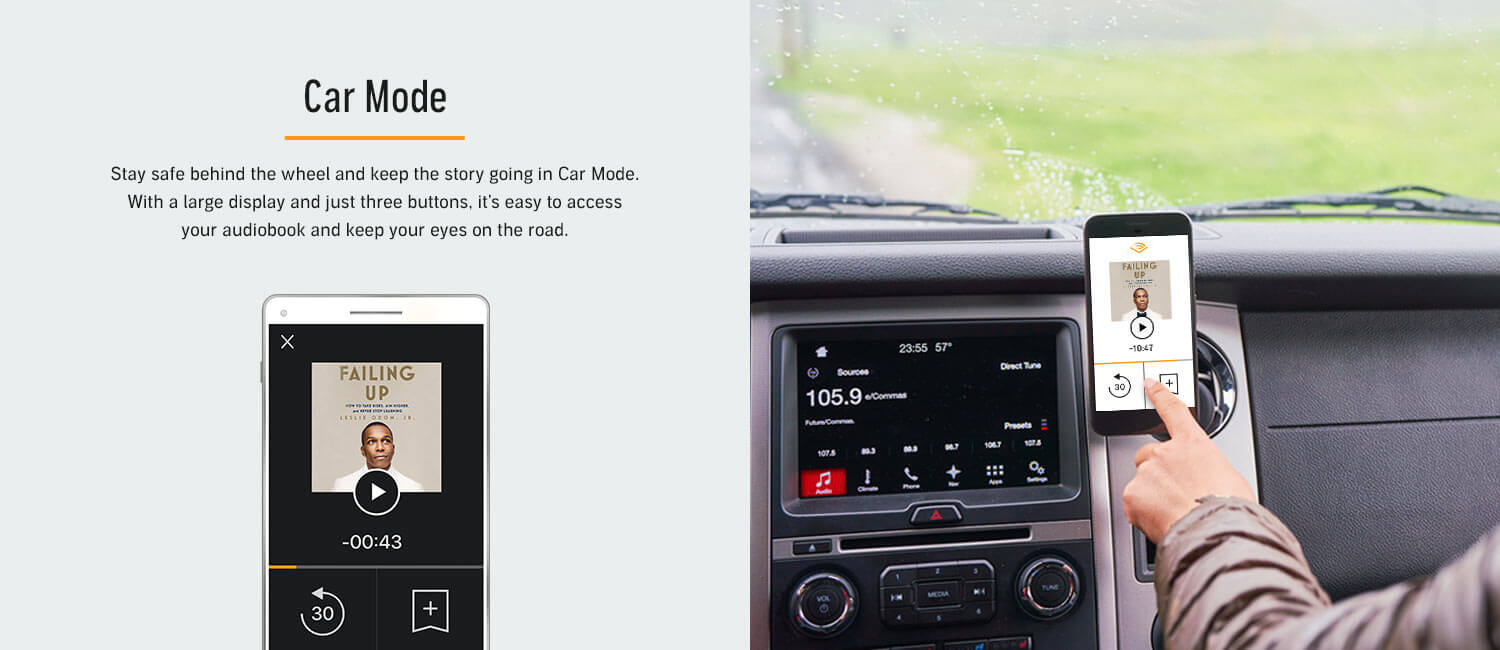 I switched to audiobooks because I had absolutely no time for sitting and reading a book for hours. I used to read in any spare minute I could get from my tight schedules. Though, this actually took away the essence of reading.
Audible actually allows me to read even in my car while driving. Now I can literally embrace the journey and enjoy my books all at the same time. With just three buttons and a large display, its easy to use the app while driving.
3. Sleep Timer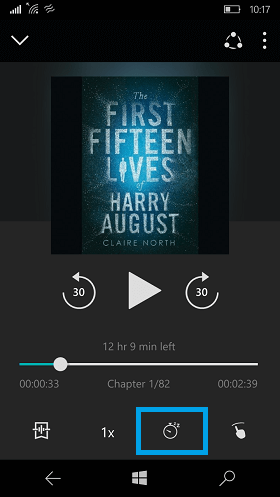 And, in this feature Audible really finds a way to my heart!
With the sleep timer, you can set time to your audiobook. That means the narration of the book will stop automatically after the set time and by this, you will never miss out on the plot twist.
4. Offline Access
Listening to a book online can be annoying at times. You need to avoid all the distractions like email, messages, and also the extra costs of data.
The Audible app allows you to download audiobooks to your app. So long after finishing your book, you can go back and re-listen to the audiobook again.
I understand, by now you might be bumped with lots of questions like How much do audible cost, How much it costs per month and most importantly how you can cut short your budget to enjoy audible membership.
So here are the best deals of the audible subscriptions. Read it thoroughly and listen to your favorite audiobooks.
Audible Library

I think it will take a lifetime to listen to all the books of Audible Library. There are over 425,000 Audiobooks. And, I can see the number rising in the near future. You can browse through 26 categories of audiobooks and choose your favorite book.
To get started with the Audible library, you need to tap on the menu bar and then click on Library. You can also give a name to your library. Now, to add audiobooks in the library, you need to search the book by its name or type author's name.
If you want to download the book, then click on the download icon and then you can access this book from the library even when you are offline.
You can sort your Audible library by purchase date. Then you can see the dropdown menu in the View bar and select one of these options:
Past 30 days
Past 60 days
Past 90 days
Past 6 months
Past year
All Time
Let's just hop on how you can get the most from the Audible and a beneficiary Audible member.
Audible Membership Plans
Like me, you can also start with the 30-day free trial plan and then decide whether you need to continue with it or not. Before setting up the account you need to fill the details of your credit card and if you didn't cancel it then you might be charged for the first month. During this free trial, you can also claim one audiobook.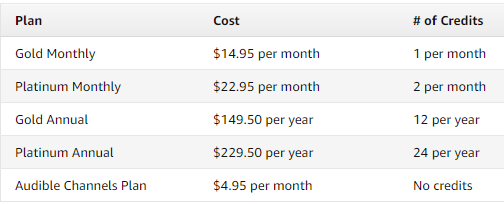 There are many membership plans for Audible subscribers and here I will be explaining a few.
Audible cost $14.95 per month to a Gold member. In this membership plan, you are awarded one credit per month which you can use to buy any audiobook. If you are planning to go for the yearly plan then it may cost you $149.50 and 12 credits per year.
Audible gold members get a 30% discount on every purchase of audiobook. Also, they can return books purchased in last one year if they are not satisfied with it. Another benefit for gold members is they get access to all channels of premium podcasts.
Audible has made Gold plan as the standard plan. Once you enroll for the membership you are automatically turning as the Gold member. This plan also allows its member to roll over up to five credits. 
Platinum membership plan costs $22 per month and awards you two credits every month. So if you are planning to stick with the platinum plan then you will get 24 credits per year and you will pay  $229.50 annually.
Similar to the Gold plan, the platinum plan also gives 30% off on every purchase of audiobook. This plan also supports for the return or exchange of the book and gives access to original premium podcast channels. With Audible platinum plan, you can have up to 10 credits rolled over.
Audible Student Membership Plan
Audible has launched an exclusive discount for students which will cost them $9.95 per month. Now, not all users can avail of this discount. There are certain conditions which you need to fulfill before claiming the discount.
I am sure you are intrigued by the offer. So, If you want to read the details of this Audible student membership offer then click here.
This one is last from Audible subscriptions but it is definitely not the least. This is the secret plan of Audible. They haven't advertised or even mentioned about the silver audible plan on their website. But trust me this one is the best one from all. (I am one of the secret members of this secret plan!)
Get this secret out and to read the details of Audible silver plan here!
Audible Credits
One thing I am saying again and again with every audible membership plan is Audible Credit. But you need to know how Credits be beneficial to you and how you can use Audible credits.
You can watch this super short video and know everything about Audible credits.
Is Audible Free to Prime Members?
Audible is free for 90 days for all the prime members. That means prime members can get 90-days free trial after which they will be charged on a monthly basis. You will get access to about 50 selected audiobooks. In addition to this, Audible's short-form audio programs, documentaries, comedy shows, drama, and also some of the podcasts.
To get started with Audible as a prime member, you firstly need to install Audible app. Then log in with the Amazon Prime id and then you can get two months of free listening to audiobooks.
How to Cancel Audible Membership?
Now as we have talked about Audible prices and subscriptions, it's time to inform you about the process of canceling the membership (Even though you won't need it) 
Following are the steps to follow for canceling the Membership.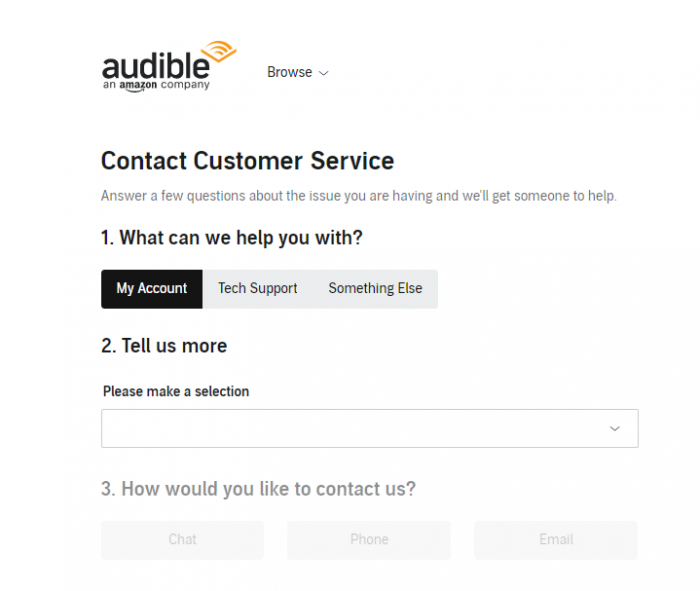 Step 2 – Now select a change or cancel my membership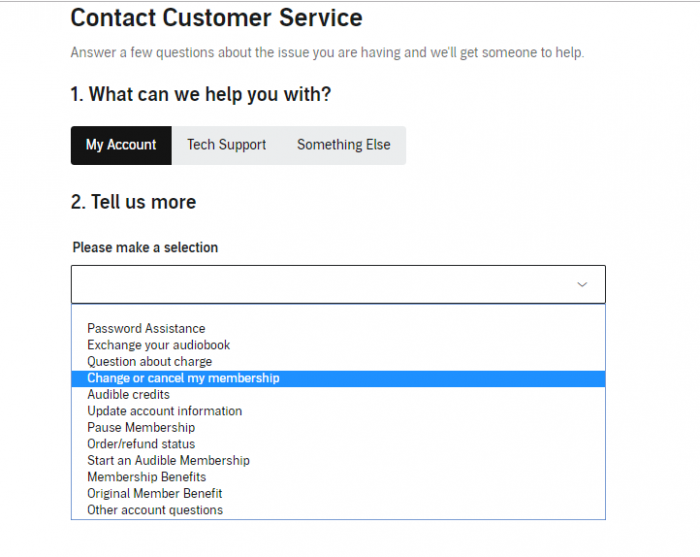 Step 3 – In the second dropdown, select Cancel my membership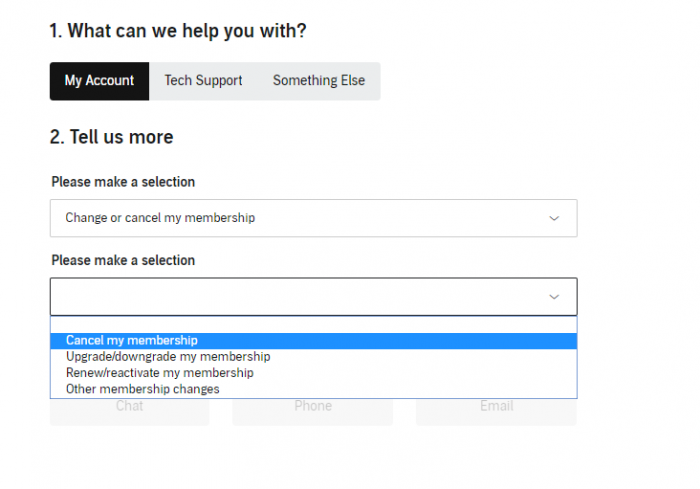 Step 4 – Click on the tab Cancel Membership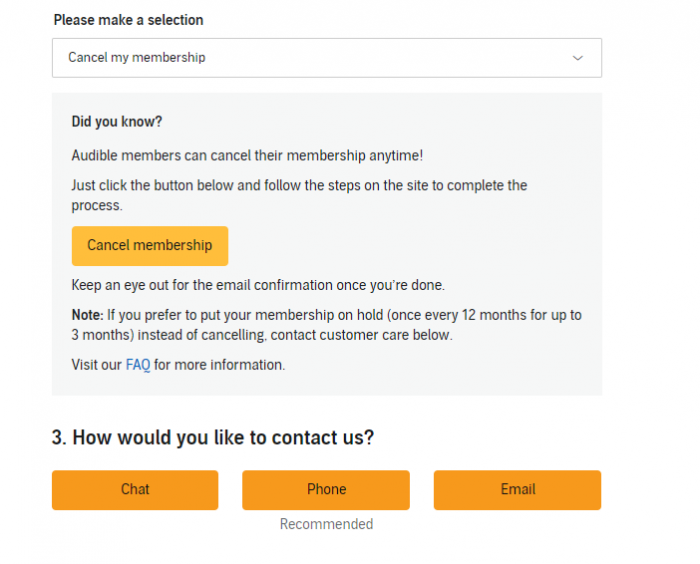 Once you are done with all the steps of canceling the membership, you will get an email as the confirmation of the process.
Audible Pros and Cons
Pros
Cons

Ease of use
Pocket-friendly
High-quality audiobooks
24/7 Customer services
Online and Offline access
Personalized library
Customized narration speed
Sleep timer

Automatically charges after the 30-day free trial
Is Audible Worth it?
To me, Audible membership is absolutely worth it and I am determined to spread this word of mouth.
If you are anything like me, who spends driving, cooking, walking, and commuting time in listening to audiobooks, then no doubt you also feel audible is worth every penny.
I prefer audiobooks over ebooks or books because this was I am close to my fantasy time most of the time. Also, audiobooks are pocket-friendly as compared to other sources of books.
FAQs about How Does Audible Work
What does Audible Subscription include?
Your Audible subscription includes two free audible originals to read every month, and a 30% discount on every purchase of Audible book.
How much does audible cost with prime?
If you are already a prime member and want to buy Audible membership, then you can save 66% on a signup for a three-month trial for just $4.95 a month.
Can I listen to audible without a subscription?
Yes, you can listen to audio books without buying an audible subscription. All you have to do is just create an Amazon account and buy audio books at their retail price listed.
Do you keep audible books after Cancelling?
While cancelling your audible membership, you are prompt to use all your remaining credits left in the account. However, you are still able to read and access those books which are already saved in your library after the cancellation.
Conclusion
I have explained to you everything about 'How does audible work' and other possible questions like How to cancel the membership and is audible worth it or not.
I have been an audible member since 2015 and I have absolutely enjoyed every bit of it.
The best I like about the Audible is you can access it from different devices and continue from where you left. It feels like a bookmark in audiobooks. Also, did you check the Silver membership plan? Not yet? Believe me, you are missing out one of the most pocket-friendly audible plans.
Keep checking on our website because soon I will be writing about the Audible tips and tricks. I am gonna make sure that these tips and tricks would save every possible penny.