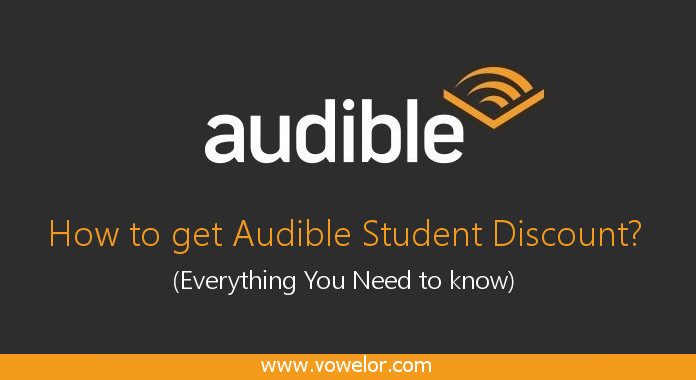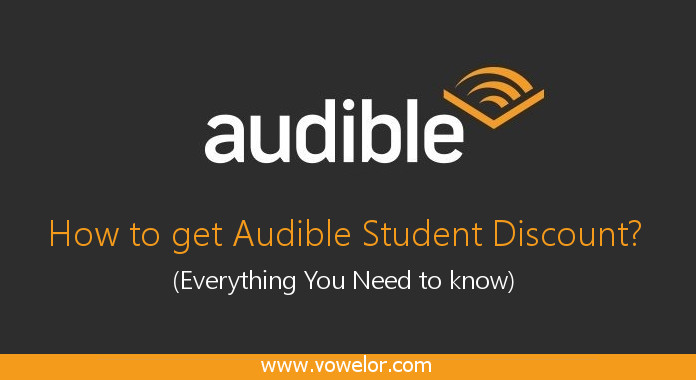 Yeah, You read it right! There is an Audible discount for students!
Audible, the largest seller and producer of the audiobooks, is giving an exclusive discount to the students. Here is everything you need to know about this exciting Audible Student Discount.
Following are the mandatory things to avail Audible Student Discount.
You must be a student in the United States.
You must be above 16 years of age.
You must have a UNiDAYS account.
If you fulfill the above criteria, then you can get Amazon Audible at a discounted rate of $9.95/month for a period of 12 months (and a bonus $10 Amazon credit!).
You can claim your Audible student discount right now!
Before you go, you might want to check out the process to activate your Audible student membership or if you have some questions then just relax and keep on reading.
What is Amazon Audible?
First of all, let me give you a brief about 'What is Audible?'.
Amazon Audible is the online platform which provides its users and members the audiobooks and other spoken-word entertainment, information, and educational programming.
The app for Audible is available for the different operating systems like Android, iOS, Mac OS X, Microsoft Windows, Kindle, Windows Phone.
Details of Audible Student Membership Plan
If you are a college or a university student and above the age of 16, then you can be the audible student member and log in for the handy audible discount offers.
But, this can only be possible if you are enrolled to at least one course at a college which is geographically located in one of the 50 United States or the District of Columbia.
For the verification, you need to provide the proof of enrollment and pass a verification process confirming your enrollment.
You will be paying $9.95/month for 12 months that means you save $5 with Audible Student membership.
This did not end here.
You will also be credited with $10 in your Amazon account which you can redeem while purchasing from Amazon.
Note that the promotional Amazon credit will expire in 90 days. Better to use it before the expiry date.
Also, you can cancel your subscription any time.
Benefits of Audible Student Plan
You will get 3 Titles every month which includes 1 audiobook & 2 Audible Originals.
Audio-guided workouts-cya freshman 15.
You can also adjust the narration speed to save time.
It's fine if you don't like an audiobook, exchange it for free.
Moving forward, now let's know how students can get the best from the Audible Membership.
Steps To Activate Audible Student Discount
Read these steps carefully and follow them to get your $5 student discount on Audible membership.
Step 1: First of all, you need to create an account on UNiDAYS and be its member. UNiDAYS is a digital platform for university students which provides several discounts and deals on Clothing, Health & Fitness, Tech, Food, and many more.


Step 2: Once you are done with signing in on the UNiDAYS Official website, now you have to create a student account for audible. In case you already have a regular Audible account (non-student), you must cancel it first before proceeding to step 3. Otherwise, perform the next step.
Step 3: Go to the Audible Student Page and click on the button which says, Verify Your Student Status.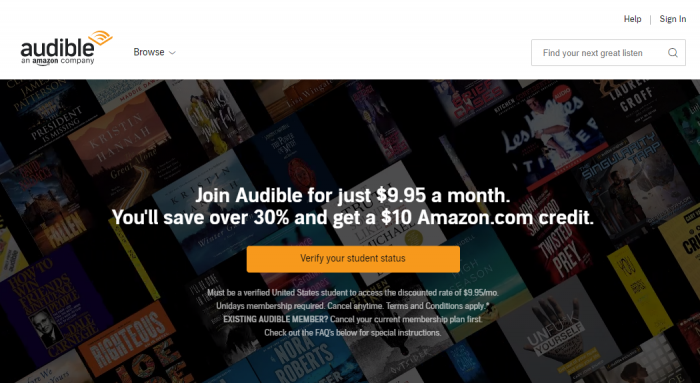 Step 4: This page will take you to the UNiDAYS Audible Student Discount page.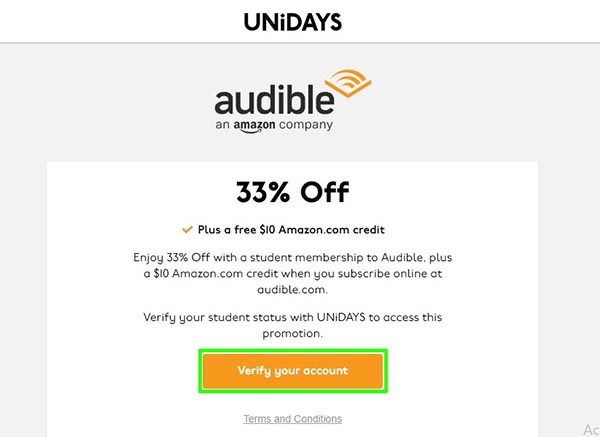 Step 5: Click on the Verify Your Account. It will lead you to Login Page of UNiDAYS Account.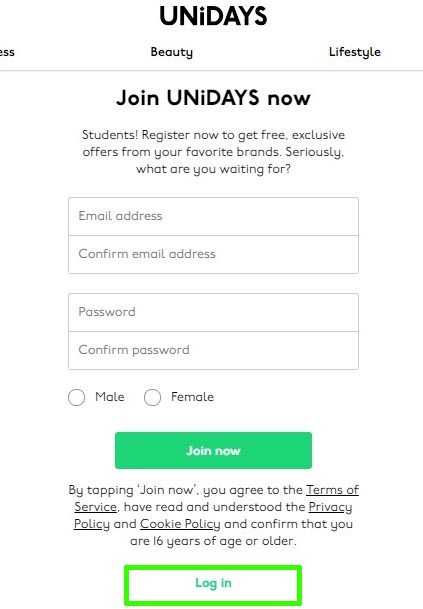 Step 6: After following these steps and the verification redeem your unique code sent by UNiDAYS.


Be the Audible Student and enjoy the Discount on your Audible Student plan! You can also cancel your subscription anytime by the following process.
Canceling Audible Membership
You need to go through these steps to cancel your Audible membership before you can apply for the Audible discount for students. You can complete this step with the website only, as the option for membership cancellation is not available in the Audible app.
Go to the Audible's official website and log in.
Hover the cursor on your name. Click on it and click on the Account Details.
A page about your membership details will open and click on Cancel Membership tab.
You will be asked the reason for canceling the membership. Select the 'other' option and write UNiDAYS in the text box below.
FAQs about Student Discount on Audible
Can I still enjoy Student discount on Audible after 12 months?
30 days before the termination of your 12 months membership, you need to re-verify to confirm that you still want to continue discounted student rate for another 12 month period.
Is Audible free for Amazon Prime users?
Amazon Prime members can get the access to selected free audiobooks of Audible but for full access, they need to be the member of the Amazon Audible
How can I use $10 credit from Audible Student Plan?
The promotional credit of $10 only applies to the products sold on Amazon.com. Any product sold by the third party is not qualified to be purchased form the promotional credit. It will be expired after 90 days from the day it has been credited in your account.
Can I pause Audible Student Membership?
In case, you want to take a break from Audible then you can simply Pause your membership once every 12 months. This will not charge you anything plus you won't lose your credits.
Final Words
Audiobooks are the most convenient reading medium you can ever get your hands on. You don't have to carry them all day in your bag like paperbacks or an ebook reader. You just download them on your phone and listen to them anytime, anywhere.
The best part is you can have a celebrity read the classics to you.
So why not make it economical with the audible student discount?
I have told you every single detail related to Audible for Students plan. Now you just have to follow the steps.
Let's do this!