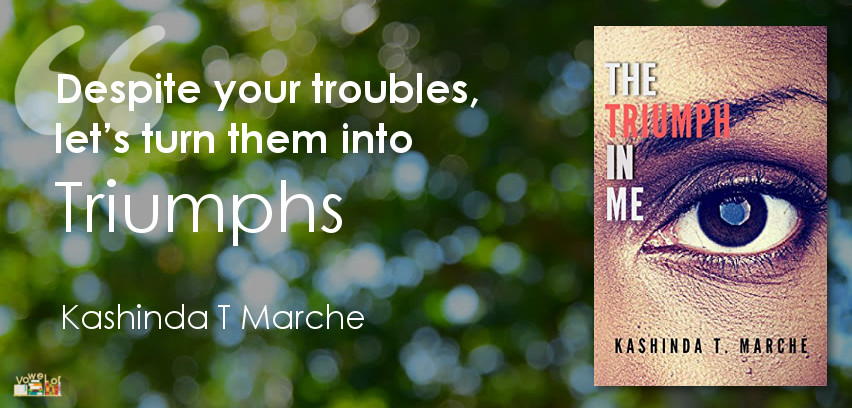 Kashinda T. Marche, a mother of a 21-year-old daughter, carved her passion into an urban fiction that is equally inspiring – The Triumph in Me.  Her debut novel comes as a mirror to the real life situations that she experienced and observed around her.
About Kashinda T. Marche, Author of The Triumph in Me
Back in 1976, Kashinda T. Marche was born in Newark being the oldest one among her two brothers and two sisters. Her family believes in supporting each other through times as well as celebrating the good times. Kashinda has been a smart child since her school days although not very social.
Later she moved to Maplewood where she raised her daughter, Asia, who is now 21 years old.
Kashinda gave a tell-all interview to Vowelor on the release of her debut novel The Triumph in Me : Living to Die But Decided to Live. Get to know the lady who has an inspiring story to share.
What is your biggest achievement till today?
I would say my biggest achievement thus far would be learning to adapt to a sudden change in lifestyle, yet still managed to use my God given the gift of writing to share with the world.
Do you read much and if so who are your favourite authors?
Unfortunately, I haven't been able to read as much as I'd like to. There are many great titles on my list though. I am an all-time fan of The Color Purple. It flushes the emotion right out of me every time.
How do you relax?
I try to practice deep breathing techniques to cleanse the mental palette.
What is your biggest fear?
I have faced many challenges in life that caused me to question why? I have realised that we all have a story and it is up to us to determine what to do with it. We can waddle in sorrow, be selfish with success or we can share experiences for the good of others. Someone may or may not need to know your story but that shouldn't stop you from offering to share as a gesture of help.
What is your favourite motivational phrase?
When you stand and share your story in an empowering way, your story will heal you and your story will heal somebody else.

~ Iyanla Vanzant
In fact, if I were given the opportunity to meet a famous person, it would be her. I can still use help with fixing my life.
Where do your ideas come from?
I draw ideas for my writing from real life situations. There are stories all around us. I can take bits and pieces from various sources and create one hellava story.
What advice would you give to your younger self?
I appreciate all feedback, good and bad. It's a great way to learn.
My best advice to aspiring writers is simply write, just write and all that follows will work out.
Tell us more about The Triumph in Me.
My book is a combination of urban fiction/inspirational/self-help. I chose to send a few different messages within this story in hopes to help someone out of their darkness.
My main character Tharisse (Tu-reese) is a young mom of one daughter who struggles with mental illness that presents itself after receiving a HIV+ diagnosis at the tender age of 19-years old.
She goes through life trying to figure out what went wrong and why. She obsesses with how she raises her daughter. She has a negative perception of her mother that later changes. After a tragic suicide attempt she is awakened with a will to live again. She decided to own her truth along with her mistakes.
An independent publisher by the name of 4Lane Publications has published my book. I happen to be co-founder as well. Upon researching publishing options and actually being offered a contract with a small publisher in which I declined, I decided that starting our own company will bring my message to life.
Despite your troubles, let's turn them into triumphs.
How can the readers connect with  you?
Learn more about me by following me on Twitter @kashkash7650, follow my blog at  where you can also get updates. My Facebook page for The Triumph In Me will have useful info as well on its progress. Also Find my daughter on YouTube