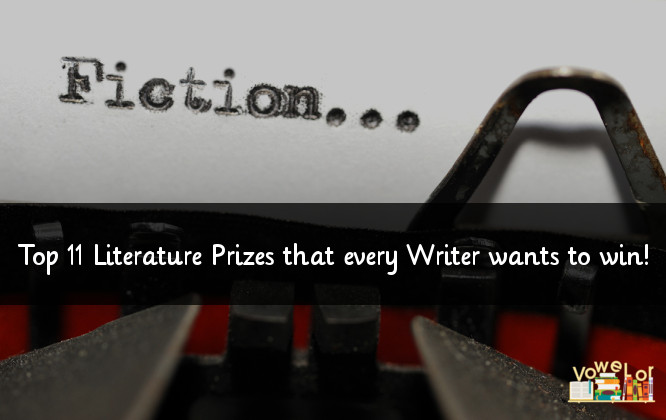 A thing to be appreciated in the literature industry is that there are numerous book awards and prizes being presented at the national and international level to the best authors every year.
In different categories and countries, there are more than hundred literature prizes awarded to brilliant writers. Among all these literature prizes, there are some internationally acclaimed and prestigious awards that every writer wants to win.
Check out these Top 11 literature prizes from around the world.
1. The International Dublin Literary Award
This is one of the most coveted literature prizes given to novels in english or translated in english. It also boasts the highest prize money of €100,000. More than 400 libraries from 177 countries around the world nominate books each year which are shortlisted. A panel of international judges choose the final winner. In 2016, Akhil Sharma, an American Author, won International Dublin Literary Award for his novel Family Life.
2. The Man Booker International Prize
Another prestigious literary award that writers desire for is the Man Booker International Prize simply known as Booker Prize. Till 2013, this awards are given only to the authors from Commonwealth, Ireland and Zimbabwe afterwards it is expanded for any novel written in English. The Vegetarian by Han Kang and translated by Deborah Smith has been proclaimed as the winner of the 2016 Man Booker International Prize.
3. Pulitzer Prize
The Pulitzer Prize is awarded to those in literature, music, or newspaper / online journalism This award is presented in 21 categories including the Pulitzer Prize for Editorial Writing, the Pulitzer Prize for Music and the . In 2016, Viet Thanh Nguyen (Grove Press) won this prize in Fiction category for book 'The Sympathizer'. Thats a must-read people!
4.  David Cohen Prize for Literature
Worth £40,000, this is one more literary award with a huge prize money. The David Cohen prize has been awarded every other year since its launch in 1993. Unlike the above, this literature prize is awarded in recognition of an entire career instead a single work. To be nominated for this prize,the works must be written or translated into English. Tonny Harrison, popular for his so-called obscene poem v., won this award in the year 2015.
5. Costa Book Award – Book of the Year
The Costa Book Awards is an yearly extravaganza that every writer awaits. It has five sub-categories namely first novel, novel, poetry, biography,  and children's book. The Book of the Year, worth £35,000, is selected from the winners of five sub-categories.  The winner of each category is given £5,000, and the overall winner receives a further £30,000. (The Short Story Award winner receives £3,000; the authors in second and third place receive £1,500 and £500 respectively.) So that's pretty much a win-win for all writers.
6. The Dylan Thomas Prize
The Dylan Thomas Prize is a literary prize worth £30,000 . It was launched in 2006 aiming specifically at young authors. It is awarded this prize for the best published literary work written in English, by an author under 30.In 2016,  Max Porter has been awarded Dylan Thomas Prize for his novel 'Grief is a thing with feathers'.
7. National Book Award
The next on our list of top 11 literary prizes is The National Book Award. It is regarded as one of the most prestigious US literature prize, It has four categories available–fiction, non-fiction, poetry, and young people's literature, including two life-time awards. Adam Johnson was given National Book Award 2015 for his novel Fortune Smiles: Stories.
8. Neustadt International Prize for Literature
Another prestigious American literary award is Neustadt International Prize for literature. It is presented in every two years to an author for their entire body of work. Every writer wishes to win this coveted award once in a lifetime. Dubravka Ugrešić, a writer from Netherland, won this prize for the year 2016.
9. The Hugo Award
These awards are given to writers of science fiction or fantasy and categories include Best Novel, Best Graphic Story and Best Fan Writer. Some past winners have been Philip K. Dick, Clifford D. Simak and Neil Gaiman.
10. BBC National Short Story Award
This annual prize, managed in partnership with Booktrust, was established in 2006 in order to reward "homegrown" talent and is only open to writers resident in the UK. £15,000 is awarded for first prize, £3000 for the runner-up and £500 for the additional writers that reach the shortlist.
11. Sahitya Academy Award
The Sahitya Akademi Award is a literary honor inIndia, which theSahitya Akademi, India's National Academy of Letters, annually confers on writers of the most outstanding books of literary merit published in any of the major Indian languages recognised by the Sahitya Akademi, New Delhi.
Which one you wanna win Mr. Amazing Writer?