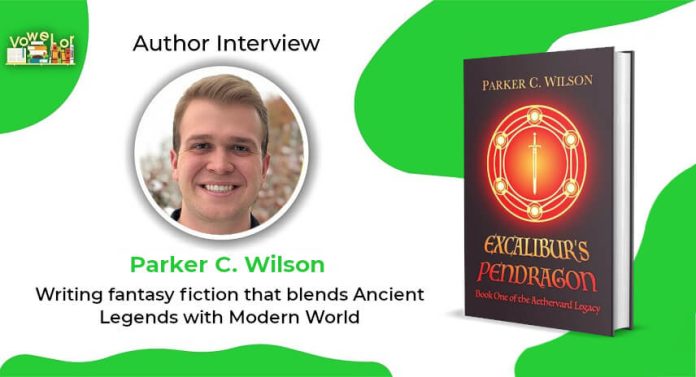 Fantasy fiction allows authors to truly explore their imagination and bring up a world that seems more real than the real world sometimes. Author Parker C. Wilson has done something similar with his latest release Excalibur's Pendragon which seamlessly blends ancient legends and the modern world into a fantasy thriller.
At Vowelor, we had a chance to have an exclusive conversation with author Parker Wilson where he shared a lot about his Aethervard Legacy series, his writing journey, his personal life, and much more.
But, before we get into the chit-chat, let's know a little more about the author himself.
About the Author: Parker C. Wilson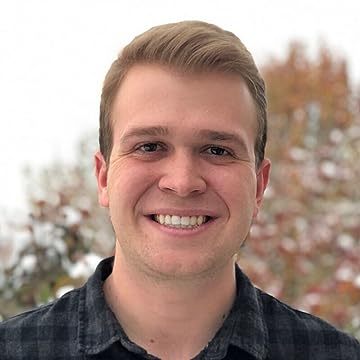 Parker C. Wilson is an author who also works as a software developer from Utah, United States. His debut book Excalibur's Pendragon was released in 2022 which is also the first book in his Aethervard Legacy series.
Born and raised in Utah, he spent most of his life in Bountiful where the trees and the hills make you feel right at home. He comes from a fun, passionate, inspiring, and supportive family, many of whom he says he can't thank enough for helping him to grow not only as an author but as a person.
For as long as he can remember, Parker has felt an amazing power from the art of storytelling. The magic of books has given him adventures that taught him to face his fears and to live life to the fullest.
What were you like at school? Any childhood memory you would like to share.
Growing up, I had a lot of different adventures with friends, but I also spent a lot of time by myself imagining the characters and the story that eventually filled my first book known as Excalibur's Pendragon.
What are your educational/professional qualifications?
Before I became a published author, I worked hard for a degree in Computer Science. To this day, I remain a Software Engineer who seeks to build up the world either through code or through my books.
What is your biggest achievement till today?
If I can be proud of something, it is that I see the importance of my family and am willing to put them and my faith first.
Which writers inspire you?
Some of the writers that have inspired me the most include Brandon Mull (author of Fablehaven), Andrew Peterson (author of The Wingfeather Saga), and C.S Lewis (author of The Chronicles of Narnia), and JRL Tolkien (author of The Lord of the Rings). Along with pulling me into exciting worlds, they helped me to learn how to face life with courage and faith.
Writing is stressful at times. How do you relax your mind?
When writing is stressful, I like to read other people's books or do one of my other hobbies, such as boxing, drawing, or even just going on walks.
What is your favorite motivational phrase?
Be grateful.
What advice would you give to your younger self?
Always remember that there is someone else who needs a friend.
What made you decide to sit down and actually start writing?
I've always been a storyteller, but it was when my school teachers organized projects for me to explore creative writing that I discovered how much I loved putting my ideas on paper. I'm deeply grateful to my teachers for helping me discover one of my greatest passions.
What is the reason you write for; is it for the readers or your own self or some other thing?
I find that writing has an impact on all participants. Readers can definitely benefit. Authors can sometimes benefit even more. In my case, I've found that writing my stories has helped me and my readers in various ways. I love hearing from readers how my latest book has helped them to face their challenges with more determination and faith.
About your Book: Excalibur's Pendragon
Excalibur's Pendragon is a fantasy-filled fiction thriller novel written by Parker. C Wilson, published in the year 2022. The protagonist Ryan is portrayed as just another guy from high school. But, little did he know, he himself was the ocean of numerous power and magic.
The story is filled with suspense, love, and thrill that you can't wait for its upcoming series. It is a tale of endless twists, duty, love, and pure dedication.
Read Full Review of Excalibur's Pendragon
What genre is your book? What draws you to this genre?
My genre is Fantasy/Sci-fi. I like this genre because of how it helps me to have an imagination and grow my problem-solving skills. I also like how it helps me explore various themes and what a world and its inhabitants would be like if a natural aspect of everyday life was amplified or decreased.
What/Who was the inspiration behind the character of Ryan?
I came up with Ryan's character by deciding I wanted to create a protagonist that people with depression or anxiety could connect to. I wanted to write about someone who could learn how to cope with loss and challenges so that readers can learn how to do the same thing.
If anything, my hope is that I can create a character that shows how to use challenges to discover empathy and awareness for others who are also learning how to be happy when life is hard.
What makes 'Excalibur's Pendragon' stand out in this genre?
I'd say what makes it unique is how it focuses on the bridge between Arthurian Legend and Celtic Mythology while bringing that bridge forward in time so that people can see a new side of King Arthur, Merlin, and new characters of my own imagination.
I also explore the unresolved pasts of these characters, including the events that made the characters who they are. In the end, I'm trying to reinvent old stories while bringing out aspects that made them great in the first place.
What should a reader expect from 'Excalibur's Pendragon'?
I'd like to promise readers a story that is fun for kids and adults. In my opinion, the best stories are the ones that families can enjoy together. I tried making this suitable for ages 12 and up, and so far this book has proven to be the case.
The book appeals equally to kids as well as adult readers. What was the hardest & the easiest thing to write this book in such a way?
For me, writing a book for both audiences requires characters and themes that anyone can connect to regardless of age. Without attempting to overload my story with too many characters, I try to show how people of different ages and backgrounds perceive the same events in different ways.
Sure, the main character is a high schooler, but he isn't concerned just about high school drama. You also see the story from the perspectives of his father George and other adults, people are trying to figure out how to manage their sides of the story as well.
I'm not a perfect writer, but I hope to leave some gaps open so that readers can fill in the blanks themselves.
Any special experience about 'Excalibur's Pendragon' that you would like to share.
Writing this book has helped me to deepen my appreciation for the insights I try to convey as well as the people who taught me some of life's most valuable lessons.
This book is primarily a fantasy, but for me, it is also a story that helped me to discover the things that are most real about life and what I can do to lift up others through my storytelling.
Future Plans
What are your ambitions for your writing career?
Independent of how successful the book becomes, I want to keep writing The Aethervard Legacy and see it through to the end. Already, my first published work is now an award-winning novel, named a winner in the PenCraft 2023 Season Book Awards. This helps me to believe that I can keep this hobby of mine going until I finish the series.
Are you working on your new project? What will be your next book about?
While balancing my job as a software engineer and promoting my book as its self-publisher, I am working on the sequel to Excalibur's Pendragon. After the second book, I want to write roughly 3 more books to finish off the story I've been planning for years.
What does success mean to you as an Author?
For me, success as an author comes down to how I connect to and uplift whoever opens my book, myself included. There are so many books out in the world for people to choose from. The fact that people are willing to read my book is very serious to me. I want to honor the time that they sacrifice to do so, which is why I want to give whoever reads my books something that they can enjoy or even hold onto after they are done reading.
What are your views on self-publishing and traditional publishing?
Both have pros and cons. Ultimately, the author has to decide what is best for them personally. If they want to maintain full creative rights and put in the extra work to get their book out into the world, self-publishing is the better approach.
If they want to delegate more responsibility to a publishing service with more experience in marketing, I'd say go with that approach. In the end, I'm happy with what I've managed to accomplish through self-publishing, and I'm eager to see where things go.
One learning that you'd like to pass on to young debut authors?
Don't be afraid of making mistakes. If you believe in your story, I encourage you to work with what you currently have and see where it leads you. Have a little bit of caution so that you don't wear yourself out, but remember that taking action will be what teaches you the most.
Your opinion about Vowelor.
I'm very grateful for the support that Vowelor has provided me and my book. Their review has been very helpful, and I'm excited to see what comes from working with them.
 Are you also an author? Get your book featured on Vowelor now!