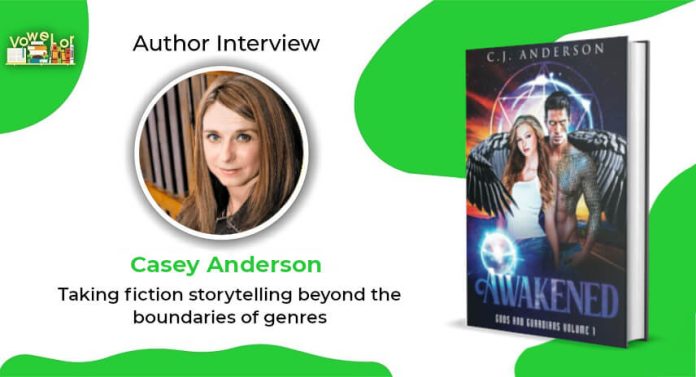 Bestselling masterpieces are born when brilliant authors are ready to experiment with their work breaking the boundaries of genres in fiction. Author C.J. Anderson has brilliantly blended fantasy with mythology and science fiction giving birth to her debut book – Awakened: Gods and Guardians Vol 1, which was released in 2017.
We got a chance to have a candid conversation with Casey Anderson. She discussed her books, her writing journey, her future plans, her reading taste, and more.
But, before we take you to this interesting conversation, let us first know a little more about the author.
About the Author: C.J. Anderson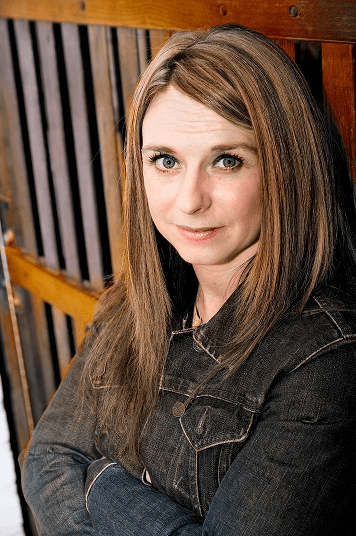 C.J. Anderson is a passionate author, teacher, truth seeker, and creative entrepreneur living in the U.S. Casey has written three books so far. In 2017, her debut young adult novel, Awakened, received the Best in SciFi Award at the Ozarks Indie Bookfest.
The second book in her Young Adult series is Illuminated. Her third book is a Children's Book, No More Slime and I Mean It.
Born in 1978 in southwest Missouri, which is a part of the Ozarks, she grew up amongst the beautiful hills, rivers, lakes, and wooded areas.
She graduated with a B.A. in Elementary Education in 2003 from the University of Iowa and has the following endorsements in addition: K-8 social studies, K-8 reading, PreK-12 Gifted and Talented. The bulk of her teaching has been with gifted and talented students in elementary schools.
Wise Words from the Author
Read what you like. If you don't like a book (including mine) then don't feel compelled to finish it. Give yourself permission to move on to another book. As for the books you like, reach out to other readers and talk about them. It's a great way to make friends all over the world and you can support your favorite authors by sharing them with your reader friends.
Tell us about your parents, kids, and family.
My parents are still together, and they live in the Ozarks in Missouri and run a Bed & Breakfast there called Ginger Blue Inn.
Casey has been married to her husband for 23 years whom she met online randomly before dating online was a thing. She has one daughter from a previous relationship who is grown and married. She has three kids, so that means I am a grandma! My youngest daughter with my husband is a teenager and getting ready to start high school.
What were you like at school? Any childhood memory you would like to share.
I was very quiet and studious. I was always a straight-A student. I liked school for the most part and was one of these geeks who actually enjoyed homework. I rarely got into trouble at school. When I did, it was because I was staring out the window making stories up in my imagination.
What is your biggest achievement till today?
I have raised two daughters who are kind, responsible, hard-working, and independent-minded. Raising kids is no easy task, and my kids are not perfect, but at the end of the day, they are really amazing individuals who contribute positively to the world around them.
Which writers inspire you?
C.S. Lewis, J.R.R. Tolkien and Madeline L'Engle are the three who inspire me the most. Their writing contains elements of mythology, philosophy, and spirituality. It's woven together magnificently with layers that call forth a sense of wonder.
Writing is stressful at times. How do you relax your mind?
I like to go on long walks and listen to music or podcasts.
What is your favorite motivational phrase?
I collect these like crazy, so this is a hard one. But I think I'll go with one from Nikola Tesla.
Though free to think and act, we are held together like the stars in the firmament, with ties inseparable. These ties cannot be seen, but we can feel them.
What advice would you give to your younger self?
What other people think about you or say about you is none of your business.
What books do you like to read personally? What are you reading currently?
I like to read nonfiction books in the categories of science & spirituality as well as other fringe areas. For fiction, I like Science Fiction and Fantasy and all of their sub-genres. My current reads are 'THE EDEN CONSPIRACY: Ancient Memories of ET Contact and The Bible before God' by Paul Wallis in the non-fiction genre. And, in fiction, 'Aurora Burning' by Amie Kaufman and Jay Kristoff.
If you could have been the original author of any book, what would it have been and why?
The Percy Jackson series. I absolutely love how Rick Riordan weaves Greek mythology into highly entertaining tales that are new and modern but still ring true to their origins in some way. I've read them multiple times with my former students and can never get tired of them.
What made you decide to sit down and actually start writing?
When I was working on my gifted and talented endorsement, one of my classes was a creativity class. For our final, we had to submit a creative project. This is going to sound crazy, but around that same time, I kept having dreams about these two teenagers, who would become the characters in Awakened. They even told me their names in the dream and a lot of their story played out like a movie.
So, for my project, I submitted character maps and a story idea. After this, their story kept coming into my mind and it was almost like they were talking to me and begging me to tell their story. Especially Dru. I'm telling you, he would not shut up! I still didn't write it down though.
But eventually, I found out about NANOWRIMO and decided to participate. During that time my students at the time found out and from that point on, they would not stop encouraging me to finish my story and to publish it as a book. So, finally, in 2015 the very first book, Awakened, was finally published.
Do you have a special time to write or how is your day structured?
In the past, I would have certain nights I would be right. Now, since I am no longer teaching, I have a weekly schedule where I do research on Mondays, I write on Wednesdays for up to 12 hours sometimes and then Thursdays I edit. On the other days, I work on nuts-and-bolts things for running an author business.
What is the reason you write for; is it for the readers or your own self or some other thing?
Until I sat down and wrote a book, I had no idea about this part of myself. Now that I have, I've unlocked a part of myself that makes me feel whole. I write because it's like breathing to me. At the end of the day, I want to write something entertaining and possibly even inspiring to others.
But, I think if money were no object and I could do anything at all, I would still write. Even if it was just for me.
About your Book: Awakended
Awakened, authored by CJ Anderson, is a romantic fiction novel packed with a perfect concoction of supernatural powers and daring adventures. this book has a lot to offer to its readers with its unpredictable and relatable characters.
It is based on a teenage couple Alayna and Dru who will ignite the magic of their never-ending bond and unravel their real identities and purpose.
Awakened is the first part of this fabulous adventurous series Gods and Guardians. It is a story that will blow your mind with its power-packed actions and the secrets it holds.
Read Full Review of Awakened
What genre is your book? What draws you to this genre?
Broadly it is speculative fiction and has elements of Science Fiction as well as magical realism. Then, of course, there is the romance aspect of it between my two main characters.
We have been programmed by society to put things in categories and to not question the narrative. My mind doesn't work that way and never has. For example, people might say they don't believe in extraterrestrials because they have never seen one.
But I think that's a shortsighted way to see the world considering we can only see with our eyes a very small portion of the light spectrum. There are things in our universe that we simply are not able to see. The other thing is that people don't see things because they don't expect to see them.
I write books that I hope open peoples' minds to the possibility of all sorts of things in the universe. My hope is that, if nothing else, after reading my books the reader starts asking more questions about their reality.
What was the inspiration behind the characters of Dru & Alayna?
They literally popped into my dreams. I believe they are a major part of my subconscious because Alayna is very much like me. Especially with her being a highly sensitive person. I don't see emotion as color or anything like that, but I have always been exceptionally sensitive to the emotions of others and the overall temperature of a room.
What makes 'Awakened' stand out in this genre?
Awakened can be read at three different levels.
1. Surface level – it can be read as a fun story about a boy and a girl who have superpowers and are connected in a way that is more than being in love and the challenges that come with that.
2. Mind level – The reader will be presented with concepts that are not mainstream but are based on real accounts and/or research. They can then ask questions and do their own research to learn more.
3. Soul level – Each chapter starts with a quote that ties in with the chapter. Some are obvious and others are not. By meditating on the quotes and thinking about how and why they tie in with the story, one can come to a deeper meaning and perhaps even tap into their own subconscious.
What should a reader expect from 'Awakened'?
It's a romance with action, suspense, and plot twists that blend elements from science fiction and mythology together. Most readers really enjoy the character development as well.
The story brilliantly packs so many things – aliens, romance, family, sci-fi conspiracies, history. What was the hardest & the easiest thing to write this book?
The easiest thing for me to write is characters. I really enjoy giving them their own quirks and personalities. The hardest thing to do is to weave all the elements together in a way that doesn't drag the story down with information dumps but remains cohesive enough to make sense to the reader.
Any special experience about 'Awakened' that you would like to share?
I am a discovery writer, AKA pantser. That means I do not plot in the traditional sense. The closest I come to plotting is having certain checkpoints that need to happen in the book. I do not know how the characters will react to them or what will happen until I'm actually writing that scene, though.
I suspect that because this book arose out of my dreams that my subconscious does most of the heavy lifting and then when I write it pours out my fingertips.
Future Plans
What are your ambitions for your writing career?
A year ago marked the end of my teaching career after 19 years and I made the transition to a creative entrepreneur. I plan on finishing the Gods & Guardians series. I am more than halfway finished with the third book. I also have a couple of novellas that complement it that are almost done.
Being a creative entrepreneur, I have multiple streams of income. One of those is that I am a life coach and as such, plan on writing nonfiction self-help books. I actually have a handful of them outlined and rough drafts written. I will move on to that project once Gods & Guardians is complete.
The other stream of income is drawing on my experience in teaching. I have one children's book published so far called No More Slime and I Mean It and plan on writing more in the areas of STEM.
Are you working on your new project? What will be your next book about?
Currently, I'm working on Book 3 of Gods & Guardians. It picks up right where Book 2, Illuminated, leaves off. A lot of loose ends get tied up but there are also a lot of surprises.
My favorite surprises are the new side characters who have emerged as well as the expanded world-building.
I have a bet going on with my husband right now. After reading aloud the first 50,000 pages to him, he thinks I'm going to need to write a 4th book to wrap up the series. I think I can do it in three. My goal is to have my rough draft done by the end of July.
What does success mean to you as an Author?
I am a reader first and foremost, and I know how it feels to fall in love with other people's books and characters. I would like to connect with readers who feel that way about Awakened and the Gods & Guardians series in general.
Community is something that is really important to me in life, and I feel that if I can connect with readers in a reading community then I will be successful.
What are your views on self-publishing and traditional publishing?
It's definitely a personal choice. I can see why people go the traditional route because I understand that people are individuals with unique experiences. What is right for one person may not be right for another.
Personally, I've always been a bit of a rebel and independent-minded. So, for me, going the indie route was a no-brainer.
One learning that you'd like to pass on to young debut authors.
Find your own voice and write from a place of authenticity. Don't try to be someone else. Be yourself. The world needs your voice.
Your opinion about Vowelor.
I'm so glad Vowelor approached me about doing a promotion. The services they provide cover so many areas and it's affordable, even for an indie author like me just getting started. They've been really easy to work with and I would recommend them.
 Are you also an author? Get your book featured on Vowelor now!