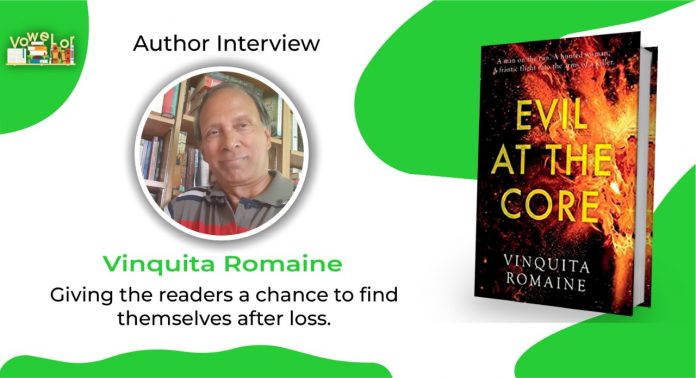 Author Vinquita Romaine has recently published his book, Evil at the Core, and trust us when we say that we can't get over it anytime soon. The adventure, the mystery, and the thrill it offers are exactly what we readers root for. The cross-continental trope has only added to the hype.
After the release of his book, Evil at the Core; we, at Vowelor, had an interesting conversation with Vinquita about his writing. But, before we continue with his interview, let's know a little more about the author.
About the Author: Vinquita Romaine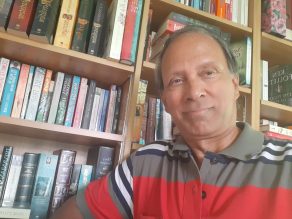 Vinquita Romaine,  is an author and a doctor, whose real name is G. Venkat Raman. He has recently published his book, Evil at the Core. This contemporary fiction novel has an explosive start, and touches on topics like moving on, dealing with a dysfunctional childhood, a disastrous marriage, and spontaneous adventure.
Vinquita lives in Britain with his family and has had a long career as a consultant in the British NHS. He is very much into fiction and traveling, and continues to keep in touch with his beloved medical practice. When he isn't engaged in any of these, one can find him spending time with his granddaughter.
Further, Vinquita has shared about his childhood, his writing journey, his inspirations, and more interesting things about himself. Here are all of his interesting answers.
Tell us about your parents and family.
Both of my parents are deceased, and we were a large middle-class family of modest means and high education.
When and where were you born and brought up?
I was born in 1951 in Chennai, India, and grew up mostly there, but have spent a lot of time in Delhi and Pune, before emigrating to the UK in 1979.
What were you like at school? Any childhood memory you would like to share?
Mostly, I was mischievous and humorous. However, I generally scored well in exams.
What are your educational qualifications?
MBBS, MD, FRCP, DipMedEd
What is your biggest achievement till today?
I have been married 43 years, and have a very happy family, with a wonderful wife, two lovely daughters, and now, a delightful granddaughter, and I consider that my greatest achievement! Apart from that, a long career as a Consultant Nephrologist (kidney specialist) in the British NHS. Last but not least, I have traveled to over a hundred countries around the world, and managed to trek to the Everest Base Camp.
Which writers inspire you?
John le Carre, Daphne du Maurier, Morris West, John Grisham, Robert Harris
Writing is stressful at times. How do you relax your mind?
By not writing! Usually, I spend time with my granddaughter or engage in some eclectic cooking. As already mentioned, we love traveling and at home, watching TV.
What is your favorite motivational phrase?
Life is too short…
What advice would you give to your younger self?
Focus and excel at fewer things, rather than try your hand at too many
What books do you like to read personally? What are you reading currently?
I am very much into fiction. Currently, I am reading the Seven Sisters series by Lucinda Riley.
If you could have been the original author of any book, what would it have been and why?
Gone with the wind – Set in a time of turbulence, it is an epic tale with wonderful characters.
What made you decide to sit down and actually start writing?
Just curiosity.
Do you have a special time to write or how is your day structured?
There is no structure as such. I write whenever I feel like it.
What is the reason you write for; is it for the readers or yourself or some other thing?
It was all about testing my ability to create and get published.
About your Book: Evil at the Core
Evil at the Core is an urban contemporary fiction book by Vinquita Romaine. It was published in the year 2022. The book follows Quentin, who flies off from London to New York after he loses his job and his marriage, and his life completely falls apart. But who would have guessed that this spur-of-the-moment decision would lead him into a vortex of adventure, love and friendship, stalked all the time by a relentless predator.
What genre is your book?
Adventure/mystery/thriller
Quentin, the protagonist of the story, has had a very dysfunctional life with next to no parental support, a bad marriage, and a job that went away as easily as it came. So was there something specific that made you choose this backdrop for your story?
I wanted to start with a character who has hit rock bottom, and see how he reacts.
What makes 'Evil at the Core' stand out in this genre? What should a reader expect from it?
Surprise, fast pace, powerful characters, attractive scenarios of places featured – it is both plot-driven and character-driven.
The book has aspects like dealing with a toxic family in childhood, getting cheated on by one's spouse, losing the only source of income, the spontaneous decision of flying to another continent, and the dangers that followed. What were the hardest and the easiest things or ideas to incorporate?
Getting the timelines accurate; going back to the characters from the past, were challenging. Describing the various places around the world was relatively easy, as I had been to all those places.
Is there any special experience throughout the writing process of 'Evil at the Core' that you'd like to share?
The Covid lockdown hugely facilitated the process by making available all the time in the world.
Future Plans
What are your ambitions for your writing career?
I have plots in my mind for 2 more books – but not sure if I'll get the time!
Are you working on your new project? What will be your next book about?
Not yet.
What does success mean to you as an Author?
Satisfaction, particularly as I am giving away all my personal profits to charity.
Do you prefer self-publishing or traditional publishing and why?
I don't prefer it, but Self-publishing saves time.
One learning that you'd like to pass on to young debut authors.
Be disciplined and force yourself to write a little bit every single day.
Your opinion about Vowelor.
I am very impressed by their enthusiasm and commitment to support authors.
Are you also an author? Get your book featured on Vowelor now!