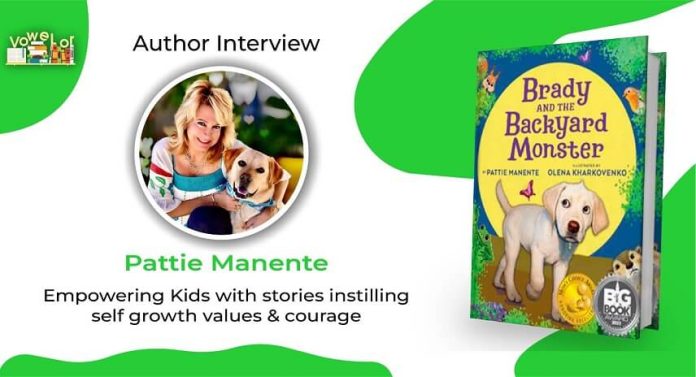 Bedtime stories are all fun for kids but some of the authors mix the fun with some valuable lessons for young kids. Pattie Manente is one such author whose book 'Brady and the Backyard Monster' is a fun bedtime story that teaches kids about courage and self-growth.
We had a chance to have a candid conversation with author Pattie Manente about her life, her writing journey, and much more. Before we dive into her interesting answers, let us first know a little more about the author.
About the Author: Pattie Manente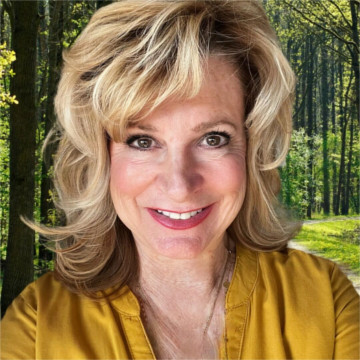 Pattie Manente is an author and a nationally certified hypnotherapist from California. She published her debut book 'Brady and the Backyard Monster' in 2022 which received several prestigious awards.
Pattie lives with her husband Sebatino, and furbaby Brady who became the inspiration for her book. She worked in the healthcare field for 40 years which gave her a firsthand experience of how overwhelming fear and stress can be.
She educated clinicians in stress release, management, and resilience techniques. She has also helped people of all ages develop healthy self-care habits and aims to empower the youngest learners and develop healthy habits, self-growth values, and courage among them.
Further, author Pattie Manente shared about her childhood, writing journey, inspirations, and more interesting things about herself. Here are all of her interesting answers.
Tell us about your parents, kids, and family.
My parents came from modest backgrounds. My mother was a first-generation American, and her parents immigrated from Italy. My father was a second-generation American, his family came from England and Ireland. My parents were loving and hard-working, always wanting their children to have a good education.
When and where were you born and bought up?
I was born and raised in Los Angeles, California. I attended Catholic schools throughout elementary and high school. I feel privileged to have regularly enjoyed outdoor play growing up, such as bike riding, skating, tennis, and softball, just to name a few activities.
What were you like at school? Any childhood memory you would like to share?
I was always physically active growing up, however, my love for reading started when I was six years old and hospitalized for several weeks. I received many storybooks and my imagination was fully ignited.
What are your educational/professional qualifications?
I attended college and graduate school, receiving a Bachelor of Science in Therapeutic Recreation, and a Masters of Science in Natural Health. I am also a Nationally Certified Hypnotherapist.
What is your biggest achievement till today?
My biggest achievement in life I feel is living with a spiritual purpose and a growth mindset. This has been my support through many challenging times throughout my life.
Which writers inspire you?
Brene Brown's writings inspire me to live authentically and courageously.
Writing is stressful at times. How do you relax your mind?
I relax my mind from chaotic thinking and stress by being present in nature. Swimming is my favorite way to decompress currently.
What is your favorite motivational phrase?
One of my favorite & encouraging phrases is:
Courage is not the absence of fear, it's the ability to act in spite of it.
It continuously inspires me.
What advice would you give to your younger self?
Advice for my younger self, the life you have is the life your subconscious believes in. Watch how you speak to yourself, and use encouraging and supportive words. Continuously hold yourself in high esteem, and don't tolerate disrespect.
What books do you like to read personally? What are you reading currently?
I read both non-fiction & fiction. I am currently re-reading the classic, To Kill A Mockingbird. I adore the main characters, and I receive wisdom through Atticus and delight through Scout and Gem.
If you could have been the original author of any book, what would it have been
and why?
If I could be the original author of any book, I would select The Jungle Book by Rudyard Kipling, because of the beautiful environment, the variety of wonderful animal characters, the developing protagonist, Mowgli, and the engaging strife and resolve throughout the story.
What made you decide to sit down and actually start writing?
I came up with a children's storybook idea several years ago when I was working with clients in my hypnotherapy practice. Most of my clients were experiencing some type of paralyzing fear that was impacting their quality of life. I started to see teens and children and felt I could capture a wider audience of the youngest learners through an engaging storybook that supports healthy habits.
Do you have a special time to write or how is your day structured?
I am retired from my healthcare career and I currently engage in many different activities. I schedule times weekly to focus on my story ideas, writing, and marketing.
What is the reason you write for; is it for the readers or your own self or some
other things?
My goal is to help others develop healthy habits. I have worked with adults most of my professional career and feel self-love and self-care should begin very early in one's life.
About the book: Brady and the Backyard Monster
Brady and the Backyard Monster is a fun and inspiring picture storybook for children published in 2022. Written by Pattie Manente, in the story, Brady, the puppy dog, goes out in his backyard to play with his friends when he sees a shadow crawl up the fence and hears something knock against the tree; he is afraid that it's a backyard monster.
The story goes on to show how he overcomes his fears with the help of his friends.
Read Full Review of Brady and the Backyard Monster
What genre is your book? What draws you to this genre?
The ideas are endless for a wonderful children's picture book. I love tapping into my inner child and expressing the spirit of fun, learning, and creativity. It's an exploration of childlike wonder, and the sky's the limit!
What was the inspiration behind writing this book?
My Labrador retriever, Brady, was my furry muse behind writing Brady and the Backyard Monster. As a puppy, he exhibited relatable behaviors to humans as he experienced the world for the first time. He gave me the idea of the imagined "shadow" monster. On a walk one day, he was startled when he discovered his own big shadow!
This story keeps the kids entertained yet imparts a valuable lesson. What was the
hardest & the easiest thing to write such a story?
The hardest thing in writing Brady and the Backyard Monster was keeping the words to a maximum of 500. I thought, "how hard can it be to write a children's picture book?" Well, I soon learned the difficulty of making each word a valuable part of the story. I had volumes of words in the story that needed to be cut out and or reworked.
The easiest thing in writing this book was the lovable puppy, Brady. I had a real-life perfect model. Who doesn't love a Labrador puppy?
Any special experience about 'Brady and the Backyard Monster' that you would
like to share
I am celebrating the honor of receiving three prestigious book awards in 2022 for Brady and the Backyard Monster: NYC Big Book Award, Mom's Choice Gold Award Winner, and Royal Dragonfly Book Award Winner.
Future Plans
What are your ambitions for your writing career?
I am currently enjoying the development of Brady's second storybook. I am having a Brady plush puppy made to go with the books. It'll be an adorable gift set for any child ages 2-7.
Are you working on your new project? What will be your next book about?
I am working with BiblioKid Publishing. They published Brady's first book and are an excellent story-editing resource with my second book. My story idea is Brady goes to the hospital for care and gets into mischief with other animals as he tries to escape, and ultimately discovers that the vet hospital can be a helpful and caring place to be. My goal is to demystify the doctor/hospital visits with young children.
What does success mean to you as an Author?
Success to me is when I see or hear children love Brady & his adventure. I'm thrilled when they want to be brave just like Brady or demonstrate the self-calming techniques from the story, or when they ask me when Brady's next book is coming out.
What are your views on the publishing process and its nuances?
I used an indie publisher, BiblioKid Publishing. I enjoyed the creative freedom and the great team of resourceful professionals who assisted with every aspect of the process. I did experience some unfortunate challenges with the printing and distribution of the books, which have since been resolved.
One learning that you'd like to pass on to young debut authors.
I feel it is critical for debut authors to obtain professional editing before submitting their manuscripts to any publisher for consideration. I encourage them to do the research and find out if similar stories are in circulation, and what they like and don't like about the comp books. It is also important to be passionate about the goal of writing a particular book, it will make the process much more enjoyable and meaningful.
Your opinion about Vowelor.
I was delighted to learn about Vowelor and engaged their support with my book. Marketing is not an area of expertise I possess. I appreciate the support in making the most of social media, reviews, and ads. Vowelor is a reputable company with skilled staff assisting me with their kind professionalism. I am grateful to them.
 Are you also an author? Get your book featured on Vowelor now!