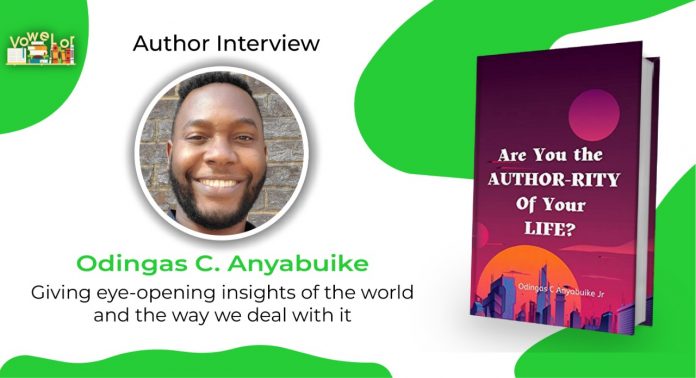 It's not uncommon for all of us to sometimes question our choices, ways, and our own authority in our lives. If you feel that your life isn't something all yours, but gets manipulated by a wide range of stimuli, then trust me, you are not alone. All of us at some or the other point have similar feelings and that's where people like Odingas C. Anyabuike Jr. come to our rescue.
With their unique ways of dealing with the ups and downs of life, people like him can become mentors for people like us. And to be able to reach out to as many people as possible, Odingas C. Anyabuike Jr. has recently released his book, 'Are You the Author- Rity of Your Life?'
After the release of his book, Are You the Author- Rity of Your Life?; we, at Vowelor, had an interesting conversation with Odingas about his writing. But, before we continue with his interview, let us know a little more about the author.
About the Author: Odingas C. Anyabuike Jr.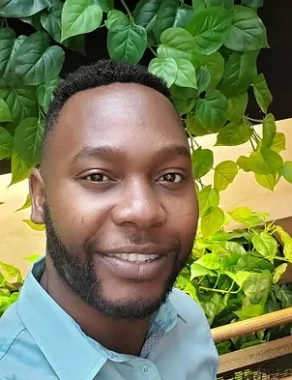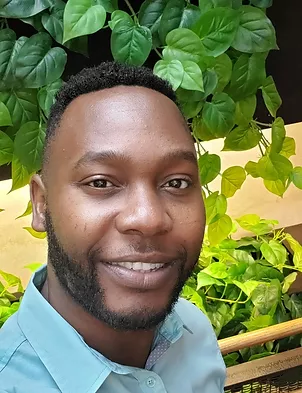 Odingas is an author, educator, professional coach, and self-proclaimed philosopher. He has recently published his book, Are You The AUTHOR-RITY Of Your Life?. It is an insightful self-help book that will make one ponder upon their choices and ways of life. 
He lives in Washington, District of Columbia, the United States as of now, where he works as Residential Concierge Coordinator. He has been to the University of the District of Columbia where he studied Banking, Economics, Financial Markets, Investments, &  
Further, Odingas shared about his childhood, his writing journey, his inspirations, and more interesting things about himself. Here are all of his interesting answers.
Tell us about your parents and family.
My Mom & Dad are Beloved Afrikans, from Nigeria. They raised me to be a respectable, loving, creative force, orderly, righteous in my endeavors, and a dignified Afrikan. They taught me the simplicity of life. And that all secrets can be derived from the abundance of nature and the universe. I have five older siblings. I happen to be the youngest. I am a husband, father, mentor, and guardian of three beautiful princesses. My wife (Donnetta) and I are mutually engaged in building our family empire on the foundation of Ma'at: Truth, Justice, Balance, and Order.
When and where were you born and brought up?
I was born in Washington, DC, and was raised in Nigeria.
What were you like at school? Any childhood memory you would like to share.
I was jovial, sometimes reserved, but very curious about life. I wanted to explore the world opposed to being told what to do and not to do. There are many childhood memories, but I don't think they will fit in this questionnaire. One childhood memory that I'd prefer to mention here nonetheless is, I enjoyed playing soccer bare feet in Ajegunle Streets, Lagos, Nigeria. At the time, that was my mental, emotional, and physical escape. Every time I kicked a soccer ball, I had the opportunity of showcasing my creativity. I wrote a lot also, but soccer was more profound.
What are your educational qualifications?
I have a bachelor's degree in Economics.
What is your biggest achievement till today?
Becoming an accomplished, beacon, charming, and bona fide author/writer.
Which writers inspire you?
Paulo Coelho, John Henrik Clarke, Nikki Giovanni, Na'im Akbar, Dr. Frances Cress-Welsing, Anthony Browder, and Napoleon Hill.
Writing is stressful at times. How do you relax your mind?
I submerge myself in the spare moments that I have, and jot down whatever comes to my brain computer. Sometimes we complicate things, so I try not to oversimplify and obviously complicate what I desire in conveying to my readers. With that said, I've found that most of the greatest books that I have perused were small but had the utmost content of reference. I write in such a way that any reader, if he or she devotes some time, can read most of my books in a day.
What is your favorite motivational phrase?
"Reciting positive affirmations is good but reciting them and taking action are best."
What advice would you give to your younger self?
Have fun, never quit, take breaks when you need it, and don't worry about the critics and seeking anyone's validation. Go out on your own. Surround yourself around positive peoples. Just do your best every day.  Be creative, productive, and be happy.
What books do you like to read personally? What are you reading currently?
Personally, I like reading motivational and non-fiction books. I am currently reading "The Four Agreements" by Don Miguel Ruiz.
If you could have been the original author of any book, what would it have been and why?
If I could have been the original author of any book it would be "The Secret". Why? Because the secrets or mysteries of life are all around us. Everything we need to know is within us and outside of us. I think if we spend more time in the experiencing of life fully, we'll know the truth and the truth will set us free.
What made you decide to sit down and actually start writing?
What made me to actually start writing is I felt that I always had something to talk about or share. When I was growing up, one of my nicknames was "Director". I often spoke in proverbs or wise sayings if you will. I could engage in deep conversations with adults, advise them on what to do or give an opinion even while I was young. When I spoke, people listened because I had a lot to talk about. I was fortunate that I had older siblings, which gave me more confidence to speak in front of grown folks with ease. Writing for one, came naturally to me. I love expressing myself and sharing my ideas with people.
Do you have a special time to write or how is your day structured?
I don't usually have a special time to write. I can write any time of the day. I usually type my thoughts on my phone notepad and gradually structure my thoughts into short paragraphs, then essays,and finally into chapters and can transform them into a book.
What is the reason you write for; is it for the readers or your own self or some other thing?
I write to inspire people through my experiences and perceptions. I don't force my philosophy on anybody. I only convey my thoughts or ideas to ignite a spark, a flame of righteousness, in humanity. Hopefully, I have done a great job thus far.
About your Book: Are You the Author- Rity of Your Life?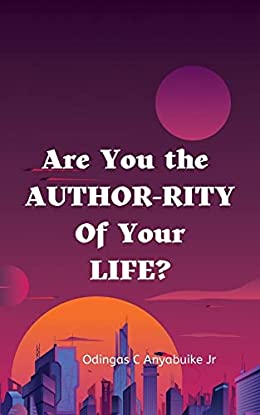 Are You The AUTHOR-RITY Of Your Life? is a non-fiction self-help book by Odingas C. Anyabuike which was published in May 2022. The book follows the author's take on multiple aspects of life and how we, as readers, can apply them in ours to make them better. 
The book has touched on concepts like authoritarianism, free will, identity crisis, truth, trusting the universe, and a lot more which will make one ponder upon the way they have been leading their own lives and dealing with everyday ups and downs. 
What genre is your book? What draws you to this genre?
Self-help non-fiction. What draws me to this genre is I want to help people find their flame. That flame is human beings I AM Power.
What was the inspiration behind writing this book?
The inspiration behind writing this book is to motivate people who may have problems with low self-esteem. I see a lot of people walking around with low self-esteem. I see troubled youths and mental deranged folks walking downtown or uptown, in busy city streets of Washington, DC and around the globe, barely surviving. I felt the desire to uplift those people with an abundance of motivational wisdom from my own wisdom bank.
What makes 'Are You the Author- Rity of your life?' stand out in this genre? What should a reader expect from it?
What makes 'Are You the Author-Rity of Your Life?' stand out in this genre is this book will leave long-lasting impressions in a reader's psyche. This book 'Are You the Author-Rity of Your Life?' will challenge any reader to question his or her reality. What a reader should expect from this book is a total assessment of his or her perceptions of their experiences on planet earth. This book calls for a mental, emotional, and societal check up because our worldview has been greatly hijacked to serve certain persons selfish and convoluted agendas.
The book promotes ideas like trusting the universe, not letting the world manipulate your choices and way of life, dealing with identity crisis and a lot more.What were the hardest and the easiest things or ideas to incorporate?
Trusting the Universe and not letting the world manipulate your choices and way of life were easiest to incorporate in this book. I would concur that the hardest things to incorporate in this book were dealing with identity crisis and being alone because most societies have rubbished any notion that promotes being alone, spending more time with yourself, or living in isolation in order to find yourself.
Any special experience about writing 'Are You the Author- Rity of Your Life?' that you would like to share.
Yes, of course!One particular experience that I'd like to share amid my writing of 'Are You the Author-Rity of Your Life?' is I discovered that most of the problems that we encounter in the world come from our lack of wisdom, lack of self-control (our emotions), our tendency to react to situations negatively instead of positively, and the comfort of ingesting the venom of complacency opposed to reversing it with the antidote of clairvoyancy, i.e., seeing the world for what it is and using your wisdom to decipher the meaning and going your own way courageously.
Future Plans
What are your ambitions for your writing career?
To use my creative writing skills to spark change in the world and hopefully inspire people to become their greatest version.
Are you working on your new project? What will be your next book about?
Yes, I AM working on a new project. My next book before I go on a hiatus will be 'Thirty Days Journey of Narratives Sailing Through Paradise'.
What does success mean to you as an Author?
To me, success means putting in your best effort every single day, giving thanks for the opportunity to express yourself, and living life fully, and without regrets.
Do you prefer self-publishing or traditional publishing and why?
Self-publishing, I prefer. Traditional publishing, I don't mind as long as the publishing company is reasonable in how they desire in promoting my book successfully, and disbursing royalties sincerely.
One learning that you'd like to pass on to young debut authors.
Have No Fear. Just Write.
Your opinion about Vowelor.
Vowelor has been very helpful in seeing that my book promotion goes through smoothly, become readily available for potential readers to find, review, and engage in conversations. I'll indeed recommend other authors to try Vowelor without question.
The Author's Note to the Readers
You are a living book. Write your own script if you choose. Every person came with divine intelligence, a purpose, a vision, and abundance of creativity. Become your greatest version of yourself on purpose. Question more. Apply wisdom and think for yourself.
Want to know more about Odingas C. Anyabuike? Connect with the author on Instagram.
Are you also an author? Get your book featured on Vowelor now!