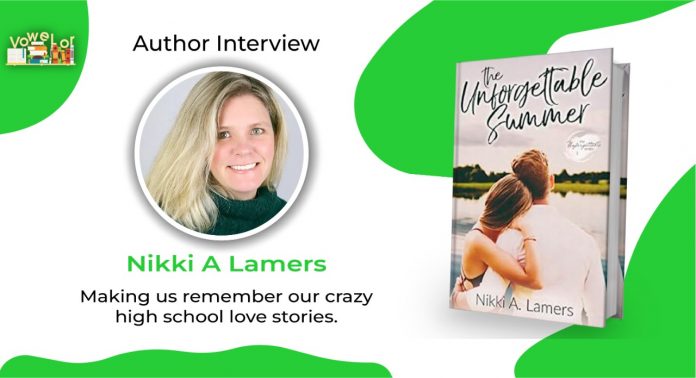 The Unforgettable Summer is a contemporary fiction novel by author Nikki A. Lamers and was published in the year 2014. The adorable love story will take all of us back to our high school years, the time when love feels exhilarating but the question remains, 'Till when?'. 
After the release of the book, we, at Vowelor, had an exciting conversation with Nikki about her writing. But, before we continue with her interview, here's a little something about her:
About the Author: Nikki A. Lamers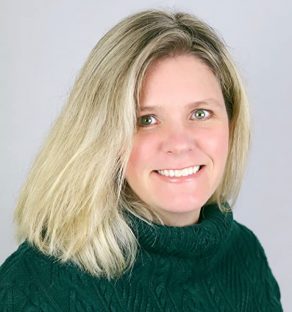 Nikki A Lamers is an author from New York where she resides with her husband and children. She grew up in Wisconsin and always had a love for stories and reading which further led her to pen down The Unforgettable series and the Home Duet. Nikki loves to travel and has been exploring a lot of places since meeting her husband but she won't leave a chance to curl up with a good book as well.
Further, Nikki shared her life, writing journey, inspirations, and more interesting things about herself. Here are all of his interesting answers:
Tell us about yourself, your family, your occupation, passions, etc.
Hi, I'm Nikki A Lamers. I write mostly new adult and contemporary romance with love, loss, family, friendships, drama, laughter and so much more. I have a passion for reading and writing. I live on Long Island in New York with my husband, two teenagers, and two dogs. I have always loved a good story in any form and am fortunate in that I also work as a script advisor and a script supervisor in TV, film, and commercials; to me, it's a new way of looking at the story. I also love traveling, going to shows, spending time outdoors, swimming and hiking. I love talking to people and learning about their stories.
When and where were you born and bought up?
I grew up in a small town in Wisconsin, just outside of Madison. It was also less than an hour from Milwaukee and an hour and a half from Chicago, a variety of small towns, cities, and countries all close by.
What were you like in your childhood? Any good memory you would like to share?
Even as a child I loved reading and wrote stories and scripts constantly. I remember sharing my love of reading with my dad, a romance lover himself. I was on the swim team starting at age 6 and spent a lot of my time with my teammates and friends over the years. One of my favorite memories is going to state my senior year alongside not only a few of my best friends and teammates but girls we had been competing with for years and we all supported one another and still do. When I was quite young, I went to a camp, enjoying my time outdoors swimming, canoeing, sailing, horseback riding, and hanging out with friends. My love of swimming converted to becoming a lifeguard and teaching swimming lessons.
What do you think has been your biggest achievement till today?
My kids, without a doubt. They're not so young anymore, now teenagers, but they are amazing.
What made you decide to sit down and actually start writing?
I've always written, but my decision to finally start writing a fiction book I hoped to publish came after my daughter was born. I left my job as a health educator at a hospital to stay home with my two kids and I wanted to get back to the creative side of writing. I sent in excerpts of my writing to a creative writing school and was accepted. After finishing the additional degree, I began my first book, The Unforgettable Summer.
Which writers inspire you?
Some of my favorite writers that have inspired me and I feel I have a similar style in some ways include Colleen Hoover, Abbi Glines, and Samantha.
Writing is stressful at times. How do you relax your mind?
It definitely can be. Most importantly taking time for myself, but I think exercise, walking my dogs, yoga, music, and spending time with family and friends. It's the little things that count. I do also start most days just relaxing with a cup of coffee.
What is your favorite motivational phrase?
I have so many, but I guess I'll settle for two for now. One on writing. "Life is a story…make yours a best seller." And another from Walt Disney, "It's kind of fun to do the impossible."
What advice would you give to your younger self?
Don't stop believing in yourself. You can do anything you put your mind and heart into.
What kind of books do you like to read personally? What are you reading currently?
Personally, I love to read almost any kind of fiction, but my favorites always have
romance as a component in some form. I'm currently reading Rogue by Olivia Hayle.
If you could have been the original author of any book, which one would it be and why?
Such a tough question. I think I will say Hopeless by Colleen Hoover because it is a book with a similar style and if I go with something completely different, I would be pulling in the wrong audience to my stories.
How is your day structured; do you have a special time to write or is it pretty much random?
It varies, depending on if anyone is home. If it's just me, I will start off with
coffee and walking the dogs before swiftly going through my social, trying to do a little marketing, and going through my emails before jumping into my writing. When
someone else is home, it's anyone's guess how the day will go, no matter my intentions.
What or for whom do you write; is it for the readers or yourself or something else entirely?
I write for many reasons; the first being, I don't think I would be me without it. It's a way for me to express feelings and emotions, even if they're in a character. It's a way for me to relax and step away from the real world. It's a way for me to connect to people all over the world. I want people to know they're not alone in anything they may be dealing with at the time. I love being able to connect with readers and other authors and I love being able to share my stories and characters with everyone.
About the book: The Unforgettable Summer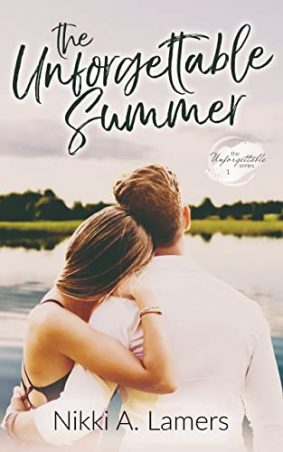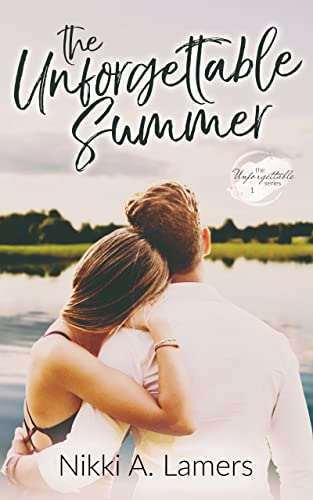 While staying with her grandmother in Maine during one of her summer breaks, Bree finds herself totally enamored of the active, playful, and gorgeous Christian. The summer is filled with love, and romance but the question that arises is whether it will all end with the summer or not.
What genre is your book? What draws you to this genre?
My book is both new adult and contemporary romance. I love being able to write both as I feel like so many of the issues that could be faced by both the male and female MCs is relatable to most in some way, even if it's someone they know going through something similar.
Was there something that made you write this book?
I've spent a lot of time in Maine and the beauty of it made me believe I needed to write a romance book in that setting. The story started unfolding in my head, long before it hit the pages.
What makes 'The Unforgettable Summer' stand out in this genre?
The book starts as a new adult story of first love, the awkwardness, the passion, and the belief that every choice, every moment was everything. Then it continues, unfolding as more of an adult contemporary, second-chance romance. It's a unique perspective with the ups and downs of life-impacting the choices of a young couple and relatable as you remember the moments of first love.
Why do you think a reader should pick this book over anything else?
This is a romance that has it all including a beautiful setting, first love, drama, laughter, family, friendship, an unforgettable kind of love and so much more. I can't share more without giving too much away.
The book has elements like friendship, family, lost and found love, forgiveness, and a lot more. What were the hardest and the easiest things or ideas for you to incorporate?
Not wanting to give anything away, I struggle when my characters struggle; I feel
everything they feel as I write. In the same way, I feel their love, happiness, excitement, and all the other good feelings right along with them as well. It's not easy to write scenes that are sad in any way, but if I don't write it that way, I'm fighting the characters and their story, not doing it justice. I always feel as if the characters are telling me the story as I write. Sometimes I wonder how I feel so close to fictional characters.
Is there any memorable experience you'd like to share throughout the writing process of The Unforgettable Summer?
Instead, I'm going to share something that occurred just after the release. One of my goals in life was to write a romance novel, something I wondered if I would ever do. I shared my love of romance stories with my dad, and I was so excited to be able to share this book with him. He read The Unforgettable Summer and told me he liked it but wanted to share the conversation with my mom and me together. While she was reading, we tragically lost my dad. I'm heartbroken to never be able to discuss one of my own books with him, but in the same breath, I know he's proud. In the spirit of our discussions about romance books and movies, I will continue to share my work and talk with all of you. I truly hope you enjoy my stories!
Future Plans
What are your ambitions for your writing career?
I have so many things I want to do, stories I want to write and be able to share with the world. I want to continue to write and share stories, meet fans, do signings and giveaways when I can, sharing my love of reading and writing with others who love to do the same. I'd love to be able to see one of my stories on the big screen, or the little one in your living room, or even the palm of your hand, but that would be a bonus.
Are you working on your new project? What will be your next book about?
Breaking Cycles will be released in 2023, an Unforgettable Spin-off about Grant Young, a man lost, trying to escape his tragic past, but he ends up stuck in a small town off the coast of North Carolina, forced to face his demons and a beautiful woman who challenges him. I am also working on a collaboration with author Ali Lee titled Enchanting Storm with romance and magic that I can't wait to share with all of you!
What does success mean to you as an Author?
Success to me means readers enjoying and sharing my books, and asking for more. Book signings and conferences where I can share my passion.
Do you prefer self-publishing or traditional publishing and Why?
There are positives and negatives to both. The work with self-publishing is much more extensive and time-consuming, but the control you have when you're self-publishing versus traditional is many times worth all the extra work. Traditional publishing definitely takes on more of the tasks and provides you with various resources included in your contract which can make a massive difference. So for me, I think it depends on the project.
One lesson that you'd like to pass on to young debut authors.
You're not competing with other authors; they can be your biggest supporters. Support one another, the writing community is incredible. Amazing people who share your passion and know what you're going through. Talking with other authors can be beneficial for both of you!
Your opinion about Vowelor.
Vowelor has been a huge benefit to me. I love how they support each part of my book as well as me as an author. I truly appreciate all their efforts! Thank you!
Want to know more about Nikki A. Lamers? Connect with the author on Facebook and Instagram. 
Are you also an author? Get your book featured on Vowelor now!