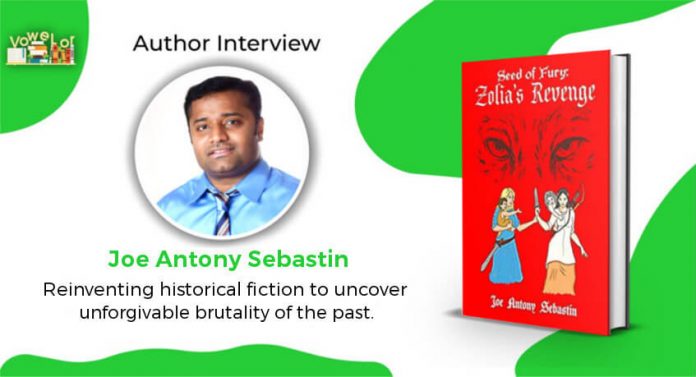 In the past of human history, there are the roots of social evil that prevail in today's society. And, having an author dig deep to uncover these evils and put them beautifully into historical fiction is quite amazing. We're talking about author Joe Antony Sebastin whose recent book 'Seed of Fury: Zolia's Revenge' does proper justice to the historical fiction genre.
It is the first book in the Seed of Fury series in which Joe Antony takes you to the early days of the Roman Empire, their atrocities towards women, and the rise of the clergy as we know it in today's modern nation of America and Europe.
At Vowelor, we had an exclusive conversation with author Joe Antony. But, before we continue with his interview, let us know a little more about the author.
About the Author: Joe Antony Sebastin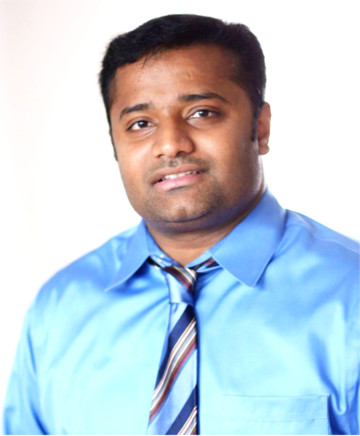 Joe Antony is the author of two fiction books and an IT Solutions Architect from New York, USA. In 2018, he published his first book 'Let's Learn Palto Alto NFGW' and, in 2021, published his second book titled 'Seed of Fury: Zolia's Revenge'.
Born in India into an Anglo-Indian-driven community in Tamil Nadu, Joe has culturally diverse parents. His father is an Indian while his mother is Malaysian. He proudly owes his soul to his forefather's soil, Sri Lanka.
Professionally, Joe Antony has an Engineering degree in Computer Security and Artificial Intelligence. His debut was also based on technical aspects of IT security & hacking methodologies.
Further, Joe Antony shared about his childhood, his writing journey, and more interesting things about himself. Here are all of his interesting & straightforward answers.
What were you like at school? Any childhood memory you would like to share.
Definitely naughty and rebel.
What is your biggest achievement till today?
Still alive.
Which writers inspire you?
No one.
Writing is stressful at times. How do you relax your mind?
Not at all, I love writing.
What is your favorite motivational phrase?
Read it! Destroy it! Many times, Against Everything…
What advice would you give to your younger self?
All the answers are in you. Leave humanity through your wisdom, enlightenment, religion, philosophy, freedom of speech, and all nonsenses you are put in.
If you could have been the original author of any book, what would it have been and why?
The book before the Big Bang.
What made you decide to sit down and actually start writing?
To question and know myself.
Do you have a special time to write or how is your day structured?
Not really.
What is the reason you write for; is it for the readers or your own self or some other thing?
For myself and the readers in the same energy levels.
About your Book – Seed of Fury: Zolia's Revenge
Seed of Fury: Zolia's Revenge is a one-of-a-kind historical fantasy novel based on the early days of the Roman Empire and how it led to the rise of Christianity in the world.
The story follows two sisters, Ronica and Zolia, who have to face abuse, rape, and everything else when King Romulus orders Roman men to abduct women and forcefully make them their wives.
It is a fast-paced story featuring prophecies, fantasy creatures, gods, witches, and much more.
Special Note from the Author
If you love the theme of the novel try helping to make this book an academic, so at least we can try reducing the abuse and rape percentages and in the near future almost to zero.
What genre is your book? What draws you to this genre?
Thriller and Fantasy. Tell the real facts about brutal violence, injustice, and oppression.
Seed of Fury explores Roman historical fiction with glimpses of fantasy and magic. What was the inspiration behind this story?
It's Roman right, the forefathers of England, modern Europe, and America. This is about the foundation of the Roman Empire which means totally today's Western Empire and this first and only novel. Almost awaited three-millennium story.
What makes 'Seed of Fury' stand out in this genre? What should a reader expect from it?
As a writer, I know we can change minds through our stories. I was determined to stop abuse through a story. I decided to create a friend, someone the reader would grow with and love. In this way, we make abuse immediate. We make it something that must be stopped whether it happens to a woman or man, young or old.
The story features strong female characters and their struggles through ancient times. What was the hardest & the easiest thing while creating this world?
Abuse and rape, after effects.
Any special experience about 'Seed of Fury' that you would like to share.
I really learned to write from my editor, mentor, and spiritual father Hiland Dolittle.
Future Plans
What are your ambitions for your writing career?
To unite humanity.
Are you working on your new project? What will be your next book about?
Saving English(The adventures of Olli) – A Tamil Pakistani boy saving the destruction of English in the near future.
Infinite Dimensions (The Singularity) – The one answer for everything.
Infinite Dimensions(The valley of Gold) – The new world order.
What does success mean to you as an Author?
The story and characters live in the readers.
Do you prefer self-publishing or traditional publishing and Why?
Traditional houses as they hold keys to the big gates.
One learning that you'd like to pass on to young debut authors.
Get edited by a professional editor and write for yourself, not for the silly audience.
Your opinion about Vowelor.
Very nice people, professional and caring.
Want to know more about Joe Antony? Connect with the author on Facebook, Instagram, Youtube, and his official website.
Are you also an author? Get your book featured on Vowelor now!