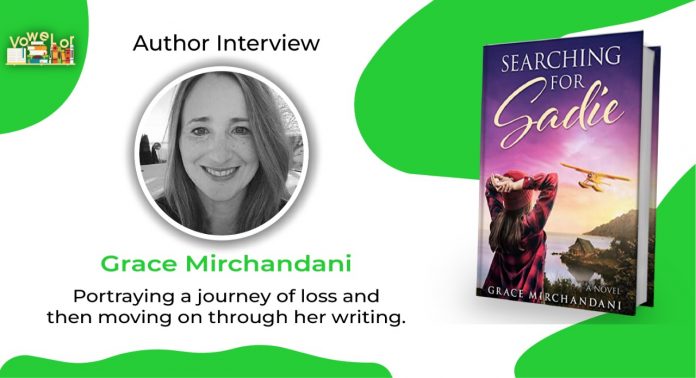 How would that be if we lose someone so dear to us in scenarios we can't even expect in our worst possible dreams? Losing all hope from love, commitment, and compassion, what is it that we are left with? Will people and social gatherings make us feel excited again? I don't think so. Will we feel like running off? For sure. And that's what Sadie did in Grace Mirchandani's debut women's fiction novel, Searching for Sadie. A book that talks about the journey of healing after heartbreak and loss through the protagonist's life, it gives us readers hope for what might lay beyond all of it.
After the release of her book, Searching for Sadie; we, at Vowelor, had an interesting conversation with Grace about her writing. But, before we continue with her interview, let us know a little more about the author.
About the Author: Grace Mirchandani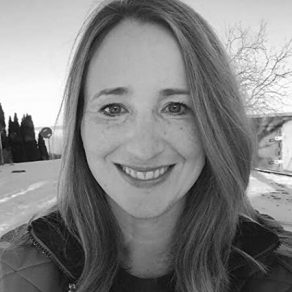 Grace Mirchandani is an author from New York. She has recently published her debut women's fiction novel, Searching for Sadie. She isn't new to the writing business as she has authored two books in Mitzi Clark Supernatural series, and working on an upcoming third part. 
Though Grace isn't someone who sticks to one genre, some mystery with a hint of supernatural is something that works for her. Other than writing, she loves making jewelry, hiking, fishing, and traveling.
Further, Grace shared about her childhood, her writing journey, her inspirations, and more interesting things about herself. Here are all of her interesting answers: 
Tell us about your parents and family.
My father lives in the beautiful state of Alaska and is a retired pilot, for the Alaska Marine Highway System. My mother passed away from cancer several years ago. My husband and I live in the Finger Lakes region of central New York with our three children Ronan, 14 Logan, 12 and Emelia 4.
When and where were you born and bought up?
I was born in a small town in upstate NY in the summer of 1980.
What were you like at school? Any childhood memory you would like to share.
I talked a lot in grade school and was always coming up with funny stories to entertain the adults in my life. I always connected to adults much more than my peers.
What are your educational qualifications?
I have an associates in Music and joined the US ARMY after 9-11 as a reservist in broadcast journalism.
What is your biggest achievement till today?
My most significant achievement to date is that I am an amazing mother. No really, just ask my children.
Which writers inspire you?
Colleen Hoover is a writer that inspires me. I love her style. Easy and breezy.
Writing is stressful at times. How do you relax your mind?
Writing can be stressful. When it feels like too much, I just stop. I try not to spend my time doing something if I don't enjoy it.
What is your favourite motivational phrase?
Let's do it.
What advice would you give to your younger self?
Don't be so hard on yourself. Do the things that scare you.
What books do you like to read personally? What are you reading currently?
I have to be in the mood to read. I like women's fiction and young adult dystopian. I'm currently in writing mode so I don't have the time to read right now but just finished Heart Bones by Colleen Hoover.
If you could have been the original author of any book, what would it have been and why?
I would have loved to be responsible for Harry Potter, because …I mean, it's HARRY POTTER.
What made you decide to sit down and actually start writing?
I always started writing books. I'm talking, even as a child. I just decided it was time to finish what I start. Maturity, I guess.
Do you have a special time to write or how is your day structured?
I write when I feel in the mood and my kids aren't with me. My summer answer is far different from the school year answer. Ha! During the school year, I am able to write between 1 to 6 hours a day. In the summer it is quite sporadic.
What is the reason you write for; is it for the readers, yourself, or some other thing?
I write for myself. I also have the desire to have a piece of immortality. Putting something original out into the universe has always been important to me. I love to make people feel things and react.
About the Book: Searching for Sadie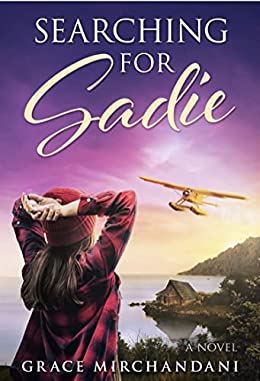 Searching for Sadie is an urban contemporary fiction book by the author Grace Mirchandani, published in the year 2022. The book follows Sadie, who lost her husband recently and feels absolutely done with people and everything around her. Subsequently, she decides to move to an isolated island in Alaska, to pick up the broken pieces of her heart and maybe figure out what she needs in life now. 
The book gives readers a chance to contemplate what lies ahead of loss, and heartbreak; another chance at love and hope for a new life.
What genre is your book? What draws you to this genre?
My book is romantic Women's fiction. It's about coming to terms with the pain of the past and understanding that the past doesn't dictate the future. I wasn't drawn to the genre as much as I just had a story to tell and it happen to fall into this genre.
What makes 'Searching for Sadie' stand out in this genre?
This book stands out in this genre because it deals with repairing many relationships, not just romantic ones. Plus, the setting is unique because it's a lonely island in Alaska, the last American Frontier.
Why do you think a reader should pick up your book?
I think people should read the book because it's a simple, easy read. Despite its simplistic nature, it's still thought provoking and inspirational without being sappy and cheesy.
The book
focuses on concepts like mourning over the loss of a loved one, learning how to move on, finding love once again and more

. What were the hardest and the easiest things or ideas to incorporate?

I love the idea of being isolated to figure things out. Having so much time by yourself almost forces introspection. Moving through grief, without spiraling, almost demands the ability to lean on others. Sadie learns, in her solitude, to let go and lean on her father, and others, and that helps her understand her own self and move forward. It was hard to tie all the connective tissues together but her healing was done in pieces.

I also wanted to portray that the idea we have of people, like our parents, isn't always the full truth. We have one side of the story about people, more often than we realize. The best thing we can do is ask questions and seek out the truth. Especially when it comes to the people we love.
Future Plans
Are you working on your new project? What will be your next book about?
I am currently working on Book three of my Middle-grade supernatural Series, Mitzi Clark. I plan to write another women's fiction novel after that, but may delve into the sci-fi realm. I am a genre hopper, for sure.
What does success mean to you as an Author?
Success as an author to me would be inspiring one person through my work. It would be nice if it generated a regular cash flow too but that is secondary.
Do you prefer self-publishing or traditional publishing and Why?
I like to self-publish because I don't have the patience for traditional publishing. I like to move things along quickly.
One lesson that you'd like to pass on to young debut authors.
Advice to debut authors? Start marketing the moment you can. That's the hard part. Writing the book is the easy part. It's hard to be seen in an ocean of books.
Your opinion about Vowelor.
I'm happy with vowelor so far. I haven't seen an increase in sales, or followers. The reviews were well done at least. This is a long game thing. Results take a while. The staff is friendly and professional.
Want to know more about Grace Mirchandani? Connect with the author on Instagram and Facebook.
Are you also an author? Get your book featured on Vowelor now!