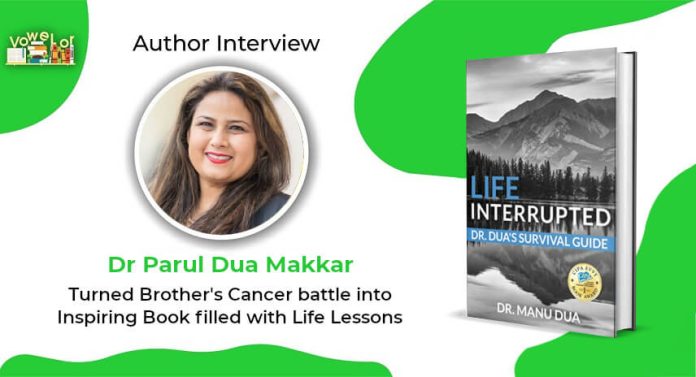 When it comes to life lessons, there's a plethora of books written by deep-thinking authors. But, the ultimate realizations, that come when one knows they're going to die soon, are profound in nature.
Dr. Manu Dua, a Canadian dentist who battled oral cancer, penned down some profusely valuable lessons in his last days. His sister Dr. Parul Dua Makkar turned them into a book titled 'Life Interrupted' to fulfill Manu's only dream.
While we had the chance to interview Dr. Parul Dua Makkar about the book, she shared a lot about Dr. Manu, his life, his writing journey, her relationship with his brother, and much more.
Before we get to the interesting conversation with author Dr. Parul Dua, let us first know a little more about them.
About the Author: Dr Manu Dua & Parul Dua Makkar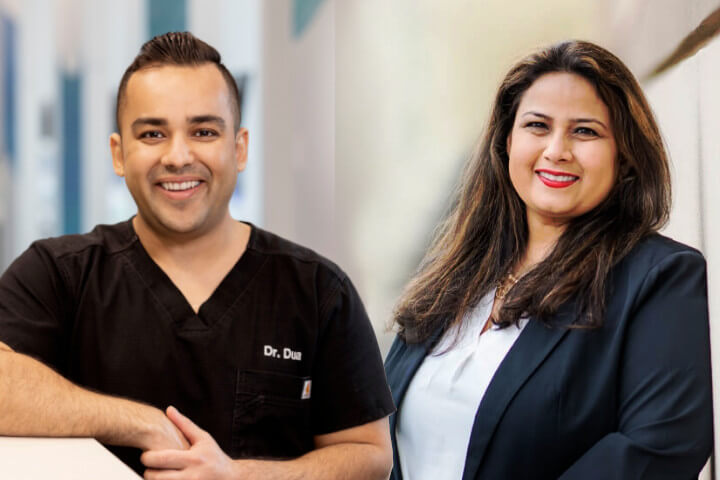 Born in 1986, Dr. Manu Dua was a respected Canadian dentist and a passionate writer. He was born and brought up in Abu Dhabi, UAE. Manu moved to Canada in his teenage years and went to the University of Calgary for Undergrad.
He graduated with his DMD from the University of British Columbia and practiced Dentistry in Calgary, AB.
Dr. Manu Dua was a foodie, loved playing sports, and had an optimistic view of life. He was kind, and giving, and he would volunteer his services to the less fortunate which brought him much contentment. He had an infectious laugh and was a joy to be around with.
Manu lived life on his own terms and was at the peak of his life when he was diagnosed with Oral Cancer. In 2021, after fighting a battle with cancer, he passed away in Canada at the age of 34.
Dr. Parul Dua Makkar, Manu's sister, made sure his dream of getting published was fulfilled posthumously. Parul Dua is also a renowned dentist but her life took a different trajectory when she lost her only and younger sibling to oral cancer.
Following his death, Parul now devotes her time to educating doctors and patients about risk factors, prevention, and early detection and treatment of oral cancer.
Tell us about your parents, kids, and family.
My parents are hardworking people who migrated to Canada to give us a better life. They are pillars of my strength without whom neither Manu nor I would be able to achieve what we have. My kids are still young but have had to deal with the tough realities of life. They don't understand the magnitude of their loss.
How was Dr. Manu Dua during his school days? Any childhood memory you would like to share?
He was so cute and adorable. Very smart from early on. He went to a British school and had an adorable British Accent. He loved to read even when he was younger. There are so many memories, the best was remembering us spending weekends on the beaches of Abu Dhabi. He was always more mature for his age.
What is his most significant achievement during his lifetime?
For him, it was starting his own practice building from scratch in Calgary in 2016 called Montgomery Dental. This was his baby and he was so proud of it. He was even awarded Best Clinic of Montgomery in 2020.
Which writers inspired your brother and you?
For Manu, he devoured books. Tom Clancy and financial books were his go-tos. And on the lighter side, every now and then he'd read Tin Tin.
Writing is stressful at times. How do you relax your mind?
By trying not to do anything, clearing my mind to focus. Just going for a walk.
What is your favorite motivational phrase?
You can do hard things.
What advice would you give to your younger self?
Life can and will take you through unchartered waters. Spend time with your family, it may all be taken away.
What books do you like to read personally? What are you reading currently?
Something to take my mind off things and to motivate me. Currently reading the 2nd series of It Starts with Us and Let That Shit Go.
If you could have been the original author of any book, what would it have been and why?
Dan Brown's books; because of the imagination and the history of it all.
What made you decide to sit down and actually start writing?
To help Manu finish the journey he started
Do you have a particular time to write or how is your day structured?
Usually at night when all the work is done or early morning before kids wake up. I prefer to be alone.
What is the reason you write; is it for the readers or yourself or some other thing?
It was to help Manu. It wasn't something I had even imagined I'd do one day.
About your Book – Life Interrupted: Dr. Dua's Survival Guide
This book is a collection of Dr. Manu Dua's heartfelt blogs, penned during his courageous two-year struggle with cancer. At just 34 years old, he faced his mortality head-on, and his writings reflect the profound wisdom he gained through adversity. With unwavering honesty, he shares his journey of acceptance and peace, reminding us not to take life for granted.
"Life Interrupted" is more than a memoir; it's a survival guide for the soul. Dr. Dua's words resonate with depth, touching on the essence of life and what truly matters. Through the darkest of times, his story illuminates the enduring power of hope and the resilience of the human spirit.
What genre is your book? What draws you to this genre?
It is motivational, inspirational, and a memoir of sorts. To help others navigate through their hardships.
What inspired you to publish this book after the demise of your brother, Dr. Manu Dua?
Manu wanted to be published, however, time wasn't on his side. I couldn't help him in another way, this was my way to help him complete his journey.
What makes 'Life Interrupted' stand out in this genre?
It has life lessons as Manu reflected while he was battling Cancer at age 34. What makes it unique is that he was a Dentist and had Oral Cancer, which he was meant to diagnose.
What should a reader expect from 'Life Interrupted'?
It is raw, filled with great pieces of pearls of wisdom. Although Manu was 34, his thoughts are those of someone older. It was almost like he had experienced Nirvana.
The book features deep and emotional blogs by your brother while he fought oral cancer. What was the hardest & the easiest thing to put together this book?
Knowing that he won't come back. Knowing the amount of pain he was in and how alone he was as most of the treatment was at the time of COVID.
Any special experience about 'Life Interrupted' that you would like to share?
It is to have people reach out to me after reading the book the response has been phenomenal.
Future Plans
What are your ambitions for your writing career?
Maybe my reflections on strength and resilience as I navigated the unique loss of losing my only and younger sibling. Something I had never imagined.
Are you working on your new project? What will be your next book about?
Not yet, currently, I am focusing on speaking.
What does success mean to you as an Author?
To know that your work made a difference in some small way.
What are your views on the publishing process and its nuances?
It is hard work and lots of scammers. Knowing and trusting your publisher. Trusting the process and knowing it will take time.
One learning that you'd like to pass on to young debut authors.
Be kind to yourself and accept critique.
Your opinion about Vowelor.
It has been great. They are doing what they promised. With time, we will see how things do with the book.
 Are you also an author? Get your book featured on Vowelor now!