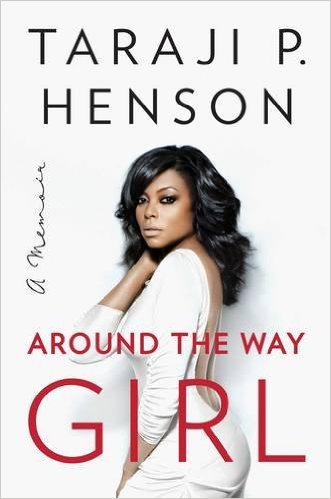 | | |
| --- | --- |
| Book Title | Around the Way Girl : A Memoir |
| Book Author | Taraji P. Henson |
| Publisher | Atria / 37 Ink |
| ISBN | 1501125990 |
| Language | English |
| Pages | 256 |
| Year Published | 2016 |
Book Review : Around the Way Girl by Taraji P. Henson
Around the Way Girl by Taraji P. Henson  is the memoir of thirteen chapters revealing almost everything from the life of popular Hollywood and TV actress, Taraji P. Henson herself. In each of the chapters in this memoir, Taraji has something different and unknown to offer the readers with humor as well as inspiration.
In her memoir, Around the Way Girl, Taraji Henson fettered nothing and revealed many of hitherto unknown aspects of her life. The memoir is really enjoyable as Henson honestly, and without reservation, tells her story about the kind of life that she once led, and how she took it to where she is today.
Around the Way Girl: A Memoir by Taraji P. Henson shares stories of her father, Boris Henson, a Vietnam veteran and how he fought with challenges of life. She praises her mother who survived violence both in the home and on DC's volatile streets. She also opens up about her experiences as a single mother, which is she took as a gift instead of realizing it as a burden. For the first time, she talks about William LaMarr Johnson and his death without any reservation and has mentioned him to be the love of her life.
With chapters such as Fearless, Authentic, Drama, Hustler, Breathing Life into Art, Building Characters, My One And Only Love Story, Single Mother, Going to Hollywood, My Squad, Raising a Black Boy, On Being a Black Woman in Hollywood, and Grown Woman, Taraji has candidly stripped all the preconceptions that people had about her.
Truth

Humour

Writing Style
Vowelor Review
Around the Way Girl by Taraji P. Henson is a powerful and inspiring memoir on how a little girl for Washington DC grew up and struggled her way to the Hollywood winning many challenges in life.
About the Author : Taraji P. Henson
Taraji P. Henson was born and raised in Washing, DC. She went to Howard University to study after completing electrical engineering. To pay for college, she worked  in double shifts as a secretary at The Pentagon and as a singing-dancing waitress on a dinner-cruise ship.
Her first break was in 2001 in a comedy-drama film Baby Boy. Among many other awards, She won the prestigious Golden Globe Award for her work as Cookie in the popular TV series Empire. She was also nominated for the Academy Award in the Best Supporting Actress category for the film Hustle and Flow in which she played the character of Shug.
Taraji P Henson currently resides in Los Angeles with her son and has a strong dedication to helping disabled and less fortunate children.