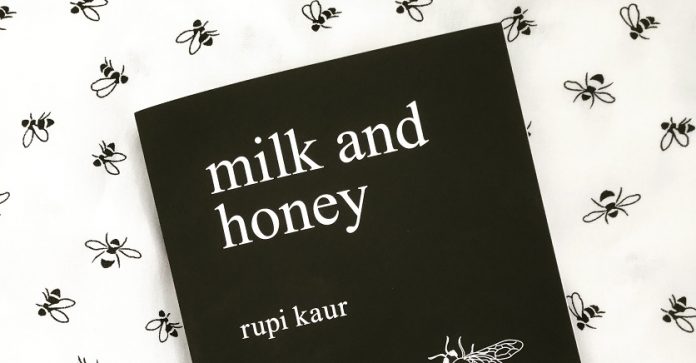 If you have read the NY time bestselling poetry book, Milk and Honey and your poetic soul urges you to read more similar poems and prose, then your search for books like Milk and Honey ends here!
Rupi Kaur, Lang Leav, Atticus and many others have made reading and writing poems more comprehensible and easy for people to connect with their words. Their poetry lets you dive into the emotions which are extracted from the people's daily nuances.
This young generation of poets are now revered as 'Insta Poets' and reach to their audience through social media platforms.
Gone are the days when only the people with a literary background could understand the poems. Historical poets like Yeats, Wordsworth, Shakespeare, Robert Frost, and others wrote poems which were not fathomable for the ordinary people.
List of Books Like Milk And Honey
Check out these 13 poetry books similar to Milk and Honey that you should definitely add to your reading list.
I have read this book in a single day. I was so engrossed in the book that I didn't even realize that I have read a full book in a few hours. It was literally impossible to put this book down.
Love Her Wild is a collection of aesthetic poems describing every feeling of love. From the first time when the eyes met to the times when two lovers become strangers. He has eloquently poured the words of love on the canvas.
Life becomes easy when you find words which can elucidate your emotions. You find a home in those words and a sense of belongingness in the poems.
Such is the bestselling book by Peppernell. The summary of the book says that you can read these short poems whenever you feel like. Pillow Thoughts is the collection of poems about heartbreak, love, and raw emotions divided into the sections.
Pillow Thoughts is the first poetry book by Courtney Peppernell, launched in the year 2016 and reached number one and best seller in her category.
This book is completely different from mainstream poem books. The words you will come across while reading this book will touch your soul but the style of writing this book is different altogether from other books.
Alicia Cook has written this book in a mixtape theme. There is no Index of the book, instead, a Track List which enlists the content of the book. Also, the book is divided into two sides like a 90s mixtape, Side A and Side B.
Side A deals with all human emotions like life, death, love, moving on, evolving, growing up, hometowns, family dynamic, life after trauma, and make-ups and break-ups. While Side B 'remixes' the poems from the Side A and gives them a fresh twist.
You will feel like the words are dedicated to you or are associated with you in some way. Read this powerful yet soothing collection of poems and prose written in a unique way.
Poetry can empower you with words in many ways. It conveys the most complex thoughts in the simplest words to its readers.
Like Rupi Kaur, Amanda has also self-published her book before she made an impact on her reader's mind. Later, the book was published by Andrews McMeel Publishing in 2017. The poems are written in a straightforward and understandable way.
Amanda has divided the book into four parts; The Princess, The Damsel, The Queen, and The You. All the parts describe the story of women and let their readers feel empowered and touched with words.
If you are looking for the poems which would say everything you felt while in love, then this would be the perfect short poem book for you.
In this book, Samantha King makes sure that you discover all the emotions that you never knew you had and the ones which you weren't able to talk about. She writes about every phase of love and human emotions related to it.
The first love, heartbreak, hope, happiness, loneliness and the strength to cope with all these emotions are very beautifully portrayed in her powerful poems.
Your love, hope, and pain will find words in this poetry book. Every word of the poetry will sync with your soul and will beat on the rhythm of your heart.
Whiskey Words & a Shovel I is the first book of Whiskey words trilogy released in 2015. This completely revised version will touch the soul of the reader and guide to the healthy path of self-love.
r.h. Sin has described the journey of his relationship with his wife, Samantha King. He has formed poetry out of every emotion one would come across when in Love or after Love. His powerful poems referring to  'she' is about every girl who gives her everything in love.

This collection of poems will ignite the flame within you to care for yourself a little more than you care for others.
Nikita Gill has weaved words on the canvas of self-love. Her book is one of the best collection of poetry which talks about Feminism, Survival, Trauma, and Empowerment. She has sparkled a light in every reader through her poems and encourages everyone to embrace their uniqueness.
The words in Wild Embers will soothe you and convince you that there is no better place to live other than in your own skin.
The unique style of reframing the famous heroines is one of the features that make this poem book more interesting.
This one is the must-read poem book if you like reading poems and the most anticipated book falling in the category of poem books like Milk and Honey.
Lang Leav is the International Bestselling Author and had released her latest collection of poems and prose, Love Looks Pretty On You in 2019. She is the flag-bearer for all the modern poets and has inspired many writers to explore this genre.
In her latest book, she digs out the intricacies of emotions, relationships, and life. She takes her readers on the journey of love, heartbreak, relationships, and self-empowerment.
9. The Sun And Her Flowers by Rupi Kaur
Another book by Rupi Kaur which should be definitely added to your TBR list if you are a big fan of Milk and Honey.
The Sun and Her Flowers is the second collection of poems by Rupi Kaur, released in 2017. The book sets the readers on the journey of wilting, falling, rooting, rising and blooming.
Her illustrations and easy words let her poems etched in the reader's hearts. You will feel connected and find the solace in her poems.
Read my full review of The Sun and Her Flowers Here.
Poems can be revolutionary when weaved around certain issues. So, here is the collection of poems on racism and other societal barriers.
Even This Page is White is the debut poetry collection book by Vivek Shraya. It is fascinating to read such bold, eye-opening, and powerful poems which can be written by the one who had suffered all. Her words in the poem scream for all those who had lost their voices in this clamoring of society.
These powerful poetries of Shraya explores colorism, racism, white privilege, allyship, the politics of queer love, and gender identity through resonant narratives, dialogues, and a variety of poetic forms.
First time I came to know about this stunning poet through a youtube video of her poem When Love Arrives. The next thing I knew that I was curious about her writings and wanted to read more about her work.
Sarah breakout to the grounds of poetry with her debut collection of poems No Matter Wreckage. She talks about family, love, travel, history, and unlikely love affairs between inanimate objects ("Toothbrush to the Bicycle Tire"), and other curious topics.
Her different take on the common subjects hooks her readers and makes her poem honest and a powerful collection.
12. Salt by Nayyirah Waheed
I had read Rupi Kaur's Milk And Honey and now I can say that to some extent Nayyirah Waheed and Rupi Kaur writes in a similar way yet you will feel differently while reading their book.
Nayyirah Waheed self-published the book of her poems in 2013. It was difficult to comprehend for many people because of her unique way of using punctuation in her poems. Though, everyone agrees that her writings do make an impact on their hearts.
Salt is all about racism, self-love, human connection, love and longing, memories, existential crisis and so much more on similar lines. Each word of her poems is hidden with profound thoughts and will grasp the readers.
We all are going through this crazy roller coaster of life. Sometimes up, sometimes down, and sometimes we are hanging in mid-way. After reading Gayle's words you will find a sort of driving force on this roller coaster.
Distinee Gayle has divided her collection of 200 poems into five parts; discussing themes of growth, pain, love and so much more. She has written prose describing the journey of a seed to a blooming flower.
This best poem book will stick to you and you will feel connected to each and every poem of the book.
---
Some Interesting Facts About Milk And Honey
Milk and Honey by Rupi Kaur is her debut novel which sold over 2.5 million copies. This #1 New York Times Bestselling Book is the collection of poems and prose by the Indian born Canadian author Rupi Kaur.
The collection is about survival and consists of four chapters named The Hurting, The Loving, The Breaking, The Healing, which talks about violence, hurt, abuse and feminism. With her first novel, Rupi Kaur has become the most relevant poet of modern times.
The most asked question about Milk And Honey is 'What do Milk And Honey mean?' and 'Why is it titled as Milk and Honey?'
Milk and Honey's title is derived from Exodus 33:3 where God is promising the Israelites to bring them in "a land flowing with milk and honey". This land of milk and honey is a place of great beauty and hope, a metaphor for the Promised Land. Rupi Kaur equates this milk and honey with kindness.
FAQs about Books like Milk and Honey
What should I read after milk and honey?
You can check out these books after you read milk and honey - Broken Flowers, Pretty Tilt & The Universe of Us.
What type of book is milk and honey?
Milk and Honey is a New York Times Bestseller book having collection of poetry and prose about survival.
How many poems are in milk and honey?
There are a collection of 200 sparse poems based on the subject of love and loss, abuse & healing.
Final Words
Poem books like Milk and Honey are the best to read for the ones who cannot survive through 500 pages to unveil the climax of the story. Words are precisely used in these aesthetic poems books but the depth of words is as deep as a novel.
While jotting down this list of poem books, I have added one in my TBR list and that is, Stuff I've Been Feeling Lately by Alicia Cook. I am excited to read this amazing book and will definitely write a review of it.