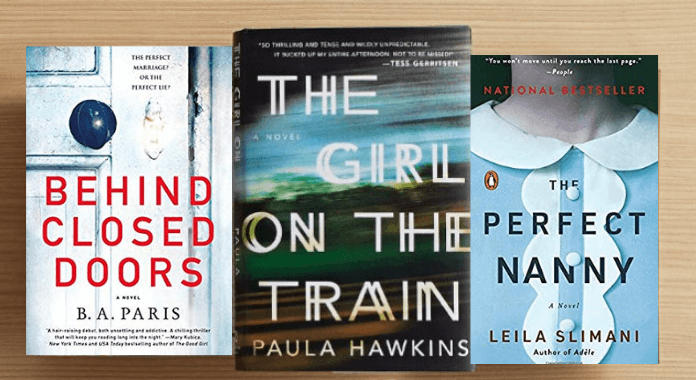 If you are a fan of psychological crime thrillers then it is obvious that you have already read Gone Girl by Gillian Flynn.
And, by now you must have spent hours on the internet searching for books similar to Gone Girl. I can relate to your feelings as I was in the same situation a week ago when I wanted to read books that are like Gone Girl.
Worry not! Here I am to give you the perfect thrilling escape with the suggestions of books like Gone Girl to read and live in the crime fiction world.
Recommended Books If You Like Gone Girl
These are the suggestions you should consider if you are looking for books similar to Gone Girl
1. Watch Me Disappear by Janelle Brown
Here we go with our first recommendation!
Watch Me Disappear by Janelle Brown is one of the books that will constantly remind you of Gone Girl.
It is a story of a young mother, Billie Flanagan, who disappears on her hiking trip. But, her husband and daughter Olive couldn't digest the fact that she is dead as Olive had strange visions of her mother's disappearance.
The Father-daughter duo set their journey to find out about Billie and the secrets that can unravel the path to reach her.
This novel by Janelle Brown is one of the most successful books that read-alike Gone Girl.
2. The French Girl by Lexie Elliot
The second book like Gone Girl that I would suggest reading is The French Girl by Lexie Elliot.
It is a story of a girl, Kate, who had spent the most haunting summer vacation on a French farmhouse. And, after that vacation things never remained the same.
A decade later, when a body is found on that farmhouse, Kate is interrogated along with her friends. As she becomes the center of suspicion, it becomes scary for her to reveal the details of the event.
This debut psychological suspense novel will give you goosebumps in all possible ways. (I mean it!)
3. Big Little Lies by Liane Moriarty
Soon after I read Gone Girl, Big Little Lies was published and I was pretty determined to read this book too. No doubt, it was a perfect book to read just like Gone Girl.
Big Little Lies by Liane Moriarty is a story of three mothers – Jane, Madeline, and Celeste. When Jane becomes friends with Madeline and Celeste, she didn't know about the dark secrets of the other two.
But after an incident, many rumors were aired and it becomes difficult to find out the truth from all the lies.
It is a blend of love, mystery, comedy, and forgiveness. I bet this book is going to give you a hard time putting down.
Just in case you like to read more mysteries, check out my recommendation of best mystery books!
4. The Woman in Cabin 10 by Ruth Ware
When I was looking for the recommendations for books like Gone Girl, Ruth Ware was one of the highly recommended authors everywhere, especially in the psychological thriller genre.
Now that I have read this book, I can conclude that The Woman in Cabin 10 is a must-read for the Gillian Flynn's fans (and soon to be Ruth Ware's fans).
Lo Blacklock, a journalist, goes on a luxury cruise trip in a clear sky and calm waters. Everything was great until one day when a woman was thrown overboard and other passengers acted as if nothing has happened.
This is a classic story of a paranoid woman with all the elements of claustrophobic mystery that can give you thrilling experience.
6. The Wife by Alafair Burke

Seeing my obsession with the crime and mystery genre, my friend suggested me The Wife by Alafair Burke. And, this book turns out to be quite similar to Gone Girl while reading.
The book follows Angela who gets married to Jason believing that she and her son had overcome their tragic past. But soon the happy life ends. Jason gets accused by a college intern and another woman – Kelly Lynch. This turns Angela's life upside down.
Throughout the story, you will be sympathizing with Angela while being highly curious to know the truth.
The next in the list of novels like Gone Girl is Behind The Closed Doors by B. A. Paris. 
You will witness a chilling story of Jack and Grace who are the perfect example of 'couple goals' anyone could wish for.
Jack is wealthy while Grace is charming and elegant. They are flawless and inseparable. But is this a perfect marriage or a perfect lie?
No one has ever seen Grace taking anything with her whenever she leaves her house. She never answers her phone even when she is not working and those metal shutters on the window make this perfect couple more suspicious.
Brace yourself! You are going to encounter some darkest secrets of Grace and Jack giving you a chilling experience while reading.
The best thing about books similar to Gone Girl is that they surprise you in all possible ways.
After having children, Myriam decides to continue her career as a lawyer. She and her husband search for a perfect nanny who can look after their son and daughter.
Luckily, they meet Louise, a nanny who is quiet, polite and so good with children.
But as everyone become so dependent on each other, the jealousy and suspicion takes place.
With every page, you would feel the tension building between the characters and this urges you to read the book in one go.
9. The Girl on The Train by Paula Hawkins
I had saved the best for the last! 😛
The Girl on The Train is a perfect book to add in the list of books related to Gone Girl in every sense. Therefore, I think this list would be incomplete without the psychological thriller by Paula Hawkins.
It is a story of a girl who boards on the same train and watches the same old couple, every day during her journey.
To her, the life of the couple was perfect at least from the distance. Until one day when she notices something shocking. She tries to reach the police to tell them everything she saw.
While reading this book you will witness the narratives from the perspective of three different women about relationship troubles and drinking addiction.
This book is unputdownable and mind-blowing (mark my words!).
Final Words
Here ends my list of books like Gone Girl that I thoroughly enjoyed reading. And, from here on, your part begins.
If you are a die-hard Gillian Flynn fan then I bet you cannot resist these recommendations. Read all these books if you want to feel those goosebumps yet again.
I will read more books similar to Gone Girl and will add those in this list soon. So, keep checking and keep reading these mind-blowing books.