Bestselling Author Durjoy Datta is back after a long break! Durjoy announced his latest book 'Wish I Could Tell You' which is set to release on September 23, 2019.
Just in case, you missed it. Check out his Instagram post below.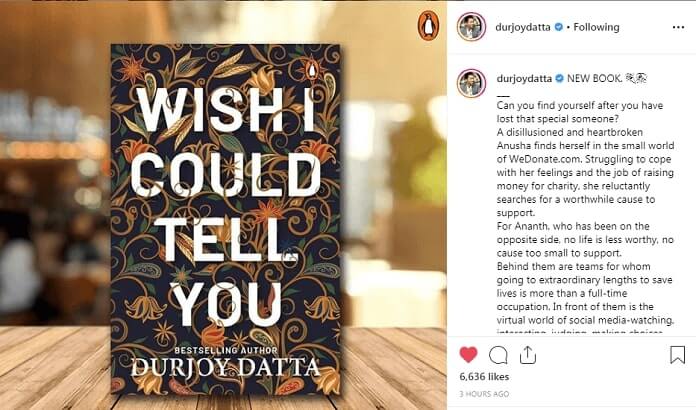 Durjoy's new book was much awaited among the fans. Are you excited too?
Well, I am here with all the details you need including the pre-orders! 😛
Book Review: Wish I Could Tell You by Durjoy Datta
Durjoy Datta is known for his amazing stories usually featuring young relatable characters. The latest novel of Durjoy Datta – Wish I Could Tell You – is a tangled love story.
Before going to the characters and the story, I cannot stop myself from praising the cover! It's just mesmerizing and makes you want to buy the book instantly! Isn't it so? Tell me in comments.
Now, let's talk about the book.
Wish I Could Tell You is the story set in a small world of a charity organization WeDonate.com.
Anusha is struggling to cope up with her heartbreak which has left her completely disillusioned by the idea of love. Professionally, her job is to raise charity online and she is constantly in search of a cause worth enough that the organization shall support.
On the other hand, there's Ananth who believes every single life is equally valuable and no cause is small to support.
Along with Ananth and Anusha, there are two more characters in Durjoy's latest book – Mohini and Gautam. Besides them, there's a team which is determined to leave no stone unturned when it comes to saving someone's life.
And, then there is the world of social media which is constantly viewing and also judging them.
Wish I Could Tell You by Durjoy Datta will keep you gripped by asking indirect questions like
Will you hate coming in the way of saving someone?
And, the complicated relationships will make you wonder can love be so difficult?
Also, the story will make you realize the fact that while we are busy in our own lives, there are people dying who can actually be saved by our littlest efforts.
Overall, as I can sense at the moment, the book is going to be a great read just like all Durjoy Datta books and can't wait to get my hands on it!
If you are also a Durjoy fan (or even if not), you can also pre-order this novel on Amazon.
This is a pre-release book review. I am also excited to read this latest novel by Durjoy Datta and soon will be writing a full book review for you guys.
About the Author: Durjoy Datta
Durjoy Datta is a bestselling author of India and known for his works such as The Boy Who Loved, The Girl of My Dreams, etc.
He was born in New Delhi and studied engineering at Delhi Technological University. In 2008, while he was still in college, he started his writing career with the book Of Course I Love You.
Till now, Durjoy Datta has written 17 books including several national bestsellers. His books made him rise as one of the most popular contemporary Indian authors. It happened because of the simple writing style and usually relatable stories that strike the Indian youth.
The latest book by Durjoy Datta, Wish I Could Tell You, is releasing on September 23, 2019.
Apart, from novels, Durjoy Datta is also a screenwriter and has contributed to a couple of Indian television shows as well. He married her long-time girlfriend Avantika in 2016.